Posted on
Mon, Jul 18, 2011 : 5:01 p.m.
Borders' rise and fall: a timeline of the bookstore chain's 40-year history
By Nathan Bomey
This timeline provides a historical perspective of the rise and fall of Ann Arbor-based Borders Group Inc. from its inception in 1971 to its liquidation announcement this afternoon. It is based on AnnArbor.com research, interviews, Securities and Exchange Commission documents, archived news reports and information from Borders.
1971: Brothers Tom and Louis Borders open an 800-square-foot used bookstore called Borders Book Shop at 211 S. South State St. in Ann Arbor.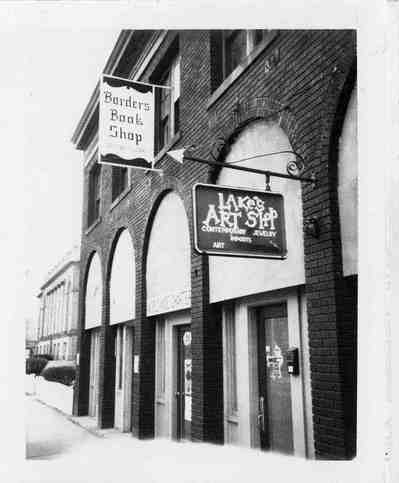 Ann Arbor District Library
1970s
: Louis Borders develops a software system that allows the store to manage inventory and accurately project sales, giving Borders a competitive advantage that lasted at least two decades.
1988: In an effort to import business leadership, Borders recruits Robert DiRomualdo to lead the company's expansion. DiRomualdo is later credited with leading the company's rise to national prominence in the 1990s.
1991: Borders starts integrating music and movies into some of its stores.
1992: Kmart Corp., which bought Waldenbooks in 1984, acquires Borders and creates the Borders-Walden Group. At the time, Borders had 21 large stores and had valued itself at about $190 million, the New York Times reported at the time.
1994: Borders' flagship store moves from 303 S. State to the ex-Jacobson's department store on East Liberty. The bookseller is the largest retailer in downtown Ann Arbor.
1995: The book store chain, renamed Borders Group Inc., spins off from Kmart and goes public on the New York Stock Exchange (Ticker: BGP) under CEO Robert DiRomualdo. At the time, Borders' innovative inventory management system was considered "the envy of the industry," as one publisher put it, and was a catalyst in the forthcoming boom in the company's superstore footprint.
1995: The company's Waldenbooks division moves to Ann Arbor after receiving a $7.7 million tax credit from the Michigan Economic Development Corp.'s Michigan Economic Growth Authority board.
1995: Borders headquarters moves to a renovated, abandoned downtown retail destination on Washington Street called Tally Hall. A few years later, the company moves to its current headquarters on Phoenix Drive on the city's south side.
Feb. 4, 1997: Shares close at an all-time high of $44.88.
March 11, 1997: Borders executes a 2-for-1 split on its stock.
January 1998 to January 1999: Borders expands its store footprint by 25.5 percent, adding 52 superstores in the biggest one-year expansion in its history. By January 1999, the company has 256 superstores averaging $256 in sales per square foot.
May 1998: Borders launches an online retail presence for the first time at Borders.com.
Nov. 12, 1998: Philip Pfeffer is hired to replace DiRomualdo.
April 21, 1999: Pfeffer resigns and is replaced on a temporary basis by DiRomualdo.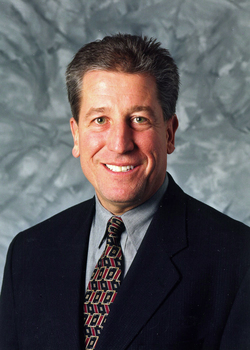 Photo courtesy of Borders
November 1999: Greg Josefowicz becomes Borders permanent CEO. August 2001: Borders contracts with online retailer Amazon to sell products online -- a relationship later blamed for making Borders late to the emerging web retail segment.
July 2004: Borders buys United Kingdom-based Paperchase Products Ltd. The company also starts branding some Waldenbooks stores as Borders Express.
August 2004: Borders signs deal with Starbucks Corp. to run Seattle's Best Coffee cafe operations in its stores.
2005: Borders posts its most recent annual profit: $101.0 million.
February 2006: The company launches a loyalty program called Borders Rewards.
July 2006: George Jones replaces Josefowicz, who had led Borders since November 1999. At the time, Borders had nearly 36,000 employees worldwide and more than 1,200 in Ann Arbor.
September 2007: Borders sells its U.K. and Ireland subsidiaries.
September 2007: Stock hits then-six-year-low $12.28 a share.
Lon Horwedel | AnnArbor.com
February 2008
: Borders opens its first of 14 concept stores on Lohr Road in Pittsfield Township.
March 28, 2008: Stock closes down 28.5 percent to $5.07 after Borders says it lost $157.4 million in 2007.
March 2008: Borders puts itself up for sale and accepts $42.5 million loan from New York hedge fund Pershing Square Capital Management to boost financial position.
May 2008: Severing ties with Amazon, the company launches a new Borders.com.
June 3, 2008: Borders' shrinking Ann Arbor personnel count hits 1,000 after 156 job cuts are announced as part of a $120 million cost-cutting plan. At this point, the company still has 30,000 employees overall.
June 10, 2008: Borders sells off its business based in Australia, New Zealand and Singapore.
August 2008: Barnes & Noble rules out bid to acquire Borders.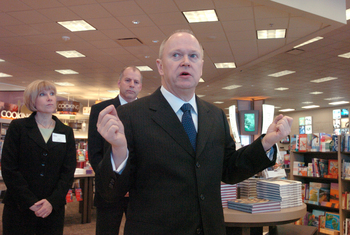 File photo | AnnArbor.com
Jan. 5, 2009: CEO George Jones is fired and replaced with Ron Marshall as global financial crisis raises questions about Borders' viability.
March 2009: Borders cuts costs, conserves cash in effort to avoid bankruptcy in the aftermath of the financial crisis.
March 30, 2009: Borders, despite posting a $187 million loss in 2008, gets some breathing room after receiving a one-year extension on a loan from Pershing Square Capital Management.
Nov. 5, 2009: Borders announces plans to close 200 of its small stores and cut 1,500 jobs. By February 2011, the number of small-format stores is about 170, down from more than 1,100 in 1995.
November 2009: Investors criticize Borders' sluggish approach to the emerging electronic books market.
2009 fiscal year: Average sales per square foot at Borders superstores sinks to $173, down from $203 in 2008 and an all-time high of $261 in 1997.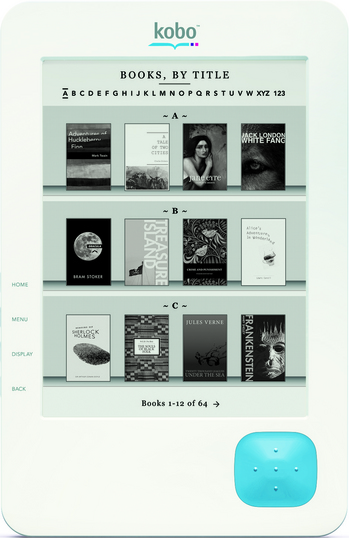 Photo courtesy of Borders
Jan. 18, 2010: Executives say they're "disappointed" with 13.7 percent decline in holiday sales.
Jan. 26, 2010: CEO Ron Marshall resigns to become CEO of the Great Atlantic & Pacific Tea Co., which files for bankruptcy later in the year after Marshall's departure. Borders executive Mike Edwards is named interim CEO of Borders Group.
Jan. 28, 2010: Layoffs hit 10 percent of the Ann Arbor corporate staff.
Feb. 3, 2010: Hedge fund investor and Borders shareholder Bill Ackman says bankruptcy is unlikely.
March 31, 2010: Borders pays off $42.5 million loan to Ackman, renegotiates credit agreement with lenders.
April 1, 2010: Executives describe strategy of "transforming the Borders brand."
May 21, 2010: Tobacco executive and activist investor Bennett LeBow invests $25 million and is named chairman.
June 3, 2010: LeBow becomes CEO of Borders Group. Mike Edwards is named CEO of subsidiary Borders Inc.
July 2010: Borders launches e-book store, starts selling e-readers, sets strategy to get 17 percent market share in e-books within a year.
July 31, 2010: Borders sells Paperchase unit for $31 million.
Aug. 11, 2010: Borders lays off more Ann Arbor workers. About 600 workers left.
Sept. 1, 2010: Borders posts $46.7 million loss in second quarter, eyes "non-book products" like games and toys.
Nov. 15, 2010: Borders launches redesigned website.
Dec. 6, 2010: Ackman says he'd be willing to finance a Borders bid to acquire Barnes & Noble and merge the retailers.
Dec. 9, 2010: Borders posts $74.4 million loss for third quarter, acknowledges possible cash crunch in early 2011.
Dec. 30, 2010: Borders confirms that it's delaying payments to some publishers in hopes of reworking vendor financing arrangements.
Dec. 31, 2010: Stock plunges 22 percent to $0.90 a share.
Early January 2011: Publishers weigh whether to agree to short-term debt in exchange for giving up immediate cash payments for book shipments.
Jan. 6, 2011: University of Michigan expert says Borders likely headed toward bankruptcy or merger.
Jan. 12, 2011: Borders announces plans to cut 300-person Tennessee distribution center.
Jan. 17, 2011: Borders lays off another 40 employees at its corporate headquarters, leaving about 550 workers there.
Jan. 24, 2011: Company sells off Day By Day Calendar unit in bid to raise cash.
Jan. 27, 2011: Borders announces tentative financing deal with GE Capital but acknowledges possibility of "in-court restructuring."
Jan. 30, 2011: Borders announces decision to delay payments to more partners, including some landlords.
Feb. 1, 2011: Reports indicate bankruptcy filing may come with weeks.
Feb. 3, 2011: New York Stock Exchange warns Borders that its stock could face delisting if it doesn't rise above an average monthly price of $1 within six months.
Feb. 11, 2011: Ackman acknowledges $125 million loss on Borders investment.
Feb. 16, 2011: Borders files for Chapter 11 bankruptcy protection with plans to close 30 percent of its stores.
March 25, 2011: Borders asks court to approve executive bonus plan contingent upon a successful exit from bankruptcy.
April 6, 2011: Executives reveal plans to move Borders out of its corporate headquarters building on Phoenix Drive on Ann Arbor's south side, saying they would consider the metro Detroit region. Later, the company identifies the former Visteon Village complex in Van Buren Township as one possible destination.
April 22, 2011: Judge approves bonus plan with several strings attached.
May 5, 2011: In an interview, Borders CEO Mike Edwards says the company could emerge from bankruptcy by September if it gets support from publishers. He also says the company has fewer than 400 workers left at its headquarters.
May 19, 2011: In a filing, Borders asks the court to approve the severance of its deal with Seattle's Best Coffee, a subsidiary of Starbucks Corp.
June 1, 2011: A Los Angeles-based private equity firm named Gores Group, which is led by the brother of the billionaire who recently bought the Detroit Pistons, is reported to be considering an acquisition of Borders.
June 7, 2011: Phoenix-based private equity firm Najafi Companies is reported to be considering a bid to buy Borders. Najafi owns Direct Brands, which operates the Book of the Month Club and the Doubleday Book Club.
June 30, 2011: Najafi submits a tentative bid to buy Borders for $215.1 million in cash and the assumption of $220 million in liabilities. Borders asks the court to establish Najafi as the "stalking-horse bidder" and to approve a $6.45 million breakup fee for Najafi if Borders chooses another buyer against Najafi's will.
July 13, 2011: A committee of unsecured creditors — namely, publishers that ship books to Borders — file an objection to the proposed sale, saying that nothing would prevent Najafi from liquidating Borders on its own and pocketing valuable intellectual property. The creditors said that if Borders was to be liquidated, it wanted the Borders-approved liquidators to handle the process.
July 13, 2011: Najafi says it cannot proceed with an acquisition of Borders under the terms it previously laid out — a development believed to be related to the publishers' objection.
July 14, 2011: A bid by a team of liquidators is established as the top bid in an auction tentatively scheduled to take place July 19. Without another bid, the company would have to start liquidation sales as soon as July 22.
July 17, 2011: Deadline for bids passes without any new possible acquirers emerging.
July 18, 2011: Borders announces plans to liquidate. Some 10,700 people will lose their jobs, including 400 in Ann Arbor.
Contact AnnArbor.com's Nathan Bomey at (734) 623-2587 or nathanbomey@annarbor.com. You can also follow him on Twitter or subscribe to AnnArbor.com's newsletters.