Posted on
Sun, Jan 31, 2010 : 6:03 a.m.
Borders stores too costly for Ann Arbor bookseller as rents climb, sales fall
By Paula Gardner
Less than a year ago, Borders Group Inc. officials announced in their annual report that they were committed to their retail stores.
On another page of that report were the company's obligations based on its leases: By 2010-2011, annual lease costs will be $562 million. And by 2041, that number climbs to $1.248 billion.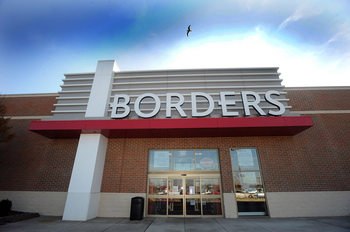 AnnArbor.com file photo
And those are on annual U.S. sales that in 2008 were $3.11 billion and - as reported over the past year - declining.
Still, the chain focused on stores.
"Our physical stores ... remain integral to our future success," the report stated. Operational improvement would be a part of that.
Officials concluded by saying, ""We remain dedicated to … offering our customers a rich shopping experience in a relaxing, enjoyable atmosphere."
Those words may offer some comfort to the estimated 20,000 plus employees that staff stores across the U.S.
And it may sound like it bodes well for the Ann Arbor area, which is home to the flagship store in downtown Ann Arbor and two large-footprint stores in shopping centers near both the east and southwest borders of the city. Property taxes alone on those stores generate more than half-million dollars in revenue.
Yet as Borders officials rolled out their corporate job cuts on Thursday, cuts on the store level were absent.
Officials said "there are no plans for widespread store closings," yet they also told employees in an internal memo that changes were likely coming to stores next.
"We are in the process of evaluating our store payroll and expect to make changes in our stores over the coming weeks," according to the memo from Shereen Solaiman, senior vice president of human resources.
Those changes, based on Borders' past moves, likely will involve store closings. That's how it handled trimming low-performing stores in the Waldenbooks chain and it's been closing individual stores based on various criteria on an ongoing basis.
But as the chain deals with rapid revenue declines and an industry overhaul with the emergence of mass-market electronic readers, Borders is not giving the impression that it is adjusting its store footprints to align with what many experts say it needs to survive: many titles available to download on a quality e-reader, none of which take up physical space in a retail location.
Secondary to that, experts point to, are online sales - which are dominated by Amazon.com. That's obviously another area that won't affect store space needs.
So that leaves Borders, grappling with declining sales, making decisions about stores.
The focus on creating a core environment for "bookies" sounds like a strategy consistent with the chain's original mission. And it's one that its employees - still known as book-lovers - should be able to deliver.
Yet is Borders - already behind the industry curve on e-readers and online sales - committing to an already-outdated footprint?
"Superstores clearly won't work," said retail consultant Ed Nakfoor of Birmingham, speaking of the respective futures of Borders and its competitors.
"They are not going to be able to sustain that kind of square-footage," Nakfoor said. And the key reason: Their space is used to house merchandise facing an increasing degree of obsolescence.
"Bookstores today," Nakfoor said, "are mimicking the record stores of several years ago. And look what happened there."
It's been two years since Borders rolled out its new superstore concept in Waters Place, the Pittsfield Township shopping center near Ann Arbor-Saline and Lohr Road.
And the chain continued to roll out the large-footprint stores, which average 24,700 square feet - with, on average, 13,100 square feet of that devoted to books. The largest superstores carry 192,000 books.
But the stores also contain music and movies - categories the store downsized by the 2009 holiday - along with stationery, a coffee shop, and a newsstand. Growing categories include teaching materials and children's books.
Nakfoor looks at the stores and sees too much clutter from incidentals that don't boost the book-buying experience.
Even Borders' own data shows that the bigger footprints aren't as efficient in generating sales as its smaller stores.
On average in 2008, superstores generated $203 in sales per square foot. Borders will be closing 67 percent of its Waldenbooks stores - which generated an average $266 per square foot.
On an operational basis, those stores - mostly based in shopping malls - may be more expensive to operate.
But as Borders focuses on refocusing its mission in its large-footprint stores, it also has to confront its real estate realities: Its lease obligations soon will be over $500 million per year.
Those leases are for stores that appear too big for struggling player in the book industry to sustain.
And that may be a reason for the chain to keep ignoring rumors that it will have to liquidate and instead focus on bankruptcy reorganization. That would allow the bookseller to shed those lease obligations that are keeping it from "right-sizing" itself.
There are plenty of persistent rumors that Borders eventually will have to liquidate.
But a better bankruptcy route may be a Chapter 11 reorganization that would allow the bookseller to shed those leases that stand in the way of "right-sizing" itself to survival.
Paula Gardner is business news director at AnnArbor.com. Contact her at 734-623-2586 or follow her on Twitter. Sign up for the weekly Business Review email from AnnArbor.com, distributed every Thursday, here.