Posted on
Thu, Dec 13, 2012 : 5:57 a.m.
Mayor and council members talk about where Ann Arbor has been and where it's going
By Ryan J. Stanton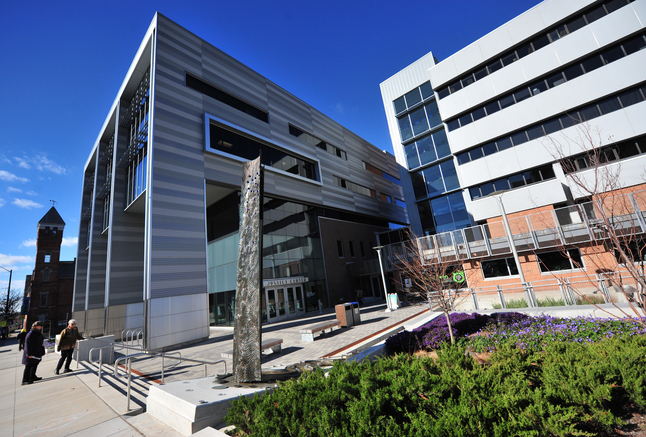 Ryan J. Stanton | AnnArbor.com
At the age of 61, Mayor
John Hieftje
, who moved here with his family in 1951, brings six decades of perspective to the discussion about where
Ann Arbor
has been and where it's headed.
"My father came here in '51 and bought a house with a veterans loan. He got out of the Air Force in '46 and went back to school," Hieftje said. "And I was nine months old when they brought me here. I know some townies have accused me of being a carpetbagger."
Hieftje's father started a business called Hieftje's Heating that he owned for many years, and Hieftje never left Ann Arbor except for about 10 years living at a lake north of town in the 1980s.
At a city retreat earlier this week, Hieftje and other members of the Ann Arbor City Council reflected on the city's past, how it's changed over time, and what they believe about its future.
Ryan J. Stanton | AnnArbor.com
"It was, in many ways, different, but also very much the same," Hieftje recalled of the Ann Arbor he remembers growing up in during the 1950s and '60s. "And it's always been kind of a diverse city, but when I was young, it was a very conservative city. I mean, this city voted for Nixon."
As the University of Michigan has grown, the town has grown, too, and it's become increasingly liberal. For instance, Barack Obama took about 8 out of 10 votes in Ann Arbor in the most recent election, and 10 out of 11 members of the City Council are Democrats — the exception being Jane Lumm, an Independent.
"I've seen the city gentrified from the time that I've been here," Hieftje said. "It's less affordable now, and I think that's something we can't ever forget. We have to continue to work in that area. We can't forget that we need to make it possible for others to live here who may not have the best of jobs."
When he was young, Hieftje recalled, the apartments near downtown were filled with working people because the shops were all downtown and they wanted to live close enough to walk and bike.
As the student population grew, Hieftje said, more and more U-M students came to town with a lot of affluence and pushed many working families out.
"Not all of our students are rich, but a good proportion of them are," he said. "They didn't used to be. Now they can afford everything, whatever they want, and they've forced the working people out, and very often into other cities. And that's been a problem for the city."
Beliefs about Ann Arbor
Hieftje and other council members were asked during Monday's planning retreat what they believed about Ann Arbor's future, and different opinions filled the room.
"I believe the future of Ann Arbor is bright," said Christopher Taylor, D-3rd Ward. "Accentuating the positive, our indispensable, strategic asset is secure and growing, our community is replete with talent and civic engagement, and the municipal organization is efficient and sustainable."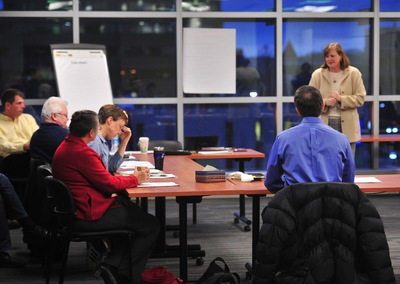 Ryan J. Stanton | AnnArbor.com
Taylor noted U-M — that strategic asset — is commonly ranked among the the top 25 universities in the world, and he believes that's an institution that will never leave town.
"The U of M is an enduring institution that grows and improves year in, year out, while Ann Arbor reaps the economic and cultural benefits," he said.
For the foreseeable future, Council Member Stephen Kunselman, D-3rd Ward, thinks Ann Arbor will experience what he called "static growth," and it will be lucky to hold on to what it already has going for it.
"And hopefully we won't be cutting," he added.
Kunselman said it's great that Ann Arbor has new housing developments coming, including thousands of new apartment beds in the downtown, many for students, but there's still a number of foreclosed homes and other houses for sale in his lower-income neighborhood on the city's southeast side.
"We still have very little infill development in our neighborhoods, unless you're close to downtown where the money and the action is at," he said.
"So I think there's still that feeling outside on the edges of Ann Arbor that we're not all beneficiaries of the great economic change that's occurring downtown."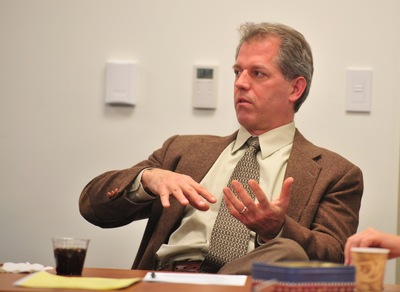 Ryan J. Stanton | AnnArbor.com
Even though the mayor and other city leaders talk a lot about growth, Kunselman noted Ann Arbor's population actually dropped (0.6 percent to 113,934) in
the last census
. He concluded Ann Arbor is not immune to economic forces outside the city and can't always count on U-M.
"Even though the U of M is the No. 1 beneficiary of federal dollars in research and development for public universities, that's drying up," he said, pointing to cuts the U-M Health System is making.
Council Member Sumi Kailasapathy, D-1st Ward, said she questions why the city seems so focused on growth and attracting new development. She said attracting more companies like Google to Ann Arbor should not be a preoccupation and obsession of the city.
Kailasapathy said she grew up in a small village in Jaffna, Sri Lanka, and most of the time she didn't even have electricity. She drew water from a well and used a bicycle to get around.
"Do we have to grow?" she said. "There are a lot of economists who are coming out and saying we don't have to be worrying about 3 percent growth, 2 percent growth, 5 percent growth. Stasis is OK, too. Preserving the quality of life is, I think, much more important."
Council Member Jane Lumm, an Independent who represents the 2nd Ward, said she grew up in a small town in southeastern Pennsylvania.
"I've been here over 30 years, and I'd like to believe that I'm still guided by those core small town kind of values," she said.
Lumm shares Kailasapathy's belief that the city needs to focus its resources more efficiently on core services like police and fire and maintaining roads, not visions of regional commuter rail.
"I do think that folks believe there's a disconnect between city hall's priorities and theirs, and we need to look at the alignment of our priorities with residents' priorities," she said.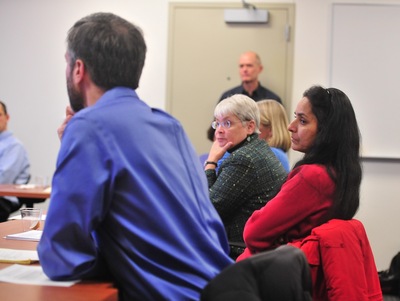 Ryan J. Stanton | AnnArbor.com
"When we plan things out, I strongly believe we really need to listen harder to people who disagree with us," Kailasapathy added. "We have to move ourselves away from our comfort zone."
Hieftje said investing in transit, including a more advanced bus system and rail to get people in and out of Ann Arbor, is essential to avoid major traffic congestion in the future. Additionally, he and other council members believe making sure people can walk and bike where they want to go is essential as more and more younger people look to give up owning cars.
Council Member Margie Teall, D-4th Ward, said it's inevitable that city officials will hear more from residents who are unhappy than those who think the city is on a good track.
"I believe our city is growing and I believe this is healthy for the city," Teall said, adding she learned that when she went on a trip to Colorado several years ago with the Downtown Development Authority and heard what other cities like Denver and Boulder are doing.
"I believe that change is necessary," Teall said, adding the city benefits when it brings new people to downtown and other parts of the city.
Boasting that Ann Arbor has one of the nation's most educated and engaged populations, Taylor said the city's human capital is a major asset not to be forgotten.
"Our neighborhoods and the residents they reflect are vital," he said. "Our reputation for and history of social justice and decency is widespread and well-earned."
On the other side of the ledger, Taylor said, Ann Arbor is limited by the fact that it exists in an economically and politically challenged state that has hindered its ability to provide services.
"It has systematically diminished support for crucial things such as public and higher education, and it de-emphasizes and under-resources longstanding infrastructure needs," he said.
Ryan J. Stanton | AnnArbor.com
More regionally, Taylor said, Southeast Michigan's economic challenges and political dysfunction are self-evident and he believes a real turnaround is nowhere in sight.
Taylor said Ann Arbor as a community must become more flexible and more open to change, as doing the opposite has the potential to weigh the city down.
Council Member Chuck Warpehoski, D-5th Ward, said he believes city government can make a meaningful difference in people's lives.
"I believe in an Ann Arbor that works for everybody," he said. "So when we look at our economic development strategy, yes, I want those high-tech jobs, but I also want jobs for pipefitters and machinists and brewers and baristas."
Warpehoski said he had a minor brain hemorrhage a few years back and couldn't drive or bike for a while, and that opened his eyes to the value of living in a walkable community.
"I realized just how close I am — we all are — to being on the other side of that donor-recipient line," he said, adding the city has a role to play in making sure there's a good social safety net, human services programs, transportation options and affordable housing in the community.
Warpehoski said he has a young daughter and he's terrified of where the world is leading for the next generation.
"I'm thinking how do we not just care for the people who are here now, but how do we minimize the damage we're doing to this earth?" he said. "How do we maximize what healing we can do? And how do we create resilience — in terms of our infrastructure, in terms of our economy and in terms of our community — so that whatever mess may be coming at us next, we're able to best adapt?"
Kunselman, who grew up in Ann Arbor in the 1960s and '70s, said he's "the son of hippies" and the attitude of social change that permeated the culture during his childhood remains with him.
"There are very few townies left in this community," he said. "I believe in the future of Ann Arbor because I am a product of its past. I believe that Ann Arbor has changed, has grown, but still has the foundation of a community that was respected worldwide for great social change."
Kunselman said he wished the city had more recreational programs in city parks during the summer that provided opportunities for kids to participate in games like box hockey and kickball.
"It was that interaction with kids of different socio-economic backgrounds that gave me the foundation of greater respect for everybody with differences of opinions," he said of his memories growing up in Ann Arbor. "And it's that diversity of thought, diversity of socio-economic status, that really is what makes Ann Arbor the greatest institution and municipality in the state of Michigan, if not the world."
That small-town feel
Council Member Sabra Briere, D-1st Ward, noted there's been a lot of talk recently about whether Ann Arbor is still a small town. She's lived in Ann Arbor for 40 years, since moving here in 1972 from Indiana, but she grew up in a town that's about one square mile.
"I waded in the river, hunted for snails and snakes, and could be gone for hours without my mother worrying about me," she said. "Just over 2,000 people live in my hometown."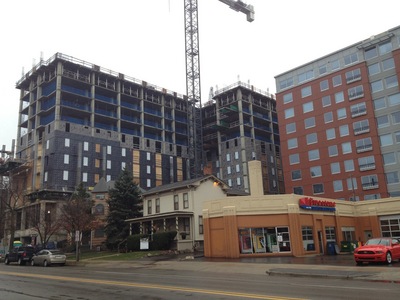 Ryan J. Stanton | AnnArbor.com
Briere said Ann Arbor was once a small town like the one where she grew up, and four decades later she thinks it has retained that small-town feeling.
But she said Ann Arbor is in an odd position with about 43,000 out of its 114,000 residents being University of Michigan students.
'"To me, that means that many of us don't have lasting ties to our community, and I don't think there's any way to change that," she said.
Hieftje agreed Ann Arbor has kept its small-town feel, despite just about doubling in population during his lifetime. He's been mayor for the past 12 years and is about to eclipse William E. Brown Jr. (1945-1957) as the longest-serving mayor in Ann Arbor's 161-year history.
He still recalls one Sunday afternoon when he was young and Mayor Cecil Creal, a Republican who served from 1959 to 1965, stopped by his house to visit his father. Hieftje said Ann Arbor remains the kind of place where it's not uncommon for residents to get face time with their elected leaders.
"That's the kind of city this is where you can still go talk to the people who are in office and have a conversation with them and express your views," he said. "I like that about our city."
Having been here a long time, Hieftje said Ann Arbor has grown up in many ways. And in a lot of ways, he said, it really hasn't changed.
"We have 14 historic districts in our city, and when you take a look at the downtown, there's only about 40 percent of it that'll ever change," he said.
And when you look at the rest of the city, Hieftje said, there are "wonderful, wonderful neighborhoods" that remain intact.
But he said it's important to keep growing jobs and bringing more residents and more companies like Barracuda Networks to downtown to keep the city's center thriving.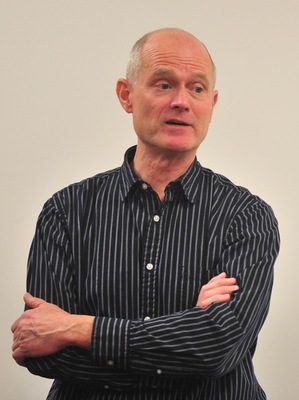 Ryan J. Stanton | AnnArbor.com
"I look at an Ann Arbor right now that is a more exciting place to be than it ever was before," he said. "There's more to do than there ever was before. I think it's in many, many ways a better city."
Case in point, Hieftje said, Ann Arbor consistently makes national lists for being one of the best places to live for both economic and general quality of life reasons.
"The city is performing at a very high level," he said. "I think we've done really well coming through the worst economic period since the 1930s."
And that's even after losing Pfizer, the city's largest employer and taxpayer, Hieftje said, noting the city lost about 4.6 percent its total property tax revenues when Pfizer went off the tax rolls and ended up in U-M's hands.
"We've bounced back from that," Hieftje said. "The jobs are being replaced. We've downsized government. City government is more efficient now than it's ever been."
Noting U-M's purchase of the Pfizer complex and its more recent decision to acquire the Blimpy Burger property on Division Street, Hieftje and others lamented the fact that the university continues to expand its footprint in the city, taking more and more land off the tax rolls.
"It's an issue that we need to address and it's something I'd like to see council discuss in the coming year," Hieftje said. "Already between the U of M and the other nontaxable properties and the city's parks, 40 percent of the land is nontaxable."
Given that the city still has to keep roads paved and provide fire protection and other services to those non-taxpaying areas, city officials argue that puts a strain on city taxpayers.
"I don't think anybody would argue that the university makes a tremendous contribution to the local economy," Hieftje said. "But as more and more land goes off the tax rolls, I think there's going to be an inevitable impact on the taxpayers in the city."
City Assessor David Petrak said U-M owned 2.39 square miles of land within the city as of October. That's about 8.4 percent of the city's 28.55 square miles.
Ryan J. Stanton covers government and politics for AnnArbor.com. Reach him at ryanstanton@annarbor.com or 734-623-2529. You also can follow him on Twitter or subscribe to AnnArbor.com's email newsletters.