Posted on
Thu, May 10, 2012 : 5:59 a.m.
Audience demands answers from Ann Arbor school administration, board members on proposed budget cuts
By Danielle Arndt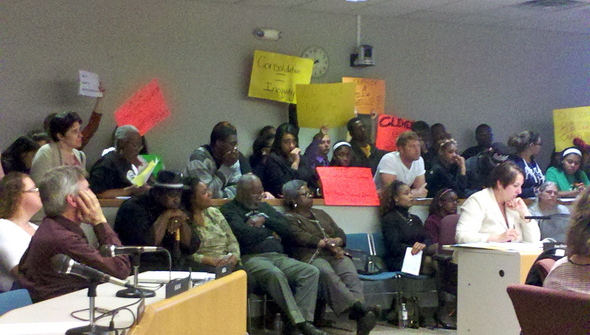 AnnArbor.com I Danielle Arndt
Editor's note: The location of Roberto Clemente Student Development Center has been corrected in this article.
Related story: Here are your chances to weigh in as Ann Arbor Public Schools budget talks continue
Concerned parents and students at Ann Arbor's Board of Education meeting Wednesday essentially asked school leaders to put their mouths where the money is.
Many of the 32 audience members who spoke during public comment chastised the Ann Arbor Public Schools for not responding to questions raised at the last regular board meeting, as well as for not providing a more detailed explanation and breakdown of proposed budget cuts.
Three groups again were represented: those advocating for keeping Roberto Clemente Student Development Center at its current location, those campaigning for the multi-age eight-day district-wide summer band camp at Interlochen and those pleading for busing to and from Ann Arbor Open School.
It was a rowdy, heated and passionate crowd that often cheered, chanted and burst into applause — and tears — as their fellow community members spoke. There were both old and new faces in the gallery of about 115 people.
"Is the district conducting a traffic study over the summer?" Ann Arbor Open parent Jill Zimmerman said, questioning whether the district gave safety concerns at AAO any thought prior to recommending the school's busing be cut. "Will there be time to make changes to the parking lot, time to organize these carpools we keep hearing about?
"(The school) repeatedly has asked how much busing to AAO will cost the district. … If we had this information and more time, we could make informed suggestions. … And frankly, attempts to cut transportation in the past have not always resulted in the expected savings."
Cutting busing to AAO has been lumped into a proposal to reduce the district's $17.8 million budget shortfall for 2012-13 by $266,400. The savings also would include eliminating busing to Roberto Clemente, Community and Skyline — the district's other "choice" schools.
It is estimated Roberto Clemente transportation accounts for $108,000, leaving the other three schools to total $158,400.
AAO parent Ruth Ann Church said as was articulated during the recent technology bond millage campaign, the district clearly has a long-term technology plan.
"I am wondering where the board's long-term transportation plan is?" she said.
Later in the meeting, Trustee Simon Lightfoot asked Superintendent Patricia Green about the process community members should employ to obtain information such as how much busing to AAO costs. Green said parents should use the Freedom of Information Act for these requests.
Trustee Susan Baskett said FOIAs cost money and are "not equitable to all."
"That seems burdensome," she said, adding as taxpayers, parents have the right to that information. "I hope we have a better procedure other than FOIA requests, and perhaps that is something we can develop in the future."
Macenzie Caddell, London Renfroe and Tevin Cole, all students at Roberto Clemente, admonished board members for not taking them up on their offers to visit the school.
The three students spoke separately at the meeting in April, and each had invited the Board of Education to come to Roberto to see what the program is all about. Only Vice President Christine Stead accepted the invitation, they reported.
Caddell said according to the school's count, four of the seven sitting board members have been inside Roberto Clemente to observe how the program is operated; three have not. She asked how the trustees could make informed decisions about Roberto's location without understanding how it impacts the school's success.
An emotional Marcus Buggs, a Clemente senior, explained the school was constructed on Textile Road in Pittsfield Township for a reason: to be away from downtown Ann Arbor and away from the bus lines to discourage skipping.
Closing the Roberto building and moving the program to Ann Arbor Technological High School, off Stone School Road near Packard Road, is among the proposals on the table to reduce Ann Arbor's $17.8 million shortfall.
A number of people — represening both Roberto Clemente and Ann Arbor Open — wanted to know why there were no proposed cuts to the Balas Administration Building.
Former Roberto parent Sherry Witherspoon called the $100,000- and $200,000-plus salaries of the Balas administrators "erroneous spending."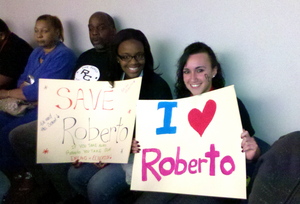 AnnArbor.com file photo
"It appears the Balas building is not on the same financial diet that the rest of America is on," said AAPS alumna Cassandra Parks, adding: "The concept of Roberto works. Huron and Pioneer are dropout factories."
Roberto teacher Mike Smith said for a district that prides itself on data, research and planning, none has been presented on the potential decision to close the Roberto Clemente building.
When asked after the meeting whether cuts at Balas, specifically to administrator salaries, had been considered, Green responded: "The administration has put forward their proposed budget for this year and that wasn't in there."
Stead said the board has cut spending at Balas drastically in other ways in the past 10 years by reducing the number of full-time employees and departmental expenses. She said the administration building has become so "bare bones" and "depleted" of people that individuals have more responsibilities and things like data analysis, the handling of FOIAs and other operational tasks take longer.
Board trustees asked when a presentation about the consolidating of Roberto Clemente and A2 Tech could take place and President Deb Mexicotte said it would be premature to put it on the agenda prior to passing the budget.
"Something this big I can't see coming to the board and not being approved," Basket said. "It might help the community to communicate with them what this could look like. Do we have an idea of what this might look like? … My concern is, can we assure the public this will be well thought out and not just show up on Sept. 1?"
Green said she and other administrators have been in ongoing discussions with the principals and leaders of both alternative high school programs. She said there are a number of possibilities being discussed. But it wouldn't be appropriate to go into detail quite yet, she said.
In her closing remarks at Wednesday's meeting, Trustee Irene Patalan addressed the passion shown earlier by the public.
"I am concerned about public commenting," she said. "I find I'm a little troubled by what seems like a lack of sticking to the rules and a lack of respect, and what is perceived by me as threats to the board or the superintendent or administration.
"I get anger and I get advocacy, but the board is feeling it too," she said of the funding cuts to valuable programs and services.
Stead echoed Patalan's remarks, encouraging the public to "work to change the legislation in a constructive way."
She said the state government has prohibited communities from being able to reflect their own community values in education. She said rallying for an amendment to Proposal A that restores local levy power would be a good next step for community education advocates.
Staff reporter Danielle Arndt covers K-12 education for AnnArbor.com. Follow her on Twitter @DanielleArndt or email her at daniellearndt@annarbor.com.