Posted on
Sat, Sep 24, 2011 : 1:35 a.m.
Your mega guide to the San Diego State vs. Michigan football game
By Rich Rezler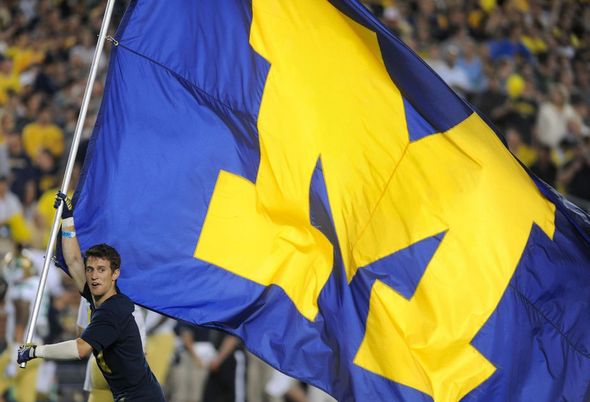 Angela J. Cesere | AnnArbor.com
WHO: San Diego State (3-0) at No. 22 Michigan (3-0).
WHERE: Michigan Stadium, Ann Arbor.
WHEN: Noon today.
ODDS: Michigan is favored by 10 1/2 points, according to sportsbook.com.
SERIES RECORD: Michigan leads, 1-0.
LAST MEETING: Michigan won 24-21 on Sept. 18, 2004. (Recap)
WEATHER: Mostly cloudy. A chance of light showers. Highs 64 to 68. Latest forecast.
BROADCAST INFORMATION: TV: BTN; Radio: Michigan Sports Network (local affiliates).
LIVE COVERAGE: Join our live chat on the Michigan football home page beginning at 11:30 a.m. and follow beat writer Kyle Meinke on Twitter @kmeinke for live updates during the game.
MICHIGAN: Roster | Stats | Schedule/Results
SAN DIEGO STATE: Roster | Stats | Schedule/Results
WHAT'S AT STAKE: No. 22 Michigan can validate being in The Associated Press poll for the first time this season by beating undefeated San Diego State, which is coming off an 18-point win over Washington State. The Aztecs can show Brady Hoke, their former coach, the grass isn't greener at the Big House with an upset that likely would vault them into the AP poll.
KEY MATCHUP: San Diego State RB Ronnie Hillman vs. Michigan's defensive line. Hillman is averaging nearly 166 yards rushing per game, ranking second in the nation just ahead of Michigan QB Denard Robinson, and leads the country with eight rushing touchdowns. The Wolverines' front four has perhaps been the weakest link on the team, allowing Eastern Michigan and Notre Dame to run for about 200 yards each the past two games.
PLAYERS TO WATCH: San Diego State: QB Ryan Lindley. He has started 34 straight games and is 12-4 since 2010. He was 21 of 37 for 273 yards and two TDs against Washington State. Michigan: QB Denard Robinson. The reigning Big Ten offensive player of the year has struggled in the passing game, completing just 43 percent of passes with four interceptions the past two games.
FACTS & FIGURES: Hoke helped San Diego State win their first bowl game last year in 12 years just two seasons after he inherited a team coming off a 2-10 record. ... Aztecs coach Rocky Long, who led New Mexico from 1998-2008, was Hoke's defensive coordinator the past two years. ... Michigan beat San Diego State 24-21 in 2004, in their only previous matchup. ... The Wolverines, 3-0 for the third straight season, have won 11 straight nonconference games. ... The Aztecs are 3-0 for the first time in 30 years and have won five straight, dating back to last year.
AnnArbor.com coverage

There's a soap opera-like storyline surrounding Brady Hoke battling his old team that makes this meeting unique. Chip that away, and you still have a pretty good football game. We've covered both angles this week. Here is a compilation of related stories leading up to kickoff:
FRIDAY

In this video report, our Michigan football beat reporter, Kyle Meinke, says the Michigan defense will have its hands full with San Diego State:



• And, in written-word style, a Meinke column: Michigan coach Brady Hoke's reunion with his old team is loaded with emotion, regardless of what he says.
• Once Hoke's players, they're now his adversaries. Get to know San Diego State's best players: Ryan Lindley, Ronnie Hillman, Miles Burris, Jerome Long and Colin Lockett.
• Turnovers and its safeties' play-making abilities have helped the Michigan defense bend, but not break, this season.
• Our weekly poll: Las Vegas oddsmakers have made Michigan a 10 1/2-point favorite. What do you think?
THURSDAY

• How did Michigan prepare for SDSU's Ronnie Hillman, the Wolverines' toughest running back test to date? They chased around Denard Robinson, of course.
• Michigan has been outscored 21-0 in the first quarter this year and has a 100-23 edge in the final three quarters. Wide receiver Junior Hemingway draws an analogy between slow starts to game days and slow starts during the practice week.
• Former SDSU and NFL offensive lineman Kyle Turley hasn't been shy about sharing his opinions about Hoke leaving San Diego. In a radio interview, Hoke says he doesn't mind that Turley is still miffed.
• In our weekly Beat Writer Breakdown feature, Brent Schrotenboer of the San Diego Tribune helps preview the game from the Aztecs' angle.
• Our Q&A this week is with Michigan senior center David Molk. He doesn't like the media much, so his answers - while insightful -- are a little shorter than previous Q&As.
• Our Michigan football beat writer, Kyle Meinke, conducted a lunchtime live chat on Thursday. Read the transcript here.
WEDNESDAY

• Junior Craig Roh, who had started every game of his Michigan football career, didn't meet coaches' expectations early this season. He broke down. He cried. He had an epiphany. Now, he seems to have turned things around after playing well against Eastern Michigan.
• Denard Robinson's feet have been in the headlines quite often, don't you think? First there was that whole Shoelace thing. Then we marveled at how fast those feet move. Now, he's admitted he has "happy feet" in the pocket.
• Michigan's tailback hierarchy is taking shape. Vincent Smith, Fitz Toussaint and Thomas Rawls have risen to the top; Michael Shaw seems to have slipped a notch or two.
TUESDAY

• For many reasons, former San Diego State coach Brady Hoke isn't thrilled about leading Michigan into this game against the Aztecs. One big reason beyond the obvious interpersonal conflict: SDSU is pretty good.
• So 5-foot-6 Vincent Smith is being considered for the starting tailback spot. Is he big enough to carry that load? (Plus much more in this Wolverirnes notebook.)
• With poll: Brady Hoke thinks San Diego State has edge in the game because of its familiarity with offensive coordinator Al Borges' schemes and tendencies.
• San Diego State coach Rocky Long says his players hold no ill-will toward Hoke. (Don't let Kyle Turley hear you talking like that, Rocky.)
• We had some injury notes, and a little video footage, after Michigan's open practice on Tuesday.
MONDAY

• Hoke and players offer their thoughts on Denard Robinson's passing-game struggles,. (Plus much more in this Wolverines notebook.)
• SDSU coach Rocky Long claims Hoke's background coaching the Aztecs is a 'huge advantage" for the Wolverines.
Around the Big Ten
• Eastern Michigan at Penn State, noon, ESPN2. (Preview | Eastern Michigan coverage)
• Central Michigan at Michigan State, noon, ESPNU (Preview | MSU coverage | CMU coverage)
• Western Michigan at Illinois, noon, BTN. (http://sports-stats.annarbor.com/merge/tsnform.aspx?c=annarbor&page=cfoot/scores/live/preview.aspx?id=31728 | WMU coverage)
• Colorado at Ohio State, 3:30 p.m., ABC. (Preview)
• South Dakota at Wisconsin, 3:30 p.m., BTN. (Preview)
• North Dakota State at Minnesota, 7 p.m., BTN. (Preview)
• Louisiana-Monroe at Iowa, noon, BTN. (Preview)
• Indiana at North Texas, 7 p.m. (Preview)
• Nebraska at Wyoming, 7:30 p.m., Versus. (Preview)
• Idle: Northwestern, Purdue.
The Associated Press contributed to this report.