Posted on
Thu, Mar 10, 2011 : 5:59 a.m.
Ann Arbor area poised to add 8,000 jobs over next 3 years, University of Michigan economists report
By Nathan Bomey
Job growth is back.
Washtenaw County is in the midst of a steady economic recovery that will nearly erase the massive job losses of the last decade, according to a new economic forecast conducted by the University of Michigan for AnnArbor.com.
The county is expected to add 8,840 jobs from 2011 through 2013 as the region's unemployment rate declines from an average of 8.6 percent in 2010 to 7.2 percent in 2011, 7.0 percent in 2012 and 6.7 percent in 2013, according to the forecast.

2011-13 Washtenaw County economic outlook

Job growth will occur in a broad range of sectors, according to the forecast released by U-M economists George Fulton and Don Grimes.
"It's not just in one or two sectors. It's really fairly broad-based, and that makes us more optimistic that the recovery will be sustained," Fulton said in an interview. "I think this is the best news story we've had in several years."
The county economy's gradual recovery, in fact, has already begun. In 2010, Washtenaw added 4,087 jobs, the economists estimated.
That came after four consecutive years of job losses worsened by the collapse of the Michigan economy, the auto industry's implosion and the global financial crisis. Washtenaw lost 13,429 jobs from 2006 through 2009.
Those job losses serve as a reminder that the economy's gradual recovery won't seem like a recovery to all workers, Fulton said. If the U-M forecast is accurate, the Ann Arbor area will still have 500 fewer jobs in 2013 as it had in 2005.
"It does not mean the economy is back to normal," the economists wrote in their report. "Indeed, the economic struggles will continue for many residents, and they take little comfort in the knowledge that the worst is over at some level outside of where they operate."
Among the key findings in the economists' report: Manufacturing is far from dead. After years of astonishing job losses in the region's manufacturing sector, local manufacturers are slowly adding jobs, according to the forecast.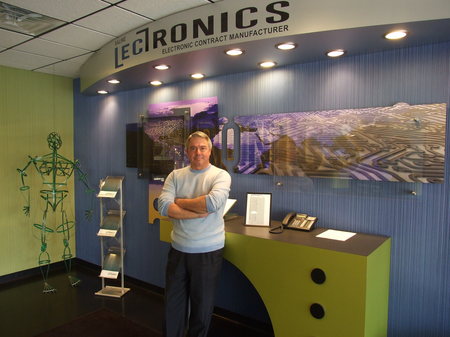 Nathan Bomey | AnnArbor.com
The rapid stabilization of General Motors, Ford and Chrysler after the auto industry's crisis helped Washtenaw's manufacturing base return to stability.
The number of workers in the local manufacturing sector fell nearly 60 percent, or by 17,814, from 1999 to 2009. But in 2010, manufacturers added 538 jobs - and the forecast projects that manufacturers will add another 414 jobs from 2011 through 2013.
It's far from a growth engine, but it's stability - and that provides a base for the rest of the economy to grow, Fulton said.
Calling the sector stable is particularly remarkable considering the fact that GM in December shuttered the 5 million-square-foot Willow Run plant. The historic plant employed more than 1,300 workers in Ypsilanti Township when GM announced in June 2009 that it would close the facility.
But at the same time, Ford-controlled supplier Automotive Components Holdings ramped up its Saline plant to full capacity. The facility has about 2,000 workers now, although ACH's Milan plant cut about 200 positions in 2010.
"The big difference is manufacturing is now adding a moderate number of jobs rather than cutting lots of them," Fulton said.
Much of the manufacturing job growth in Washtenaw County will come from firms like Saline Lectronics, an advanced manufacturer that produces customized circuitry for several industries.
Saline Lectronics has about 126 employees, up from 82 about a year ago. The company, which has benefited from deals with local customers such as Tecumseh Products and Accuri Cytometers, is currently seeking to hire three additional technicians.
"We will be continuing to hire," Saline Lectronics CEO Mario Sciberras said. "Another 20-person increase in our job growth is well within range."
Many companies are still cautious about hiring, concerned that the economy is still too weak to get aggressive.
Longtime Ann Arbor technology executive Dwight Carlson, CEO of Pittsfield Township-based 3D measurement products maker Coherix, said he's hesitant to boost hiring too quickly.
"I would like to add 10 to 15 people right now, but we're really cautious, like everyone else. That's the problem," Carlson said.
Some 90 percent of the private sector job growth is expected to come from service providers, while 10 percent will come from goods producers, the economic forecast projects.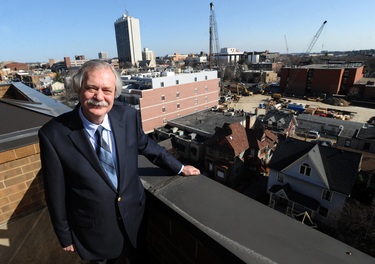 Melanie Maxwell | AnnArbor.com
Among the key drivers is the region's massive health care industry, which is poised to reap huge dividends from demographic shifts as baby boomers age.
Private ambulatory health care services providers will add about 479 jobs from 2010 to 2013. But that figure does not include the University of Michigan Health System, whose job figures are included under the state government segment.
The region's government sector is expected to add 2,887 jobs from 2010 to 2013. Most of that is attributable to state government, which includes U-M, the U-M Health System and Eastern Michigan University.
The number of local workers employed by the federal government is expected to fall by 214, while the number of local government workers is expected to remain flat.
Budget cuts by the state government, local governmental units and school districts may lead to job losses for some governmental employees, the economists said.
Eight of the county's top 10 employers rely on governmental funding for at least part of their budget, according to a recent AnnArbor.com analysis.
"It is possible that the declines in government could be more severe than what we're forecasting," Grimes said. "But government seems to turn out stronger than we think every time we do a forecast. It just seems to hold up better."
The biggest driver of private sector job growth over the next three years will be professional and business services, which includes most of the region's technology companies and consulting firms.
The professional and business services segment is expected to add 1,610 jobs over the next three years after adding 961 in 2010.
That includes 549 new jobs in the employment services sector, which typically means temporary jobs.
One of the big beneficiaries of a better economy is the restaurant sector. The "food services and drinking places" sector is expected to add 784 jobs from 2010 to 2013.
Although new jobs are projected in most major industries, workers who have just a high school degree will still have a hard time getting work, the economists said.
The good news for the region is that Washtenaw County has the second highest percentage of residents with a higher education degree among the 366 metropolitan areas in the country, according to statistics from 2000.
"If I had two wishes and I could make them happen, I would say continue to have a stable auto sector and rank near the top on these education statistics," Fulton said. "Rank near the top of the heap and then I'm comfortable stepping aside and letting that economy operate. I think it's bound to do well."
Even in the auto industry, a two-year degree is typically required to work on the assembly line today, said David Cole, chairman emeritus of the Ann Arbor-based Center for Automotive Research.
"There's no factory jobs for high school dropouts," Cole said.
Other subsectors expected to add jobs from 2010 to 2013 include retail trade (288); finance and insurance (236); and arts, entertainment and recreation (223).
Contact AnnArbor.com's Nathan Bomey at (734) 623-2587 or nathanbomey@annarbor.com. You can also follow him on Twitter or subscribe to AnnArbor.com's newsletters.