Posted on
Fri, Nov 2, 2012 : 11 p.m.
Ypsilanti's Corner Brewery wins retail award for expansion and Green Brewery Project
By Lizzy Alfs
AnnArbor.com file photo
Related story: AnnArbor.com unveils winners of 2012 Deals of the Year awards at annual ceremony
A few months after Ypsilanti's Corner Brewery completed a $1 million expansion project, owner Rene Greff said the changes have completely "revolutionized" business at the brewery.
The expansion — which took about two years from its initial planning stages — brings the small-scale brewery to a whole new level.
"Before, we were packing to order," Greff said. "We would get an order in and package up as much as was needed to fill that order. We reached a point two years ago where that was no longer sufficient."
AnnArbor.com's 2012 Deals of the Year award winners
Deals of the Year award winners were unveiled at annual ceremony on Friday
Greff said the addition of a new 2,200-square-foot warehouse space allows them to keep enough beer in storage for when wholesalers call and place large orders. The expansion also resulted in increased capacity, improved packaging, a better shelf life for their beer and a faster bottling line.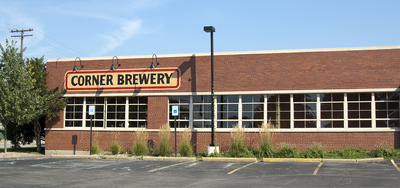 corner brewery
As part of the project, Corner Brewery became the first solar brewery in Michigan after the Greffs invested $250,000 to create an energy-neutral warehouse space. They installed solar-thermal, photovoltaic, and geo-thermal technologies along with other improvements such as new windows, awnings and energy-efficient chiller equipment.
For these reasons, Corner Brewery was honored Friday night as the Retail Award winner at AnnArbor.com's 2012 Deals of the Year ceremony. Other nominees in the category were Sava Lelcaj's babo market, and the new Costco warehouse store in Pittsfield Township.
Greff and her husband, Matt, opened Corner Brewery in Ypsilanti in 2006 — 11 years after they opened downtown Ann Arbor's Arbor Brewing Company.
The Greffs agree: The decision to buy a vacant and blighted building in Ypsilanti and convert it into a brewery was a risk.
"When we first started looking at this location it was vacant," Matt Greff told AnnArbor.com. "Out back, there was a mattress with some empty pint bottles and some syringes.
"All of the windows were broken out," he said. "When we first opened people said, 'You're crazy, why are you going to open up a place in Ypsilanti?'"
But risk quickly turned to reward when Corner Brewery became a popular Ypsilanti destination. They were able to garner a large and loyal customer following while increasing beer production.
"Given the location, we weren't sure how much on-premise business we were going to do, and that's been a pleasant surprise for us," Greff said. "We've been completely embraced by the neighborhood. And we have so many local regulars that come, and that's what created the demand for increasing our kitchen and adding more staff."
Lizzy Alfs is a business reporter for AnnArbor.com. Reach her at 734-623-2584 or email her at lizzyalfs@annarbor.com. Follow her on Twitter at http://twitter.com/lizzyalfs.