Posted on
Fri, Nov 2, 2012 : 11:31 p.m.
Bank of Ann Arbor named AnnArbor.com's 2012 Company of the Year
By Lizzy Alfs
Related story: AnnArbor.com unveils winners of 2012 Deals of the Year awards at annual ceremony
It started with a catchy marketing campaign.
Bank of Ann Arbor launched its now nationally recognized "non-local banker" campaign in 2010 to convince people that a localized approach to banking is better.
Playing off of the idea that non-local banks are so out of touch with Ann Arbor that they think Community High is when we all feel really good and Gandy Dancer won the Triple Crown, the company successfully uses humor to reach a wider audience.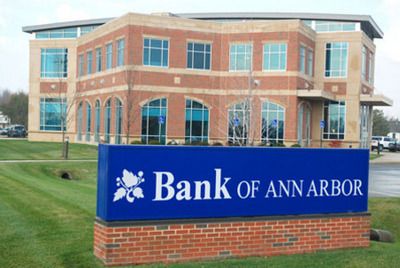 File photo
But that was just the beginning.
Since 2010, Bank of Ann Arbor, the largest locally owned bank in Washtenaw County, has seen its total assets grow by nearly 50 percent from $547 million to $802 million while making more loans, more deposits and growing its capital.
AnnArbor.com's 2012 Deals of the Year award winners
Deals of the Year award winners were unveiled at annual ceremony on Friday
It's now the Ann Arbor region's fifth largest bank, based on deposits in the market, according to an FDIC report from June 30. The market share was 7.36 percent based on more than $650 million in deposits.
The bank has effectively immersed itself in the Ann Arbor community, sponsoring events like the popular Sonic Lunch at downtown Ann Arbor's Liberty Plaza. On Thursdays during the summer, thousands of people flock to the outdoor plaza to eat lunch and listen to musicians, including Mayer Hawthorne and Theo Katzman.
It also launched a social media contest to solicit ideas for a "non-local banker" billboard, growing its Facebook members to nearly 19,000.
"It's all part of what makes us great," said Bank of Ann Arbor CEO Tim Marshall. "The financial strength of the bank, branding, the people, and the commitment to the community. All those factor in."
Founded in 1996 with one location and 15 employees, Bank of Ann Arbor now has six branches in Washtenaw County and one in Plymouth.
In the years after the economic downturn — a time when many Michigan banks lost money — Marshall said Bank of Ann Arbor was able to emerge as a leader and grow its customer base.
"People are embracing a more localized approach to banking," he said. "Especially banks that didn't participate in subprime lending or sophisticated swaps."
The bank announced plans in April to triple its space in Traver Village on Plymouth Road and to open a new office in Saline after purchasing the former Bank of America branch at 179 E. Michigan. It also announced plans to close its Washtenaw Avenue banking convenience center after failing to negotiate a lease agreement with the landlord.
At the same time, Marshall was appointed to several positions over the last year, including chair of Ann Arbor SPARK and chair of the Federal Reserve Bank of Chicago's Community Depository Institution Advisory Council.
While the growth and the bank's success are due to a combination of many factors, Marshall is adamant: The unique marketing campaign definitely paid off, he says.
So don't expect that non-local banker to go away anytime soon.
Lizzy Alfs is a business reporter for AnnArbor.com. Reach her at 734-623-2584 or email her at lizzyalfs@annarbor.com. Follow her on Twitter at http://twitter.com/lizzyalfs.