Posted on
Fri, Nov 2, 2012 : 11:31 p.m.
AnnArbor.com unveils winners of 2012 Deals of the Year awards at annual ceremony
By Lizzy Alfs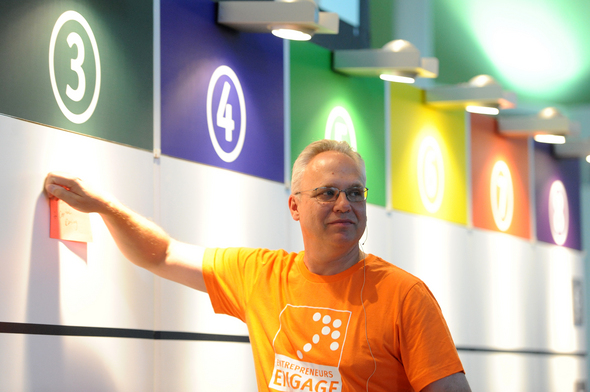 AnnArbor.com file photo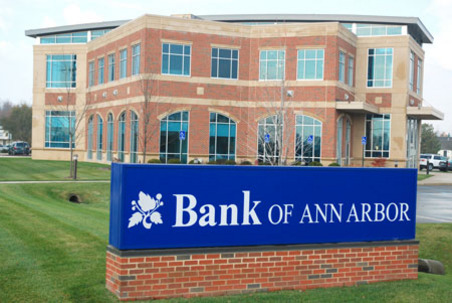 AnnArbor.com file photo
Washtenaw County's largest locally owned bank and the co-founder of a burgeoning technology company were honored Friday night as the top winners at
AnnArbor.com's 2012 Deals of the Year
ceremony.
Rich Sheridan, co-founder and CEO of Menlo Innovations, and Bank of Ann Arbor were awarded Executive of the Year and Company of the Year, respectively.
The annual black-tie ceremony, held this year on Nov. 2 at Eastern Michigan University's Student Center, recognizes the business decisions that had the most impact in the region over the previous year. The event draws hundreds of attendees, including high-level business executives and nonprofit leaders.
For Rich Sheridan, winner of AnnArbor.com's Executive of the Year, success in the technology world comes down to collaboration rather than competition.
AnnArbor.com's 2012 Deals of the Year award winners
Deals of the Year award winners were unveiled at annual ceremony on Friday
After co-founding Menlo Innovations in 2001, Sheridan has since grown the company to 21 full-time employees and achieved a record sales level in 2011. To continue its growth, the software development company recently tripled its office space in a move from Kerrytown to Liberty Street.
But for Sheridan, it's not all about the success of Menlo.
An entrepreneurial leader in the Ann Arbor community, Sheridan serves as an informal mentor for students at U-M's student startup accelerator TechArb, which is located next to Menlo in The Offices at Liberty Square. He's also an adjunct faculty member at the College of Engineering, helping to teach the practicum course in entrepreneurship.
To help foster collaboration and innovation in the Ann Arbor community, Menlo shares its workspace with other startup companies that pay nominal rent to be downtown and connected to the community that Sheridan is building.
"The mentorship network is becoming strong from top to bottom, and once it gets there it's a virtuous cycle that is very hard to stop," Sheridan said. "There are almost no steps you can take to stop [entrepreneurship], I think it's a basic human need. In fact, I think that we're all born to be entrepreneurs but most of us have it squished out of us."
That leadership and commitment to the region's growing entrepreneurial network is what won Sheridan AnnArbor.com's Executive of the Year award.
For Company of the Year winner Bank of Ann Arbor, the past year marked a period of intense growth.
The bank has seen its total assets grow by nearly 50 percent since 2010, increasing from $547 million to $802 million while making more loans, more deposits and growing its capital. It's now the fifth largest bank in Washtenaw County based on deposits tallied by the FDIC. As of June 30, its market share was 7.36 percent based on more than $650 million in deposits.
This past year, the bank announced plans to expand and open a new office in Saline. Founded in 1996, it now has six branches in Washtenaw County and one in Plymouth.
Perhaps most notable for Washtenaw County residents is the unique approach Bank of Ann Arbor has taken to marketing.
The company's catchy "non-local banker" campaign, launched in 2010, catapulted the bank into the national spotlight as people took notice of clever billboards, radio ads and social media contests that play off of the idea that non-local bankers are so out of touch with the Ann Arbor area that they think Community High is when we all feel really good, and the 777 Building is a casino. Bank of Ann Arbor uses humor — and a signature bright green color — to stand apart from its competition.
The bank has also increased its community involvement by hosting events like downtown Ann Arbor's Sonic Lunch.
"It's all part of what makes us great," said Bank of Ann Arbor CEO Tim Marshall. "The financial strength of the bank, branding, the people, and the commitment to the community. All those factor in."
Aside from Executive of the Year and Company of the Year, AnnArbor.com recognized deals, announcements or transactions within seven sectors that lead the local economy. The winners:
University of Michigan Health System and Trinity Health-Michigan: The organizations were awarded the Health Care Award for a new master affiliation agreement between the two health care giants that is expected to improve patient experiences and pave the way for more collaboration.
Corner Brewery: Matt and Rene Greff's Corner Brewery was awarded the Retail Award for a $1 million expansion that revolutionized business at the brewery. As part of the expansion, Corner became the first solar brewery in Michigan.
LLamasoft: This Ann Arbor-based firm won the Technology Award after it showed significant growth in revenue, expanded its footprint in downtown Ann Arbor and secured millions in venture capital.
U-M Transportation Research Institute's Connected Vehicles project: This pilot program — a pioneer in vehicle safety research — won the Research Award for equipping thousands of area cars, trucks and buses with devices that can communicate with one another and let drivers know if they're at risk of a collision.
Barracuda Networks at 317 Maynard: A deal between network security firm Barracuda Networks, represented by Colliers International, and Ann Arbor-based First Martin Corp. won the Commercial Real Estate award for a 45,000-square-foot lease that will bring new life to long-vacant office space in downtown Ann Arbor.
Ann Arbor PTO Thrift Shop and Ann Arbor Public Schools Educational Foundation: These Nonprofit Award winners each pledged thousands of dollars to restore late bus service to Ann Arbor Public Schools middle-schoolers after the service was cut by the district.
Landmark: This 14-story, 606-bed high-rise on South University won the Construction and Development Award months after it opened its doors to tenants. Pioneered by Oakland County developer Ron Hughes, who later sold a majority to Illinois-based Campus Acquisitions, the high-rise is helping to change the face of student living in downtown Ann Arbor.
Lizzy Alfs is a business reporter for AnnArbor.com. Reach her at 734-623-2584 or email her at lizzyalfs@annarbor.com. Follow her on Twitter at http://twitter.com/lizzyalfs.