Posted on
Thu, May 3, 2012 : 5:54 a.m.
Voters to decide fate of Ann Arbor schools' $45.8M technology millage on May 8
By Danielle Arndt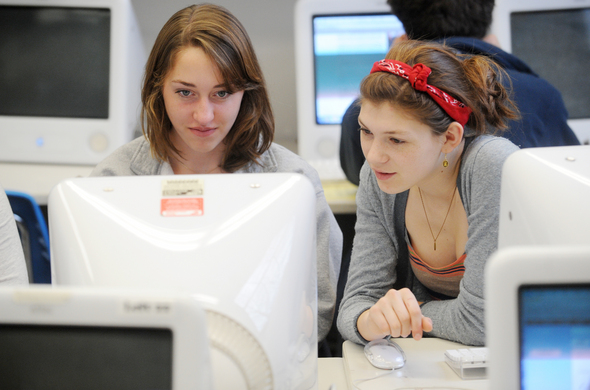 AnnArbor.com file photo
Residents within the
Ann Arbor Public Schools
district will be asked to vote on a
$45.8 million bond for technology improvements
next Tuesday.
If passed, starting in July, the millage would levy, on average, an additional .51 mills per year until 2023.
According to AAPS, voters whose homes have a market value of $100,000 would pay an extra $26 per year. Residents with a $200,000 to $300,000 home would owe $51 to $77 more.
The technology bond would allow AAPS, over the course of 10 years, to expand its wireless infrastructures, increase its bandwidth, upgrade server rooms and purchase new Mac computers, printers, iPads, document cameras and digital textbooks.
Included in the Ann Arbor Public Schools technology bond plan is:
Expanding wireless infrastructures for greater support and speed
Expanding AAPS' network video system
Replacing 8,142 of the district's 8,250 computers at a cost of about $25 million
Purchasing mobile technology devices, such as $13,500 in iPads, for student use
Replacing sound amplifiers in classrooms across the district
Upgrading server rooms, replacing some servers and fixing heating and cooling issues in these rooms
Replacing and repairing printers at a cost of $300,000
Purchasing one document camera per art room
About $500,000 in career-technical education equipment
Human resources software
It also drastically could alter the tone of current budget discussions, school officials have said.
Administrators indicated if the bond does not pass, AAPS would need to scrounge for a minimum of $3 million to $6 million for the 2012-13 school year in order to fix critical bandwidth and infrastructure problems that cause frequent crashes of the schools' main distribution framework.
Ann Arbor is facing a $17.8 million budget shortfall for the coming academic year and has proposed a variety of cuts to staff, transportation and the merging of its alternative high schools, among other things, to balance the budget.
"I don't know how it is going to turn out," Glenn Nelson, school board trustee and member of the Citizens Millage Committee, said of Tuesday's vote. "I've been through enough of these things to know and I'm really nervous and hyper and have not been sleeping well. … I fear for the students if we don't figure out a way to get resources into the schools."
The committee has passed out fliers at school functions and events and hosted a couple of public forums on the technology bond. However, the forums have been sparsely attended, Nelson said. School officials also have made the rounds, presenting to the district's parent-teacher organizations.
Nelson said outside of the core school base, he has encountered a number of people who do not support the millage.
"They will just shake their heads firmly and say, 'No, I can't support it' … or they don't take the flier," he said.
The Ann Arbor/Ypsilanti Regional Chamber (A2Y) issued a statement supporting the technology bond.
While not an advocacy group, the Ann Arbor Technology Advisory Committee, comprised of local tech and software gurus, has expressed its approval of the tech bond plan. It also helped the district tweak its instructional technology outlook for 2013-15.
The tweaks included exploring with greater emphasis digital textbooks, integrating lessons on digital citizenship into the curriculum and researching the impacts of a "bring-your-own-device" model as a way of increasing mobile learning for students in the classroom.
"The most impressive change is the yearly evaluation that reviews the effectiveness of technology integration," said James Corey, a member of the tech advisory group. "We were really worried about, OK, if we are going to go and do all this stuff, if the technology millage passes, we want to make sure it is working and that we don't spend money on stuff in Phase 2 or 3 that didn't work well in Phase 1.
"I have to applaud them (the district) for their willingness to make a lot of changes," he said.
While there is no organized opposition to the district's technology bond, some of the same individuals who were against the 2009 countywide schools millage, which failed, are against this proposal.
"The reasons are still the same," said district resident Ted Annis. "Ann Arbor Public Schools receive more funds per student than any other school system around it. … And it is really offensive to me that they don't have the courage to put this on the November ballot. They are going to sneak it in the back door when turnout is low."
Additionally, Annis said the schools must be more responsible with the funds they are given before asking for more. He said in 2008, AAPS had about 800 total administrators and support staff, while it had approximately 1,150 teachers. He called that number "staggering" and said until the district makes some tough personnel decisions to reduce the number of staff outside the classroom, he would not support the millage.
Nelson said while the district originally had hoped to have its proposal together in time for the ballot last November, waiting until May was a wise decision. It gave administrators the opportunity to really define the bond plan, he said.
District spokeswoman Liz Margolis added it is true the district will assume all costs, which she estimated at about $86,000, for the special election Tuesday.
She said the board was prepared to place the proposal on the February ballot, however, the Republicans approved a closed Republican primary.
"This likely would have been an impediment to the bond to appear on this ballot, because there would have needed to be two ballots. And the amount of communication needed to get to the Independent and Democratic voters would have been monumental since the communication was that this was a closed election for Republicans," Margolis said.
Nelson added the district must avoid huge class sizes this year and one way to do that is by passing the bond and allowing general fund dollars to be used for teachers and other classroom-related materials.
He said 100 percent of the bond money would go toward AAPS, whereas non-bond tax dollars are divided among various public and state institutions.
Superintendent Patricia Green said passing the bond is necessary to helping AAPS deliver a "world class curriculum" and to developing "21st century learners."
She said a lack of proper infrastructure, aging computers and limited computer lab availability are major issues for teachers and greatly impact their ability to carry out curriculum and state-mandated testing.
More information on Ann Arbor's technology bond can be found on the district's website.
Staff reporter Danielle Arndt covers K-12 education for AnnArbor.com. Follow her on Twitter @DanielleArndt or email her at daniellearndt@annarbor.com.