Posted on
Fri, Jan 25, 2013 : 5:58 a.m.
Vietnamese restaurant to replace former Fat Philly's and Burgers on Washtenaw Avenue
By Katrease Stafford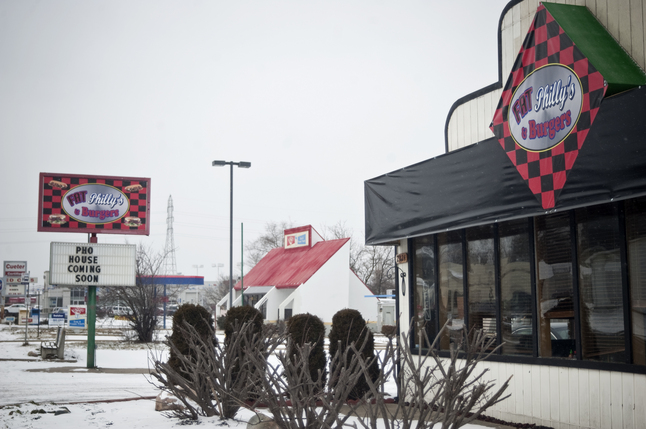 Joseph Tobianski | AnnArbor.com
A new restaurant, Pho House, will be opening in the former Fat Philly's and Burgers location on Washtenaw Avenue. Fat Philly's closed in December.
Pho House will be at 2224 Washtenaw Ave. in Ypsilanti Township on the corner of Hewitt, and a sign has been updated to say the restaurant is coming soon.
An employee at the Ypsilanti Township planning department said the new business is a Vietnamese restaurant, but inspections must be finalized before opening. The employee was unaware of the exact opening date.
The restaurant, which is nearly 3,000 square feet, seats about 89 customers. The building is owned by Wei Chen, who purchased it from the Bank of Ann Arbor in 2011 for $182,000. The building was assessed at $111,400, making its market value nearly double at $222,800.
Calls to Chen were not immediately returned.
Fat Philly's and Burgers closed less than six months after opening last July. Prior to Fat Philly's, the Fattoush Grill was housed at the same location.
The former Tios Mexican Cafe also was at the same Washtenaw location and closed in 2010 following nine years of business, citing years of struggling financially.
"Ypsilanti is just getting killed," Tios Owner Tim Seaver said at the time. "There's just really no business on the block."
Over the course of the past two years, the stretch of Washtenaw Avenue east of US-23 has seen restaurant turnover. Leone's Bistro on Washtenaw Avenue, closed in December 2011 after struggling to turn a profit. The Italian-themed bistro opened in September 2010 in the former Cottage Inn Cafe space.
A used car dealership, Rightaway Auto, has since opened in the former Leone's Bistro place.
Pacific Beach Burritos at 2835 Washtenaw Ave. also closed within the last two years.
Further down on Washtenaw Avenue in Pittsfield Township, the Brahma Steakhouse & Lounge closed in January and a new restaurant, Maiz Mexican Cantina, has opened in its place.
The Hibachi Grill and Supreme Buffet located in Pittsfield Township's Glencoe Crossing shopping center is closed until further notice after being open for six months.
Selina Chen opened the restaurant last June in the 12,000-square-foot space at 4735 Washtenaw Ave. Chen opened the restaurant in the former Bistro Bar and Grill space, which closed in 2011 for renovations but then never reopened.
Although restaurants have recently closed in the area, some business owners are still showing signs of interest in investing in the area. The owner of Blue Wolf Grill, which opened Dec. 13 in Ypsilanti Township on Washtenaw, is hoping to tap into the restaurant's close proximity to Washtenaw Community College, Eastern Michigan University and Saint Joseph Mercy Hospital.
Co-owner Charles Molina said he believes there has been a rebound in the area east of U.S. 23 since the recession hit about five years ago.
A Happy's Pizza also opened last year on the southeast corner of Washtenaw Avenue and Golfside Road in Ypsilanti Township.
Katrease Stafford covers Ypsilanti for AnnArbor.com.Reach her at katreasestafford@annarbor.com or 734-623-2548 and follow her on twitter.