Posted on
Sat, Sep 17, 2011 : 1:24 a.m.
Your mega guide to the Eastern Michigan vs. Michigan football game
By Rich Rezler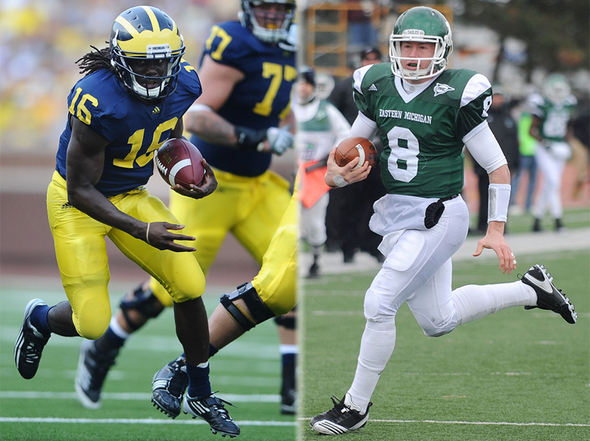 File photos
WHO: Eastern Michigan (2-0) at Michigan (2-0).
WHERE: Michigan Stadium, Ann Arbor.
WHEN: Noon today.
ODDS: Michigan is favored by 29 points, according to sportsbook.com.
SERIES RECORD: Michigan leads, 9-0.
LAST MEETING: Michigan won 45-17 on Sept. 19, 2009. (AnnArbor.com coverage)
WEATHER: Mostly sunny, mid- to high-60s. Latest forecast.
BROADCAST INFORMATION: TV: BTN; Radio: Michigan Sports Network (local affiliates).
LIVE COVERAGE: Join our live chat on the Michigan football home page beginning at 11:30 a.m. and follow beat writer Kyle Meinke on Twitter @kmeinke for live updates during the game. Participate: Tweet your pics at us @annarborcom, and follow us there to see other fan photos.
MICHIGAN: Roster | Stats | Schedule/Results
EASTERN MICHIGAN: Roster | Stats | Schedule/Results
FAST FACTS: Michigan coach Brady Hoke was 4-2 against Eastern Michigan in his six seasons at Ball State. ... Michigan has shut out Eastern Michigan in six of its nine previous meetings. ... Michigan is 28-1 against teams from the Mid-American Conference. ... Three members of the Eastern Michigan coaching staff played at Michigan (Kurt Anderson, Mike Hart and Steve Morrison) and two others were assistant coaches with the program (Ron English, Tom Burpee).
RUNDOWN: Welcome to the 10th playing of the Battle of Washtenaw County. (We'll leave the new Concordia program out of the equation at least until it wins its first NAIA game.)
Just seven miles separates Eastern Michigan's Rynearson Stadium and Michigan Stadium. That's 12,320 yards, in football terminology. The talent gap between the two programs has been infinitely greater for decades, but third-year EMU coach Ron English thinks he has the foundation in place to start building a winner in Ypsilanti. After two wins over FCS programs Howard and Alabama State, Eastern Michigan is 2-0 for the first time since 1989 and among the nation's best teams in rushing (331 yards per game) and total defense (212 yards allowed per game).
Michigan, of course, is in a different stratosphere than EMU's early-season opponents. But the Wolverines, who enter the game hovering just outside the AP and USA Today top 25 polls, have concerns, such as finding a reliable running game -- outside of quarterback Denard Robinson, of course -- and shoring up its defense.
Does that mean Eastern Michigan can compete with the mighty program to its west? That will be determined by 4 p.m. Saturday. Until then, check out AnnArbor.com's complete coverage from the week leading up to the game:

FRIDAY
Our Michigan football beat writer, Kyle Meinke, provided this video preview of the game:



• A Meinke opinion piece: Breaking down how Michigan's position groups are trending, including the big winner: Linebackers.
• This will be Brady Hoke's 100th game as a head coach. Nick Baumgardner looks at some highlights from the first 99.
• Ohio State at Miami (Fla.) and Michigan at Notre Dame highlight the Big Ten schedule this week.
• And, our weekly poll:

Plus, some good news for people coming to Ann Arbor for the game:
• Ann Arbor Golf & Outing and the U-M Golf Course will be open for parking and tailgating.
• The city's full traffic control plan is back in place.

THURSDAY
• The art of the jump ball: How Denard Robinson and the Michigan receiver's ability to get vertical has saved the Wolverines.
• Michigan expects defensive end Craig Roh (zero tackles) to shake off his slow start.
• Football's challenges are nothing for Eastern Michigan's Javon Reese, who grew up one of 17 children in Fort Wayne, Ind.
• Here is our weekly Q&A, this time with Michigan linebacker J.B. Fitzgerald.
• Kyle Meinke hosted a lunchtime live chat on Thursday. Find the transcript of that conversation here.

WEDNESDAY
• Coaches say Michigan freshmen tailbacks Thomas Rawls and Justice Hayes may see their first action against EMU.
• Our notebook from Brady Hoke's press conference: He expects banged up Fitzgerald Toussaint and Cam Gordon to be play, and more notes.
• In a mid-week poll (and you can still vote), we asked who would be the leading rusher on Saturday. Although Denard Robinson is the runaway leader now, it's a more complicated question than you might anticipate, because ....
• Robinson may be under center more often to get Michigan's tailbacks going.

TUESDAY
• Highly-touted Will Campbell has 'earned' more playing time, says defensive coordinator Greg Mattison (and more in this notebook from Mattison and Al Borges' press conference).
• Coach Ron English says 2-0 Eastern Michigan is learning how to win, remains on the right track.
• Michigan cornerback Troy Woolfolk revealed he has a broken bone in his hand, among other ailments.
• Still, Woolfolk, Fitz Toussaint and more of Michigan's injured players took part in Tuesday's open practice.
• Another notebook full of goodies: Hoke on avoiding letdown against EMU, social media and more.
• Add Ron English to the growing Denard Robinson fan club.

MONDAY
• Michigan's all-time leading rusher, Mike Hart, is ready to return to Michigan Stadium as an Eastern Michigan assistant coach.
• The Michigan football team's turnaround in turnover margin is mitigating its defensive woes.
• Brandin Hawthorne was promoted to a starter at linebacker, but the other three linebacker positions were uncertain on Monday.
• We had live updates from Brady Hoke's Monday press conference, where he discussed Eastern Michigan, being 2-0 and more.