Posted on
Sun, Sep 25, 2011 : 6:45 a.m.
Aggressive panhandling, crime are driving away customers, Liberty Street retailers say
By Lizzy Alfs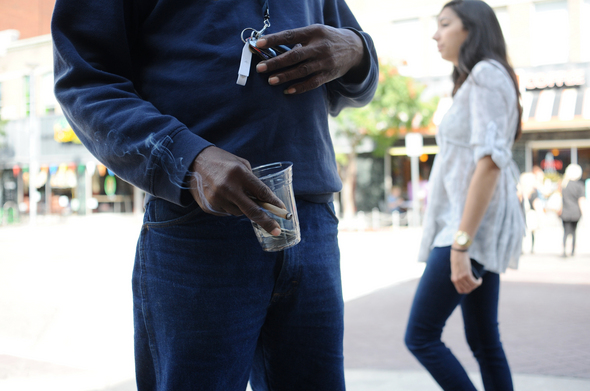 Melanie Maxwell | AnnArbor.com
One afternoon this spring, Andrea Graef was working alone in her downtown Ann Arbor candy store, This & That, when a man came wandering in her shop and slumped to the floor.
"He walked in, fell flat on his back, hit his head on the floor and passed out," Graef said. "His eyes were rolling in the back of his head."
Graef called 911, and the police and EMS responded, determining that the man, whom Graef described as a frequent downtown panhandler, was intoxicated.
"He's drunk all the time," she said. "I see him up and down this street. It scared me, it really did."
It's just one of many nearby incidents of panhandling or crime that Graef has witnessed since opening her store at 611 E. Liberty St. in 2010. She said these incidents on East Liberty Street are frequent and have even scared customers away from her shop.
Her comments reflect an increasingly common sentiment among owners of businesses in the East Liberty Street retail district stretching from Division Street to State Street.
The district carries one of the highest rental rates for retailers in Washtenaw County — but it also attracts a crowd that's scaring off some customers, business owners said.
When a high-priced East Liberty Street fashion shop called Poshh announced Monday that it would close after 10 years in business, several nearby retailers — including the owner of Poshh — said increased panhandling and crime are hurting business.
Liberty Street retailers said their concerns involve several factors:
--High-profile criminal incidents in downtown Ann Arbor, including a series of sexual assaults by one or two unknown attackers in public places such as a nearby parking garage.
--A rise in retail vacancies, including the closure of Borders' 40,000-square-foot flagship store, Big Boy's @burger restaurant and the soon-to-be closed Poshh boutique. Other stores — including American Apparel, which is facing serious questions about its financial viability — are fighting to keep their doors open, too.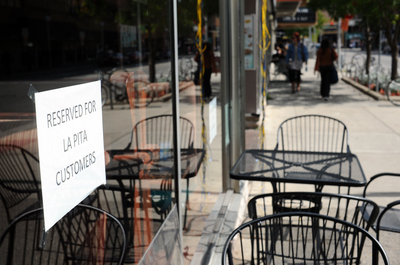 Melanie Maxwell | AnnArbor.com
--A rise in public drug use, often concentrated in alleyways.
--An increase in the number of panhandlers frequenting Liberty Street's celebrated graffiti alley.
--Customers' stated concerns about parking in public garages, including the Liberty Square garage where a sexual assault suspect attacked a woman in July.
--A rise in panhandling and criminal activity at Liberty Plaza, a public square at the corner of Liberty and Division.
Customers uncomfortable
Wendy Batiste-Johnson, owner of the upscale women's boutique Poshh, announced last week that she would close her store following a decade-long presence at 535 E. Liberty St.
After 10 years downtown, Batiste-Johnson said the area has changed "drastically," citing an increase in crime and aggressive panhandling on East Liberty Street.
"When I came to Ann Arbor, it was listed as one of the safest cities in this country," she said. "You could feel a sense of safety. Now, there's a huge homeless problem on Liberty Street and let's be honest, it's driving customers away and affects my business."
She said she's had several recent instances of panhandlers following her customers into the boutique, and some of her loyal customers are now choosing to avoid downtown Ann Arbor.
"I have customers who have been customers for years, and now some of them are terrified of coming downtown because they're scared of getting chased by panhandlers and scared to park in the parking garages," she said.
Abraham Hejazi, owner of Allure Boutique, agreed, saying the panhandlers on East Liberty Street are causing some people to avoid the area — which, in turn, leads to less foot traffic at his store.
"A lot of students, they are scared," he said. "With what's happening in Ann Arbor with sexual assaults and then panhandlers shouting things and asking for money, people avoid coming to Liberty and go to another street."
He also said his employees don't want to work later than 8 p.m. because they are scared to walk alone after dark.
"We used to have one person panhandling outside," he said. "Now, there are six or more right outside my store everyday. This 100 percent affects my business."
Preventing panhandling
To be sure, the panhandling in downtown Ann Arbor is not a new issue facing the city.
In 2010, Ann Arbor Police Chief Barnett Jones told the Ann Arbor City Council that aggressive panhandling had become the No. 1 crime in Ann Arbor.
Prior to last summer, several police officers were assigned to walk or bicycle downtown in order to patrol the streets, but as part of a restructuring of the Ann Arbor Police Department, those patrols were eliminated.
With concerns about panhandling rising, the city reconvened a task force last year to examine aggressive panhandling. It resulted in revisions to the city's solicitation ordinance to expand the areas where panhandling was prohibited.
The city's solicitation ordinance prohibits panhandling in specific areas, including public buses; indoors; near parking structures; from a person in a vehicle; from customers in outdoor seating areas; within 12 feet of a bank or ATM; or within 12 feet of Nickels Arcade, the Galleria and the Pratt Building on Main Street. The revisions now also prohibit panhandling within 12 feet of a public alley and in front of the downtown library.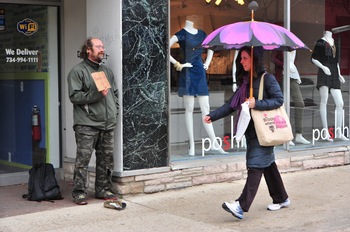 Ryan Stanton | AnnArbor.com
City Council member
Sabra Briere
, D-1st Ward, who chaired the 12-member task force, told AnnArbor.com that the committee was also successful in getting one police officer to patrol the downtown area when possible and necessary.
"We were able to get a commitment that would happen," she said. "But once upon a time, there were six officers for the downtown area. Nobody expected the task force to solve the panhandling problem because that would require more enforcers on the street."
Briere said that Ann Arbor simply does not have the resources right now for constant police enforcement in downtown Ann Arbor.
"We can't have police officers everyday in the downtown area, which is what it would take to fix the problem," she said. "It's not good enough to come in and fix and problem and then go away because the problem hasn't gone away. For me, that's an issue I don't know how to resolve."
She said the best solutions are to educate people on why they shouldn't give money to panhandlers to ensure it's not a "lucrative" activity.
She also acknowledged the effect panhandlers may have on the businesses on Liberty Street, and she offered owners advice: Always report incidents to the police and continue to talk about the issue with the police chief.
"They need to talk the city police chief and voice their concerns," she said. "Maybe owners need to get together with the rest of the State Street Area Association members and invite the police to talk with them. It's time to say, 'We feel unsafe, we want the ordinance enforced in these areas.'"
Not a new issue?
Tom Heywood, executive director of the State Street Area Association, said he's had complaints from business owners in the area, and he agreed that owners should talk with the police chief and the mayor.
"I think they're being listened to," he said. "The problem is, unless the city finds money someplace, they don't have the resources to put street cops back on the street. That handled a lot of problems in the past."
Heywood also said he believes panhandling is a longstanding issue that hasn't gotten worse over time, it just "ebbs and flows in vibrant downtowns."
"People have been panhandling in that neighborhood and on that block for 30 years," he said. "Nothing has changed, it just goes up and down with the seasons. I don't believe that thousands of people are not coming down that block because of this."
But Kasey Chammout, owner of the new La Pita Fresh restaurant at 529 E. Liberty St., said he believes the traffic on East Liberty Street has significantly decreased since he decided to sign a lease for the downtown space earlier this year.
"The combination of Borders closing, the aggressive panhandlers and the rape incidents have definitely caused less traffic on Liberty," he said.
He said he's also had issues with panhandlers coming into his restaurant and confronting patrons.
"They come in through the doors and ask for a dollar, or they're hungry and want something," he said. "They come into the restaurant when I have patrons and ask for food. It's negative for my business."
He pointed out that not everyone that hangs out on Liberty Street is panhandling, and some of the "talents" downtown are actually a draw for the area.
"There are some aggressive panhandlers, but some people are landmarks to Ann Arbor," he said. "The Michael Jackson impersonator and a few talented people on the guitar — people come in to see them."
Contrary to some of the nearby businesses, Russ Collins, executive director of The Michigan Theater on East Liberty Street, said he doesn't see any negative effect on the business from nearby panhandlers.
"Do I think we live in a paradise that's like a theme park? I don't," he said. "Do I think the downtown is a dangerous and intimidating place? I do not. That makes it real."
He said that of the thousands of patrons he sees and interacts with on a weekly basis, no one has complained to him about a panhandling issue.
"We've got panhandlers, but there are lot worse things in the world," he said. "We have a vital, urban core, and it gets celebrated everyday by the thousands of people who come down here and feel safe and secure."
Lizzy Alfs is a business reporter for AnnArbor.com. Reach her at 734-623-2584 or email her at lizzyalfs@annarbor.com. Follow her on Twitter at http://twitter.com/lizzyalfs.