Posted on
Mon, Oct 29, 2012 : 5:57 a.m.
Your guide to AnnArbor.com's coverage leading up to the Nov. 6 election
By AnnArbor.com Staff
This is your guide to the highlights of AnnArbor.com's coverage of the Tuesday, Nov. 6 election.
Voters from across Washtenaw County will decide on local leaders and millages, as well as who will represent them at state and national levels.
You also can find full lists of candidates and issues — plus precinct maps, campaign finance information and polling locations — on the elections section of ewashtenaw.org. That's also where you'll find full ballot proposal language.
Check out the online voter guide provided by AnnArbor.com and Mlive.com at http://www.mlive.com/voterguide/ to compare candidates and read about their stances in their own words. Find a sample ballot at the Department of State's online Michigan Voter Information Center.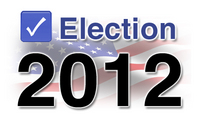 Ann Arbor
Art in public places tax: 9 questions and answers about Ann Arbor's proposed tax for art in public places
City parks millage renewal:
Mayoral race:
5th Ward Ann Arbor City Council: Berry vs. Warpehoski: 5th Ward candidates for Ann Arbor City Council disagree on role of government
Ann Arbor District Library
New downtown library:
Library board: Ann Arbor library board candidates offer opinions on $65M proposal for a new downtown library
Ann Arbor Public Schools
Ann Arbor Public Schools Board of Education:
Ypsilanti
City charter amendment: Ypsilanti residents voting on new city charter that eliminates partisan elections
City marijuana enforcement: Ypsilanti ballot initiative seeks to direct police efforts away from marijuana enforcement
Ypsilanti-Willow Run school district consolidation:
Lincoln schools millage renewal: Lincoln Consolidated Schools asking voters to renew 2 operational millages
Washtenaw County
Washtenaw County's top fund-raisers for the 2012 election cycle bring in big money
Treasurer: Washtenaw County treasurer candidates sound off in friendly forum
Clerk: No-show at candidate forum gives Washtenaw County clerk chance to reflect
Water resource commissioner: Candidates talk management strategies in race for county water resource commissioner
Sheriff: County sheriff race: Incumbent Jerry Clayton faces challenger Jeffrey Gallatin
Prosecutor: Washtenaw County prosecutor race: Newcomer Justin Altman takes on incumbent Brian Mackie
22nd Circuit Court:
Washtenaw County Board of Commissioners:
Townships and other local coverage

Augusta Township:
Chelsea fire millage: Residents to vote on Chelsea Area Fire Authority millage renewal
Dexter township:

Northfield Township: Candidates say desire for change characterizes Northfield Township election
Salem Township: Salem Township voters to decide on rezoning land for commercial use in November election
Saline: Current and former council members vie to be Saline's next mayor
Scio Township: Scio Township residents to vote on millage to keep rural surroundings
Sylvan Township: Candidates for trustee, supervisor face off in Sylvan Township
Michigan state House of Representatives
52nd District: Gretchen Driskell vs. Mark Ouimet:

53rd District: Jeff Irwin vs. John Spisak: Irwin vs. Spisak: Education a key issue for candidates in 53rd District race for state House
54th District: Bill Emmerich vs. David Rutledge: State representative 54th district candidates sound off on issues
55th District: Adam Zemke vs. Owen Diaz vs. David McMahon: Candidates for 55th District seat in Michigan House want to boost economy
U.S. Senate
Hoekstra vs. Stabenow: U.S. Senate candidates both say they'd represent Ann Arbor values in Washington
U.S. House of Representatives
U.S. Rep. John Dingell denies he called his Republican opponent Cynthia Kallgren ignorant
Michigan Supreme Court

University of Michigan Regents
University of Michigan regent candidates say college cost, student debt key issues in 2012 race
Statewide ballot proposals
Local coverage:

Statewide coverage from MLive.com: