Posted on
Sun, Sep 11, 2011 : 3:16 a.m.
Your comprehensive guide to coverage of Michigan's 35-31 victory against Notre Dame
By Rich Rezler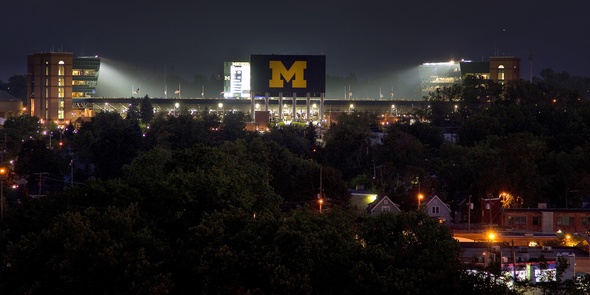 Steve Pepple | AnnArbor.com
He did it again. And again.
Michigan quarterback Denard Robinson -- who scored a game-winning touchdown with 27 seconds left to beat Notre Dame in South Bend last season -- led the Wolverines on two late scoring drives in a 35-31 win over the Irish on Saturday night.
The first apparent game-winning touchdown pass, with 1:04 remaining in the game, ended up not being quite good enough. Notre Dame answered with a score of its own. So Robinson did, too, hitting Roy Roundtree with the actual game-winning, 16-yard score with 2 seconds left.
Robinson was asked if he felt bad about ripping the hearts from the Irish two years in row. He paused. He smiled. "I don't know," he finally said, clearly uncomfortable with the question. "It's why we play the game of football. Somebody's gotta lose, somebody's gotta win."
The late game madness -- the teams combined for 189 yards and three touchdowns in the final 136 seconds -- was a fitting end to a crazy day in Ann Arbor.
AnnArbor.com covered it all ... from Saturday's early-morning live national television broadcast at Ingalls Mall to the Sunday's early-morning revelry downtown and everything in between. Here's a roundup of what you can find on our site:

Post-Game Coverage
• Kyle Meinke's column: Denard Robinson's heroics have Ann Arbor, and country, buzzing about Michigan football.
• Nick Baumgardner's game story: Robinson leads 17-point rally as Michigan football team stuns Notre Dame, 35-31.
• Pete Cunningham writes that the game's crazy finish is the finishing touch to a special game atmosphere at Michigan Stadium.
• Roy Roundtree breaks down his game-winning catch.
• Michigan receivers made the most of limited opportunities in win over Notre Dame.
• Notebook: Michigan's defense continues to win the turnover battle and plenty more notes.
• Photo gallery: There are lots of great images -- in our nifty new photo gallery viewer -- from staff photographers Melanie Maxwell, Angela J. Cesere and Joseph Tobianski.
• Video: Brady Hoke's opening post-game comment: "Um, that was an exciting football game." Thanks, Coach.
• Police: 14 people arrested, 20 ejected during first Michigan football home night game.
• Boxscore

In-Game Coverage
• Desmond Howard was honored as the inaugural "Michigan Football Legend."
• Jim Knight kept a running file of live updates ... and, boy, was he busy.
• Follow along with the transcript of our live chat, which went from excitement to dismay to resignation and back to excitement.

Pre-Game Coverage
• Our photographers were busy on Saturday. They also put together this pre-game photo gallery.
• It was announced just before kickoff that the NCAA will not recognize stats accrued in the Michigan-WMU game.
• Thousands of fans rallied at the ESPN "College GameDay" set early Saturday morning.
• Proving our photographers were busy: They were at the "GameDay" set, too. And have another photo gallery.