Posted on
Sat, Sep 11, 2010 : 9:12 a.m.
The mega guide to Week 2: Michigan at Notre Dame
By Rich Rezler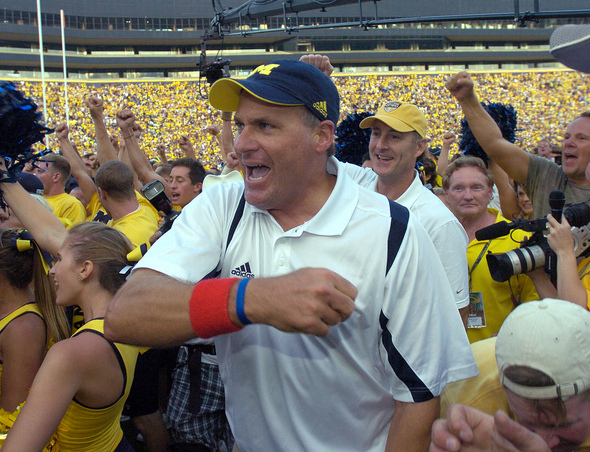 AnnArbor.com file photo
WHO: Notre Dame (1-0) at Michigan (1-0)
WHERE: Notre Dame Stadium, South Bend, Ind.
WHEN: 3:30 p.m., Saturday
ODDS: Notre Dame is favored by 3 1/2 points, according to sportsbook.com.
BROADCAST INFORMATION: TV: NBC; Radio: Michigan Sports Network (local affiliates), Sirius Ch. 125, XM Ch. 102.
RUNDOWN: "The Michigan football team entered the day hoping to make its rivalry with Notre Dame relevant again. They left the field Saturday having accomplished a whole lot more."
Those words were written on AnnArbor.com shortly after Tate Forcier capped a dramatic two-minute touchdown drive with a game-winning 5-yard pass to Greg Matthews with 11 seconds to play in Michigan's 38-34 upset of No. 18-ranked Notre Dame last season.
The Wolverines were 2-0 for the first time since 2006. They'd make an appearance in the ensuing Top 25 poll. Their starting quarterback was being mentioned in Heisman Trophy conversations.
Of course, after losing seven of their last eight games, those fleeting feel-good moments ended up being quite inconsequential.
Here we are in 2010, with much of the same rewards at stake. The Wolverines are an underdog in South Bend, are sitting just outside the Top 25 and have a new quarterback -- Denard Robinson -- turning heads across the country.
But how the Wolverines respond after a win or loss this year is a topic for forthcoming mega guides. This one is about Saturday's game. AnnArbor.com has been previewing it all week ... and if you missed anything, here it is wrapped up in one neat little package.
Be sure to visit us on Saturday for our game-day live chat and other updates from South Bend.
INTERACT WITH ANNARBOR.COM
Interact with us leading up to and during Saturday's Michigan vs. Notre Dame game:
FRIDAY • While focusing on school work this offseason, Michael Shaw missed some opportunities to prove himself during a five-way battle for playing time at tailback. He still emerged as the team's starter in Week 1.
• Brian Hamilton of the Chicago Tribune participates in our weekly "Beat Writer Breakdown," saying a Notre Dame win, "even against a still-retooling Michigan program, can legitimize everything (Brian) Kelly is selling to the players and create some significant momentum."
• AnnArbor.com's Pete Bigelow catches up with Michigan Stadium renovation opponent John Pollack, discusses how Brock Mealer's Michigan allegiance goes over at Ohio State and more in his regular "Eye on the Wolverines" feature.
THURSDAY • The question that has dogged Denard Robinson since he arrived in Ann Arbor -- "Would you consider playing another position?" -- has finally been put to rest.
• Mike Rothstein's feature on Dayne Crist says Notre Dame junior quarterback Dayne Crist is healthy and wants to be more aggressive against Michigan.
• Senior linebacker Obi Ezeh is attempting to bounce back after a rocky 2009 season. After one game, coaches and teammates think he's on his way back.
• Bigelow and Rothstein sat down for their weekly video preview of the Michigan-Notre Dame game.
• Bigelow hosted a lunchtime chat on Thursday. Find the transcript here.
WEDNESDAY • Rich Rodriguez and Brian Kelly share some coaching bonds. Cincinnati coach Butch Jones, a good friend of both, says he's not talking to either this week.
• What's the most important lesson we learn from our Q&A session with Michigan defensive end Ryan Van Bergen? Don't mess with his mom.
• Michigan's already-thin secondary took another hit when backup safety Vlad Emilien transferred.
TUESDAY • Say it ain't so! Denard Robinson's success could translate to the end of 'Shoelace.'
• National columnists weigh in on the Michigan-Notre Dame game.
MONDAY • Two days later, the Wolverines were still raving about Denard Robinson's performance against UConn.
• Michigan's injury report, plus some of Rich Rodriguez's thoughts on the Wolverines' special teams errors against UConn.
• Rodriguez is not concerned with Tate Forcier's sideline demeanor during that UConn game.
• A video report from Monday's press conference with Rodriguez, Michael Shaw and Obi Ezeh looking ahead to Notre Dame.
• Jeff Arnold also compiled live updates from the press conference. They're available here.

Stars and Stripes
On Sept. 11, the Michigan and Notre Dame coaches and other sideline personnel will wear the 'Stars and Stripes' collection by Adidas. Michigan's version of the polo shirt, T-shirt and hat (right) are available for purchase at
MGoBlue.com
.
Night Game Next Year Regardless of this week's result, next year's game between these same two teams is guaranteed to be an historic one. They will meet on Sept. 10, 2011, in the first night game in Michigan Stadium history.