Posted on
Fri, Nov 2, 2012 : 11:30 p.m.
14-story Landmark student high-rise wins construction and development award
By Lizzy Alfs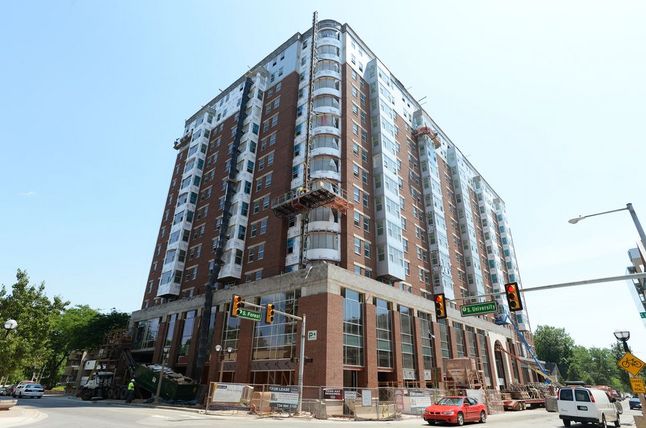 Melanie Maxwell | AnnArbor.com
Related story: AnnArbor.com unveils winners of 2012 Deals of the Year awards at annual ceremony
After years of planning, 20 months of construction and more than 1,000 building inspections, the 14-story, 606-bed Landmark student high-rise opened its doors to tenants this fall.
Located on the corner of South University and South Forest in Ann Arbor, the building is truly a landmark — at 172 feet, it acts as a gateway to the University of Michigan campus area. It also could be the last building of its size on South University since the city changed the downtown zoning code in 2009.
The project involved a complex redevelopment on South University, and it underwent several incarnations before it was built. Oakland County developer Ron Hughes first proposed the project in 2007.
AnnArbor.com's 2012 Deals of the Year award winners
Deals of the Year award winners were unveiled at annual ceremony on Friday
With 605 beds leased by the time the building opened in September, Landmark is helping to transform the downtown apartment rental market for hundreds of University of Michigan students.
It also sets a new ceiling for rental rates — for both apartments and ground-floor retail — in the South University corridor.
For these reasons, the building was honored as the Construction and Development winner at AnnArbor.com's 2012 Deals of the Year ceremony Friday night. Other nominees in the category included the Dexter Wellness Center and U-M's Crisler Center.
After taking the high-rise through the planning process, Hughes sold a majority to Illinois-based Campus Acquisitions. Last month, Campus Acquisitions sold Landmark to Texas-based American Campus Communities, the largest publicly traded student housing company in the U.S., as part of a $627 million portfolio acquisition.
With rents ranging from $975 to $1,745 per bed, the project could generate $10 million in rent each year for its owner.
Landmark isn't the first high-rise of its kind in downtown Ann Arbor — Sterling 411 Lofts and Zaragon Place opened first — but it's the largest and it's proving to be popular even in a competitive market.
With stunning views of downtown from the apartment bedrooms, the high-rise boasts a variety of lavish amenities. Among them: fully furnished units, in-room washers and dryers, high-speed Internet and cable, 27-inch flat-screen TVs in each bedroom, Tempur-Pedic mattresses, outdoor patios, a movie theater, a game room, a fitness center and an outdoor deck.
Ground floor retail tenants include Tim Hortons, 7-Eleven, No Thai! and World of Beer. Ann Arbor's Colliers International marketed the spaces for an annual $45 per square foot.
"It really feels great to walk through a building that has been completed; to have it come together is fabulous," Hughes told AnnArbor.com in August.