Posted on
Wed, Feb 16, 2011 : 7:52 a.m.
Ann Arbor bookstore chain files for Chapter 11 bankruptcy
By Nathan Bomey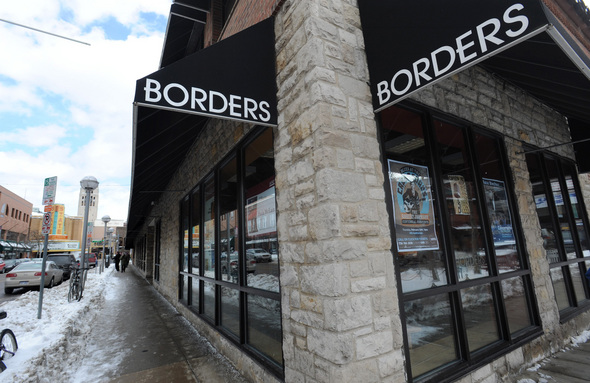 Ann Arbor-based Borders Group Inc. — gutted by the Internet, threatened by electronic books and plagued by inconsistent management — filed for Chapter 11 bankruptcy protection today.
The filing — which comes 40 years after Borders started as a used bookstore on South State Street — gives the chain a chance to reorganize by slashing expensive leases and reducing its debt load, actions that could return the company to profitability.
But it also presents the possibility that Borders will fail to identify a sustainable business model over the next several months of the bankruptcy proceedings, an outcome that could lead to its liquidation.
Borders, which lost $604.8 million from 2006 to 2009 and another $168.2 million in the first 11 months of 2010, plans to cut about 30 percent of its 640 stores, equal to about 200 locations — a move analysts view as absolutely critical to its survival. The company is losing about $2 million a week on the stores it plans to close, according to court documents. Borders also indicated in bankruptcy documents that it may close an additional 75 to 136 stores based on extenuating circumstances.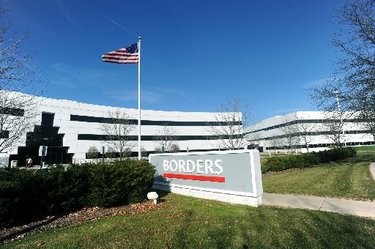 File photo
Borders said in its filing that it had about 18,100 employees, and its network of stores includes about 500 Borders superstores and about 140 small-format locations under the Borders Express and Waldenbook brands. The company will continue to honor gift cards, coupons and its customer loyalty program for now.
The impact on the chain's Ann Arbor headquarters is unclear for now, but it's likely the Phoenix Drive building's 550 employees will endure further cuts. The company said it would continue paying benefits and salaries.
As part of the filing, made in the U.S. Bankruptcy Court's Southern District of New York, Borders said it would close its Arborland store on Washtenaw Avenue in Ann Arbor. The company's two-story flagship store on Liberty Street and its store on Lohr Road are expected to stay open for now.
"Notwithstanding these market conditions, the debtors still have a sizeable core of profitable stores and have been preparing their operations to be competitive in the changing marketplace," Borders chief financial officer Scott Henry wrote in a filing document. "However, in analyzing their cost structure, the debtors have found that they also have a number of stores which are simply unprofitable and are substantially impacting the debtors' overall performance and ability to pay their debts.
"The company listed $1.275 billion in assets and $1.293 billion in debts in its filing. The firm had 72 million shares of common stock that will become essentially worthless.
Under Chapter 11 bankruptcy law, Borders will be given 120 days to propose its own plan for reorganization, though that period can be extended or shortened with court approval. After that period expires, the company's creditors can propose their own plan — which may clash with Borders' objectives.
A Borders spokeswoman declined to make executives available for interviews.
"We are confident that, with the protection afforded under Chapter 11 and with the support of employees, publishers, suppliers and creditors, and the reading public, a successful reorganization can be achieved enabling Borders to emerge from the process as a stronger and more vibrant book seller," said Mike Edwards, CEO of Borders Group subsidiary Borders Inc., in a statement.
John Pottow, a bankruptcy professor at the University of Michigan, said he's cautiously optimistic that Borders can emerge from bankruptcy with a profitable business model.
"They've signaled to the market strongly that they've got a real good plan," he said. "They're going to hack off a limb to save the rest of the body."
But not all analysts are convinced the company will survive."They're going to try to restructure and reorganize the company, but that is not going to solve the problem they have in dealing with the problems in the industry," said Jim McTevia, a turnaround consultant with Bingham Farms-based McTevia & Associates.
"They should have started two years ago when they saw the handwriting on the wall, and I think they're behind the times in doing what has to be done. I do not think there is a market for a lot of physical booksellers in the country anymore.
"Borders said it had secured $505 million in debtor-in-possession financing from GE Capital to help it continue operating in bankruptcy. The firm said the financing was "subject to approval of the Bankruptcy Court and the satisfaction of certain conditions provided in the financing commitments received by the company from the lenders providing such financing."
The bankruptcy filing marks the climactic moment of a years-long slide attributable to numerous factors, including a poor Internet sales strategy, a bloated network of superstores, constant turnover in executive management and a sluggish approach to e-books, experts said.
The structural challenges to Borders' business model are significant. Average sales per square foot at Borders superstores fell 33.7 percent from a peak of $261 in the 1998 fiscal year to $173 in 2009, according to Securities and Exchange Commission documents reviewed by AnnArbor.com. Adjusted for inflation, average sales per square foot at Borders superstores declined 49.6 percent from 1998 to 2009.
During that same period, though, the number of large-format Borders stores doubled, rising from 256 to 511.
Those figures illustrate Borders' broader problem: Many stores are no longer producing the kind of profits they did at the company's peak.
That's why simply cutting stores may not be enough to turn Borders into a sustainable company, experts said.
"If they think they can just correct a few things on their balance sheet and sell off a couple stores, they're probably going to be the next Circuit City," Simba Information publishing analyst Michael Norris said in a recent interview, referencing the electronics retailer that liquidated in 2008.
"They need something real tangible in place in order to convince people that Borders is a great place to buy books and other merchandise."
Although Borders, along with competitor Barnes & Noble, revolutionized bookselling with the creation of the superstore and innovative inventory tracking systems, the company's slide into bankruptcy court is hardly a surprise.
Borders losses and profits

2010 (first 11 months): $168.2 million loss

2009: $109.4 million loss

2008: $186.7 million loss

2007: $157.4 million loss

2006: $151.3 million loss

2005: $101.0 million profit
2004: $131.9 million profit
2003: $115.2 million profit
2002: $107.6 million profit

The company, which had 35,500 employees as recently as early 2006, has been bleeding cash for years. Destabilized by near-continuous turnover in management ranks, the company lacked a cohesive strategy to respond to the Internet's ascension, price pressures from Amazon.com and big-box stores and Barnes & Noble's focused leadership.
In the third quarter of 2010, online sales made up about 2.7 percent of Borders' revenue.Among the company's biggest mistakes was allowing Amazon it manage its online sales from 2001 to 2008.
"They never really harnessed the power of the Internet," said David Dykhouse, a manager of Borders' Arborland store from 2002 to 2007. "As someone once said, the Internet is the comet that killed the dinosaur. I'm afraid Borders is one of those dinosaurs."In a bankruptcy document today, Borders revealed for the first time that its 2010 fiscal year sales totaled $2.3 billion, a decline of about $500 million from 2009 and about $1 billion since 2008.

In recent weeks, the company started delaying payments to publishers, landlords and other parties in a bid to conserve cash and stave off bankruptcy. The company even convinced GE Capital to provide a new $550 million credit facility contingent upon Borders' ability to extract concessions from vendors and secure additional loans. But that deal was never finalized.

Borders superstores

This table shows the rise in the number of Borders superstores at the end of each fiscal year and corresponding fall in the average sales per square foot of those stores in the years since the company's 1995 initial public offering, according to U.S. Securities and Exchange Commission records.

1996: 158 superstores ($259 average sales per square foot)

1997: 204 ($261)

1998: 256 ($256)

1999: 300 ($255)

2000: 349 ($255)
2001: 385 ($245)
2002: 434 ($237)
2003: 482 ($223)
2004: 504 ($227)
2005: 528 ($232)
2006: 567 ($236)
2007: 541 ($228)
2008: 518 ($203)
2009: 511 ($173)
Borders, which had about 1,800 employees at its Ann Arbor headquarters at one point in the last decade, has had five CEOs in the last five years. Its most recent CEO, activist investor Bennett LeBow, invested $25 million in the company last summer and was given the top job.
Norris said a series of errors by Borders management paved the way for the chain's financial crisis.
"This is what happens when you have inconsistent leadership," he said.
LeBow and New York hedge fund manager Bill Ackman of Pershing Square Capital Management, Borders' top individual investors, are likely to incur major losses from their investments. Ackman's firm owns 31.3 percent of Borders' stock, and LeBow's ownership fund had a 15.4 percent stake, according to the filing. Bankruptcy typically wipes out the equity of private stockholders. Borders has some 72 million shares of common stock.

LeBow and Ackman have declined repeated interview requests over the last year. Ackman recently told Bloomberg BusinessWeek that Pershing would lose $125 million on its Borders stake.

Borders' bankruptcy also deals a tough blow to the publishing industry. Industry estimates indicate that Borders accounts for about 8 percent of total book sales in the U.S., down from 15.6 percent in 1996, according to a 2000 report by Daniel Raff, a professor at the University of Pennsylvania's Wharton School.Borders accounts for about 14.3 percent of sales at physical bookstores in the U.S., according to a report by IBISWorld.

Meanwhile, many private landlords who lease property to Borders are likely to lose those lucrative deals. Borders has annual lease obligations of about $1 billion.
In addition, an untold number of smaller creditors will face losses during the bankruptcy process.
According to interviews with bankruptcy experts, the filing could have any number of outcomes, but the most likely scenarios are:
—Borders could successfully make cuts to its lease obligations and convince lenders to accept equity in exchange for eliminating debt, finally emerging with a profitable business model.
—The firm could sell off its assets to Barnes & Noble or another player like a private equity firm with a tolerance for a restructuring effort. Under this option, Borders could use the Section 363 provision in the bankruptcy code, a provision that allows the valuable assets to be packaged together so that they can be sold to an outside firm or emerge as a new company. In that scenario, the old assets would stay in bankruptcy and be liquidated. This is what happened during General Motors' 2009 bankruptcy filing, for example. In December, Ackman said he would be willing to help finance a Borders bid to acquire Barnes & Noble, though the idea hasn't gotten any traction yet.
A sale or merger would place the future of Borders' Ann Arbor headquarters in doubt.
"My experience is when companies strategically merge in bankruptcy, they don't need two headquarters," Pottow said in a recent interview.
—The company could be forced to convert its Chapter 11 reorganization filing into a Chapter 7 liquidation, which would involve a sale of all of its assets and the death of the company.
From family business to industry shaker
Regardless of the final outcome, Borders will be remembered as a company that changed the way books were sold.
Borders started as a uniquely Ann Arbor company. Brothers Tom and Louis Borders launched the company in 1971 as an 800-square-foot used bookstore called Borders Book Shop on South State Street in the shadow of the University of Michigan.
Fueled by an insatiable appetite for books among readers in Ann Arbor, Borders' momentum picked up speed when Louis Borders developed innovative software that improved inventory management and sales projection capabilities.
To run the system, the company effectively leased space on an IBM 360 mainframe computer, Raff said in a recent interview.
The system allowed the Borders brothers to maximize profits by ensuring that their store had the most appropriate mix of inventory to meet seasonal demand and local tastes.
"In all of this they were typically 2-3 years ahead of their competitors," Raff wrote in his research paper about the history of book superstores in the U.S.
The success of that inventory system and the company's innovative large-format stores eventually powered a national expansion.
The large-format store, which featured a couple hundred thousand book titles, was new to the industry and caught many smaller, independent bookstores off guard.
Borders is credited with popularizing the concept of a big, communal space where customers could browse a wide selection of books and even stick around to read a page, or two, or more.
Raff emphasized that the emergence of Borders was a seminal moment in the nation's book-buying habits. Until Borders arrived, many books were very difficult to find, he said in an interview.
"It certainly seems to be true that in its heyday, it improved the intellectual standard of living in lots of places of America. It made it possible in lots of places where it had never been possible to get in a car and drive for 20 or 25 minutes and be in a bookstore that had a pretty broad range of intellectually stimulating stuff you could read," Raff said. "Borders really put that on the map. That was its accomplishment, and it's actually a big deal and something that all concerned should feel proud of."
By 1992, with about 21 large-format stores, the Borders brothers wanted to move on — and they sold the chain to retailer Kmart Corp., which had acquired small-format bookstore chain Waldenbooks in 1984.
Kmart merged Borders and Waldenbooks into a subsidiary called Borders-Walden Group.
In the 1993 fiscal year, the first full year in which Borders was owned by Kmart, the company's superstores reported sales of $224.8 million. At the time, however, Waldenbooks had about 1,000 locations and accounted for five times the revenue of Borders superstores with $1.145 billion.
But executives believed that Borders was the stronger brand — and the company was renamed Borders Group Inc. when it spun off from Kmart and became a public company in 1995 under CEO Robert DiRomualdo.
By 1997, sales at 158 Borders super stores totaled $979.1 million, nearly equal to the $979.7 million at 961 Waldenbooks locations.
Borders added superstores for 14 consecutive years from 1992 through 2006 at a pace of a few dozen a year. The chain had 158 locations at the end of its 1996 fiscal year, 349 by the end of 2000, 482 by the end of 2003 and 567 at its peak in 2006, according to SEC filings.
That expansion boosted the company's total revenue to more than $4 billion at one point. But it also shackled the company with huge lease obligations that helped drive the company into bankruptcy.
The company's annual rental costs equal about $1 billion, more than 35 percent of its total revenue.
Simply cutting hundreds of stores was not an option outside bankruptcy, a process that allows companies to cut or renegotiate contracts with the approval of a judge.
Leases on 369 Borders superstores don't expire until 2017 or later, which illustrates the chain's long-term challenges.
Internet undercuts Borders' business model
The high costs associated with operating a physical network of stores are a key reason why Borders filed for bankruptcy.
But the chain's fundamental business model was undercut by the Internet — namely, Amazon, which rose in prominence in the late 1990s and early 2000's as brick-and-mortar retailers were finally starting to take the Internet seriously.
In 2001, Borders struck a deal with Amazon in which the web retailer would sell Borders books through Amazon.com. That relationship lasted until 2008, when Borders finally exited the deal and launched its own website.
But the decision to outsource online sales to Amazon was later viewed as a potentially fatal error.
"It didn't serve them very well," Norris said. "It basically meant that Borders couldn't control the entire relationship with the consumer. They just got a cut of (each Internet) transaction."
In 2008, Borders cut its ties with Amazon and launched its own website, Borders.com. But the site hasn't generated enough sales to make up for declining sales at its physical stores.Amazon's rise is undercutting the bookstores industry. There were 30,714 bookstores in the U.S. in 2010, down 21.6 percent from 2001, according to IBISWorld.

Meanwhile, Borders' e-book strategy came under scrutiny from investors as Amazon's Kindle, Barnes & Noble's Nook and Apple's iPad soared.
Late to the digital game again, Borders contracted with Toronto-based Kobo Inc., a division of Indigo Books & Music, to design a customized e-bookstore. That system was launched in summer 2010, and Borders said it wanted to gain a 17 percent share of the e-book market within a year.
Instead of investing in development of its own e-reader, Borders opted to sell e-books through the system for use on any digital device. The company started selling a selection of e-readers in its own stores.
To boost its financial position, Borders tried a variety of revenue-generating strategies:
—The company invested heavily on sales of music and movies only to acknowledge in 2009 that it could not compete with the Internet and big-box stores in the CDs and DVDs market.
—In response to Barnes & Noble's successful loyalty program, Borders introduced its own rewards program in 2006, but it was initially free, unlike Barnes & Noble's paid program. Big coupons distributed through the Borders Rewards system didn't generate new foot traffic.
"Customers that were normally coming in and buying things started coming in with 30 and 40 and 50 percent coupons, and at that point I thought they killed off their core business," said Dykhouse, a former manager at Borders' Arborland store.
—In recent months, Borders turned to children's toys and games as an opportunity to generate revenue, even striking a partnership with Build-A-Bear to sell stuffed animals in superstores.
Dykhouse said Borders should have focused on "just becoming the best damn bookstore."
"I hate to see the book industry changing like it is, but it's inevitable," he said. "There are libraries, there are still going to be book stores, but they're going to have to be very, very savvy. I wish Borders well. I wish Barnes & Noble well.
"They are outposts at the edge of civilization in a way."
Contact AnnArbor.com's Nathan Bomey at (734) 623-2587 or nathanbomey@annarbor.com. You can also follow him on Twitter or subscribe to AnnArbor.com's newsletters.