Posted on
Sun, Sep 30, 2012 : 5:59 a.m.
Ann Arbor Mayor John Hieftje: 'We're starting to get that critical mass of people living downtown'
By Ryan J. Stanton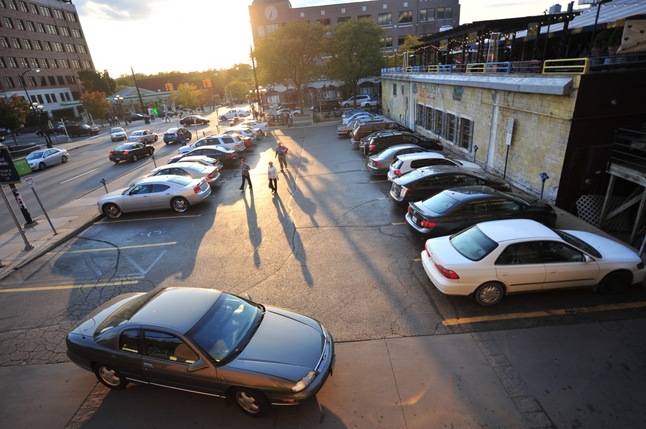 Ryan J. Stanton | AnnArbor.com
With hundreds of new apartments bringing literally thousands of new bedrooms to downtown Ann Arbor, there are more people than ever living the downtown experience.
Housing options downtown now range from single-family historic homes to modern condos, renovated lofts and the latest trend — high-rises geared toward University of Michigan students.
According to the Downtown Development Authority's first-ever "State of Downtown Ann Arbor" report, the downtown population grew by 30 percent during the past decade. At the time of the report last year, there were an estimated 1,200 businesses and 4,167 residents downtown.
The population count is based on the 2010 U.S. Census, which showed a surge in demand for downtown living. There were 2,261 households, a 32 percent increase from 2000.
"Over the past decade, more than 456 housing units have been constructed with a range of target tenants in mind," the report states. "Currently, 274 rental units are under construction and expected to become available in the coming year. With rents ranging from $700 to $4,300/month and the average residential unit at $264/square foot, the options for downtown living are ever-expanding."
The housing boom hasn't stopped since that report came out. More and more developments are coming across the desks of the city's planners. But what does it mean for Ann Arbor?
Mayor John Hieftje, who left behind a career in real estate when he first was elected more than a decade ago, offered his thoughts in a recent interview with AnnArbor.com.
AnnArbor.com: The city is in the midst of a development boom, and a lot of that is housing within the downtown area. We just saw two more 14-story high-rise apartment buildings proposed for downtown in the last week. What's your take on what's happening?
Hieftje: I'm a little surprised, because if I were an investor I probably would not be investing in more student housing downtown. I would want to make sure that the market has a little time to absorb what's been built. But I think we're going to see more and more people that are beyond their student years who want to live in downtown Ann Arbor, and it's an interesting phenomenon.
In order to thrive, downtowns need more residents, and you need residents to put people in the seats at the Michigan Theater to keep it alive and keep it going. You need residents if you want to keep some of your small shops. We've lost some of our smaller shops. But I think as we begin to have more people living downtown, that can only help. The people who come to downtown on Friday and Saturday nights — that's not enough. You need more people working downtown and you need people living downtown, and we're starting to get that critical mass of people living downtown.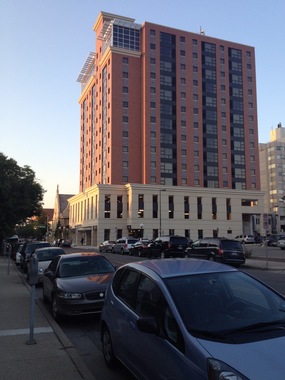 Ryan J. Stanton | AnnArbor.com
AnnArbor.com:
The city established a
Downtown Residential Task Force
in 2003 that looked at the issue and set goals of adding 1,000 new housing units in the downtown by 2015 and 2,500 total by 2030. What's your assessment of the progress on meeting those goals?
Hieftje: It seems to me like we have met those goals. And when you look at some of the housing going up, obviously it's for students and it's providing new bedrooms. People say, 'Well, what if there's too many?' Sometimes I hear, 'Well, what if these places go bankrupt?' And one of the things to point out is most of the major buildings in downtown Ann Arbor, when they were first built, a few years later they went bankrupt, and the second owners did well when they came in. But the city is always going to receive its tax dollars and those buildings have all been revived. I can't imagine a time when we're going to have buildings for very long sitting empty in downtown Ann Arbor.
AnnArbor.com: I know one of your hopes is that as more students move out of near-downtown neighborhoods, those student rental houses will convert back to single-family residences. What proof are you seeing to indicate that's happening or going to happen?
Hieftje: When I was a kid growing up in Ann Arbor, working people lived in the downtown apartments, working people lived in the near-downtown neighborhoods. But as the university grew, the working people displaced. And for the people who work in downtown shops, I think there's an opportunity to move back in and rent, and I think there's an opportunity for young families to re-colonize some of those neighborhoods, and that's been one of the goals from the very beginning.
As students have moved out of the near-downtown neighborhoods, like off of Hill Street and off of State, obviously they're coming from somewhere, so they've freed up some other housing for other people and hopefully working families to move into and that's really exciting.
I was at a neighborhood meeting last year in North Burns Park and one of the folks stood up and said 'the steamroller has been stopped.' There was a time when every house that came up on the market in the neighborhoods along Hill and State, and many of the other areas over by the athletic campus, they were immediately snapped up by investors, they were turned into student housing. And now that's turned around and we're starting anecdotally to hear about evidence of families coming in and fixing up student rentals. That's how I got my first house. Actually my first three were really fixer-uppers, and that's how people get a stake in Ann Arbor and can start their lives here.
AnnArbor.com: I've noticed some of these older student rental houses in neighborhoods that ring the downtown are priced at $500,000, $600,000 or more. Do you think it's realistic for families to come in and pay that much for houses that could require significant renovation work?
Hieftje: You're correct. Some of those rental houses are really expensive. The bigger ones particularly. But there will be some around the edges where they begin to be reclaimed. I can think of some smaller houses in the Burns Park neighborhood that it'll be great they're not going to turn into student rentals and families can be there. So we've turned a corner.
AnnArbor.com: What's your long-term vision for Ann Arbor? How much taller and denser is downtown going to get? How many more residents do you think we'll actually add?
Ryan J. Stanton | AnnArbor.com
Hieftje:
People worry we might lose our charm as a city. But I don't think any of those new buildings going up are going to detract from the charm to a great extent. We have design guidelines in place now, so hopefully they're better-looking buildings. But you have to recognize, too, that quite a bit of downtown Ann Arbor is protected. It's either U of M property that has some beautiful old buildings on it that we all love to see, and there's also the historic districts.
Main Street is never going to change very much. State Street is never going to change very much. Quite a bit of Liberty is never going to change very much. The same is true on parts of Washington and parts of William.
That's really important to me. I grew up in Ann Arbor and, not that I want to return to the 1950s and '60s or '70s, but I want it to continue to have its charm in a modern way.
AnnArbor.com: What is the likely outcome of the Connecting William Street initiative? How quickly might we see the five properties the city owns downtown developed?
Hieftje: We're seeing some pretty good land values in the downtown area, and I've felt for years that the city's investment in the property at William and Fifth, which is across the street from the library and next to the transit station, is going to eventually come back and the city's investment will be made good on that. At least I hope so. So I think we should move forward and sell that property and pay off the real estate debt. I'd like to see that happen. And then beyond that, I don't think anyone is in a hurry to do any development with the city properties. But this will give us a base. They're doing a whole lot of work in trying to solicit public comment and get the opinion of the downtown merchants.
AnnArbor.com: What role does the city have to play in development outside the core downtown? Glen Ann and Lower Town come to mind. What can be done there?
Hieftje: Glen Ann is a tough one because we had the development proposed that didn't happen. I thought it was a great idea. It was actually housing for working people up at the medical center, and hopefully somebody's going to come in and revive that. There's limited control the city has over that with private property. The Lower Town development — the failed Broadway Village — I think there's a lot of potential there. One of the things that is so exciting about that to me is, if you had a very viable train station with trains running 100 mph on rebuilt track with brand-new cars connecting people with just about anywhere, that becomes a very good opportunity for transit-oriented development.
The old Broadway Village site is a great opportunity for residential development in the city. You could have condos there, you could have apartments there, some retail. It doesn't have to be any sort of a grandiose scheme. Just housing that is very nice for people that is very close to transit and everything having to do with the university and North Campus and places where people work. I hope that we'll begin to hear some proposals about that sometime soon.
AnnArbor.com: It's important to strike a balance between open space and development. What are our real opportunities for open space in the downtown?
Hieftje: The Library Lot has always been planned to have a park plaza there. There was no big push for a conference center or anything like that. I think some folks have overemphasized that. I personally don't think there's enough business to keep a conference center viable in downtown Ann Arbor and we had to look into that when it came up, but that proposal is long gone. But the infrastructure that was built into the parking structure was generic to support a building. It's also an area where the trees that are growing there are in six-foot-deep pots. You're not going to have trees there that are of any size at all. So it's not a great place for anything more than a park plaza.
But we're going to redevelop Liberty Plaza and the planning effort on that is really getting started. And I've got my eye on the Palio Lot. I think there's some potential on the Palio Lot, and I've been walking around with a couple of council members and we're beginning to think about a little line of park plazas. You've got Liberty Plaza, you'll have one on top of the parking structure, and then you can have one over at the Palio Lot, or a different configuration. You know, the big parking lot down at the base of the hill on William — it's determined that someday will be a park when there's an environmental cleanup.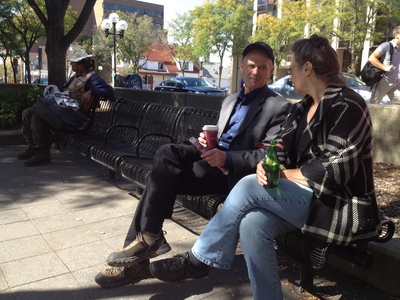 Ryan J. Stanton | AnnArbor.com
You're going to have a
park at 415 W. Washington
someday. The city is moving pretty actively to create a
park over on North Main
, although it's outside of the downtown area. Some people want to deny that the Diag is a big green park in downtown Ann Arbor, but certainly it is. And there's another one over on Washington, and then there's the great big area with a giant fountain where we hold the Summer Festival. Just outside of downtown, you've got West Park.
AnnArbor.com: There's also the MichCon site where you're pursuing a new riverfront park for the city. Are you going to make the case that the gain of riverfront parkland there is an appropriate tradeoff for the possible loss of roadside parkland — albeit a surface parking lot — on Fuller Road, if the city moves forward with building a train station there?
Hieftje: Even though the site on Fuller Road has been a parking lot for almost 20 years, technically that's part of the parks system, and under the federal rules that I've seen there would need to be mitigation. So they may say that's fine that a train station go here, but we'll have to mitigate and create a new park somewhere else. Well, we're actively creating new parks on North Main, and certainly when that's all cleaned up, what's going to be a beautiful piece of land along the Huron River there right across from the Cascades. So that's exciting to me.
AnnArbor.com: The city has three properties it wants to see become part of a greenway. 415 W. Washington and 721 N. Main have gotten the most attention. What's the latest on those?
Hieftje: We're moving forward with the preliminary work to put in a request for a Natural Resources Trust Fund grant for the 721 N. Main property. Now county parks has expressed a desire to participate in the matching money there because it's right across the street from making a connection to the Border-to-Border Trail. We've got the North Main Task Force at work, talking about that whole area, but also how to integrate 721 N. Main into the parks system and how to make a connection over to the Border-to-Border Trail and everything that is going on over there across the river.
AnnArbor.com: With some of the recurring flooding issues on the city's southwest side, the city has been criticized for poor development decisions of the past. What is the city doing today to ensure that smarter growth is happening? That neighborhoods aren't being built in the historic alignment of creeks and in floodplains and floodways so on?
Hieftje: I've been looking at some maps lately that show there were some neighborhoods and some particular houses built on top of old stream beds back in the '50s, '60s, '70s. But one of the things that has changed is development standards. We have very stiff development standards. Every new development has to contain its own stormwater. There's been a lot of progress in building codes and in development standards. I think particularly in the downtown, most anything that goes up down there is containing all of its stormwater onsite for slow release, so those types of things are in place.
The city is going to continue to battle these issues. I think if you went back to the 1800s, Ann Arbor was a very swampy place. And a lot of that water was put underground, swamps were drained, but when you get the major storm events, that water wants to go back to its old pathways. And so I think there were some mistakes made decades ago, but hopefully we're not making them now.
AnnArbor.com: The city admittedly hasn't made a lot of progress on increasing affordable housing. It actually lost 100 units after it purchased the old YMCA and demolished it. What are the opportunities for affordable housing in the near-term and what might we see downtown?
Hieftje: Affordable housing is a tough issue obviously. We did lose the units. That was pretty much unavoidable. But those were pretty much like cells. Those were very narrow little cubicles, bathrooms down the hall, really no cooking facilities, kind of miserable. Nowadays the standard would be you would need to build efficiencies to replace that — a very expensive proposition, particularly in the downtown. But we have been making some progress. I think there's been something like 68 units of supportive housing that have been built since the time that the 100 cubicles were lost.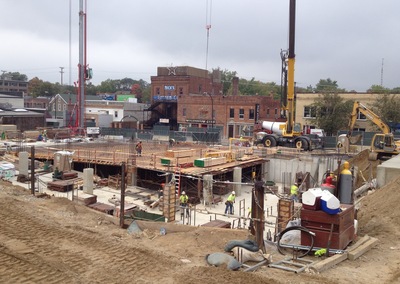 Ryan J. Stanton | AnnArbor.com
It's not as fast as we'd like to see. But again, we're talking about a period during the worst recession in recent history. I think we have to cut ourselves maybe a little slack on that.
But no one has taken their eye off the affordable housing ball. We're continuing to pursue those things. I think there need to be some decisions made: Affordable housing for whom? Most of the affordable housing that's done is for people at the vey lowest income. Do we want to think more about some affordable housing for working people so they can afford to live in Ann Arbor?
AnnArbor.com: You championed the Greenbelt, which was overwhelmingly approved by voters in 2003. How does that play into the long-term discussion about development in Ann Arbor?
Hieftje: The Greenbelt has been successful in preserving land outside of the city. We're going to have viable farmland around Ann Arbor forever is what it looks like. And that was something I talked about back in 2003 that people weren't as tuned into as they are now: local food, the whole idea that maybe it's not going to be viable to ship food in from South America and California — as much as we do today — 10, 15, 20, 30 years from now. Local agriculture is a movement that is sweeping the country. That's going to be important for food security that we have that type of land available forever around Ann Arbor, because there'll be another cycle of sprawl. There will be another cycle where the countryside is built up, but we've got some protection there.
Ryan J. Stanton covers government and politics for AnnArbor.com. Reach him at ryanstanton@annarbor.com or 734-623-2529. You also can follow him on Twitter or subscribe to AnnArbor.com's email newsletters.