Posted on
Wed, Nov 21, 2012 : 3:20 p.m.
Last-minute Thanksgiving recipe ideas
By Jessica Webster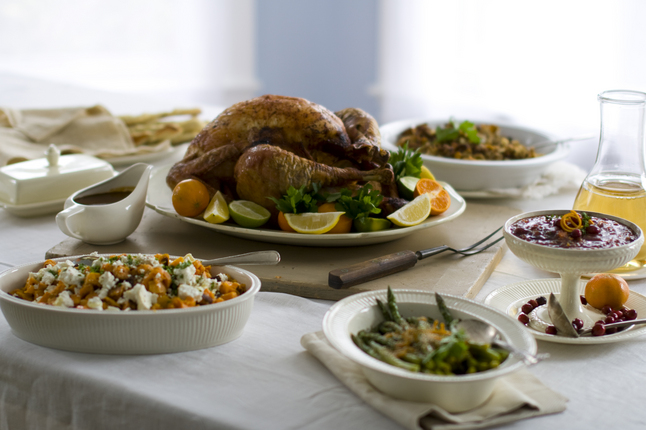 AP Photo | Matthew Mead
Tomorrow is
Thanksgiving
. The Type-A personalities among us have their menus mapped out, their ingredients purchased and their heritage turkey ready to go into brine.
And then there's the rest of us.
If you're still looking for some good Thanksgiving recipe ideas, look no further. I've put together some links to some of our best Thanksgiving-appropriate appetizers, mains, sides and desserts. Just point and click and let your culinary imagination run wild!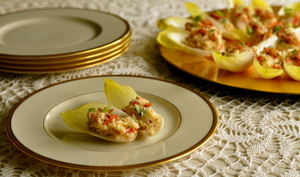 Peggy Lampman |Contributor
Appetizers:
Pimento Cheese with Creme Fraiche and Bacon
Bacon-wrapped dates stuffed with chorizo.
A lighter take on classic blue cheese dip.
A fast and virtuous dip to serve company.
Crostini with pickled baby beets and goat cheese.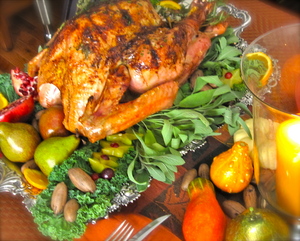 Peggy Lampman | Contributor
Turkey
Peggy Lampman's Roast Turkey Nirvana
Roast turkey with lemon and sage butter
Alton Brown's turkey brining tutorial
Side dishes
Warm Brussels sprout and bacon slaw could fill your Thanksgiving vegetable needs.
Soup offers a fresh take on squash at Thanksgiving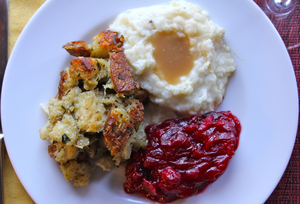 Jessica Webster | AnnArbor.com
Basic Thanksgiving dressing, mashed potatoes and cranberry sauce.
Cranberry pancetta stuffing that is truly stovetop.
Great turkeys need equally great classic sides.
Peanut spice mix revitalizes dull turkey day side.
Curried couscous lentil salad with roasted sweet potatoes.
Pomegranate-glazed sweet potatoes.
Baked apples stuffed with orange-scented sweet potatoes.
Sweet potatoes that are sweet, minus marshmallows.
Sweet onion custard - bring a taste of the 19th century south to your Thanksgiving table.
Creamed Onion Gratin is a new favorite Thanksgiving side.
Desserts:
Jessica Webster | AnnArbor.com
Sweet potato pecan pie
A healthier take on classic apple pie.
And don't forget our friends, the pets:
Using leftover pumpkin for healthy pet treats.
What's your cooking in your kitchen? Send us your Thanksgiving day photos using this form or by using the hastag #a2photos on Twitter and Instagram and we may feature it in an upcoming gallery here on AnnArbor.com.
Jessica Webster leads the Food & Grocery section for AnnArbor.com. Reach her at JessicaWebster@annarbor.com. You also can follow her on Twitter or subscribe to AnnArbor.com's email newsletters.