Posted on
Sat, Sep 10, 2011 : 4:26 p.m.
Your mega guide to the Notre Dame vs. Michigan football game
By Rich Rezler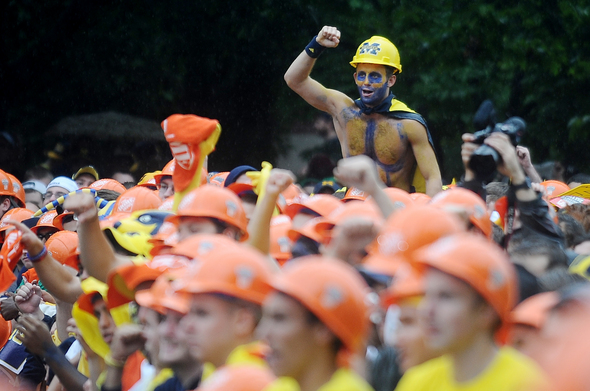 Melanie Maxwell I AnnArbor.com
WHO:
Notre Dame (0-1) at Michigan (1-0).
WHERE: Michigan Stadium, Ann Arbor.
WHEN: 8 p.m. today.
ODDS: Notre Dame is favored by 3 points, according to sportsbook.com.
SERIES RECORD: Michigan leads, 22-15-1.
LAST MEETING: Michigan won 28-24 on Sept. 1, 2010. (AnnArbor.com coverage)
WEATHER: More rain possible. Latest forecast.
BROADCAST INFORMATION: TV: ESPN; Radio: Michigan Sports Network (local affiliates).
LIVE COVERAGE: Follow beat writer Kyle Meinke on Twitter @kmeinke for live updates during the game. Participate: Tweet your pics at us @annarborcom, and follow us there to see other fan photos.
MICHIGAN: Roster | Stats | Schedule/Results
NOTRE DAME: Roster | Stats | Schedule/Results
FAST FACTS: Michigan has won two straight games against Notre Dame and five of its last six against the Irish in Ann Arbor. … The first night game in Michigan Stadium history is the first of Notre Dame's record five night games in 2011. … Notre Dame is 3-0 against Michigan at night, both games played in South Bend, Ind. … Michigan is 22-11 in night games, Notre Dame is 58-33-2. … Notre Dame quarterback Tommy Rees is 4-0 as a starter. … Notre Dame (843) trails only Texas (851) and Michigan (885) for most all-time college football wins.
RUNDOWN: As if last week's game didn't have enough theatrics.
After months of anticipation, Brady Hoke and the rest of the first-year Michigan football coaching staff led the Wolverines onto the field for their season opener -- only to have it prematurely stopped by spectacular and severe weather.
Pffft. Child's play. Week 2 has more story lines than a soap opera writers convention.
At its core: Notre Dame at Michigan. A nice, early-season rivalry game in its own right. But there's so much more. Lights and legacy uniforms and remembrances (9/11) and celebrations (Desmond Howard) and more. AnnArbor.com has been following those story lines all week. Here's a recap:

TODAY
• A surprising pre-game announcement: The NCAA will not recognize the statistics accrued during the Michigan-WMU game.
• Be sure to join our live chat from the game. It starts at 7:30 p.m.
• Thousands of fans turned out at Ingalls Mall for this morning's live broadcast of ESPN's College GameDay. We had a story and a photo gallery from the event.
• Today's weather? One word. Soggy.
• Rain has wiped out the public parking options at U-M Golf Course, Ann Arbor Golf & Outing and the grass areas at Pioneer High School.
• Michigan's Fitz Toussaint and Troy Woolfolk are dealing with previously-undisclosed injuries headed into Notre Dame matchup.
• Photo gallery: Fans flocked to get Desmond Howard's autograph.

FRIDAY
• Kirk Herbstreit -- in town with the ESPN College GameDay crew -- offered his opinions on Michigan, Brady Hoke, Notre Dame and more.
• Video: ESPN reporter Erin Andrews finds all the build-up for the inaugural night game at Michigan Stadium pretty funny, and she''s "hoping it's actually loud for once."
• Tickets are still available. If you're willing to pay the (steep) price.
• Heavy rains mean no parking for 1,500 vehicles at Ann Arbor Golf and Outing on Saturday.
• Our football beat writer, Kyle Meinke, provided this video preview focusing mainly on the teams' starting quarterbacks:



• The city of Ann Arbor will close Main Street in front of Michigan Stadium beginning at 5 p.m. Saturday because of security concerns.
• The Associated Press featured Notre Dame QB Tommy Rees, whose limited number of starts have come in iconic stadiums.
• Part of Michigan's defensive game plan: Prevent Notre Dame receiver Michael Floyd from having 'just another game.'
• Nick Baumgardner looks back at five Michigan night games to remember.
• Here is a rundown of the festivities surrounding the football game.
• And, finally, we asked you:

THURSDAY
• With 10 tackles, two sacks, a forced fumble and a pass breakup last week, Michigan's Jordan Kovacs continues his ascension from student-body tryout to all-Big Ten safety.
• Pete Cunningham has a Q&A with another of last week's defensive heroes, Brandon Herron, who returned an interception and fumble recovery for touchdowns.
• Desmond Howard will be honored at halftime Saturday, but he nor athletic director Dave Brandon are spilling the beans on the details of the ceremony.
• In our weekly discussion with one of the Michigan opponent's beat writers, Eric Hansen of the South Bend Tribune breaks down the Irish.
• Local business owners say the Michigan-Notre Dame will deliver a big kick for the Ann Arbor economy.
• Video: Michigan defensive coordinator Greg Mattison sat down with ESPN analyst -- and his former boss at Florida -- Urban Meyer to discuss regaining Michigan's reputation as a strong defensive team.
• Kyle Meinke conducted a lunchtime chat to close the books on Western Michigan and preview Notre Dame. Find the transcript here.

WEDNESDAY
• Greg Mattison has seen both sides of the Michigan-Notre Dame rivalry. The Wolverines' defensive coordinator spent considerable time as an assistant coach on both sidelines.
• Sure, you know Denard Robinson is fast. But did you know he speaks 'Florida' ... and his teammates are fluent with his fast talking?
• Our colleague at the Grand Rapids Press, David Mayo, says Notre Dame coach Brian Kelly is still learning the 'corporate' side of big-time college football.
• Another ESPN video. Brady Hoke appeared on SportsCenter and said he told the Wolverines to ignore distractions this week.
• Lloyd Carr -- along with the aforementioned Desmond Howard -- are making appearances around Ann Arbor before game Saturday.
• As of Wednesday's media availability with Hoke, he said LB Cam Gordon's status was 'up in the air' and Troy Woolfolk was good to go. (Plus plenty more info in this notebook.)
• StubHub.com released data saying the Michigan-Notre Dame game was the second most in-demand ticket this season.
• As we prepared locally for the Michigan-Notre Dame game, which will feature both teams decked out in 'legacy' uniforms, The Associated Press national sports columnist Jim Litke offers his thoughts on uniforms in the college game.

TUESDAY
• Hoke said he has a 'marathon' list of issues to correct between the WMU and ND games.
• Michigan athletic director Dave Brandon said he isn't opposed to more night games, but wants to see how this weekend goes first.
• Michigan coaches said the defensive line was not good enough against Western Michigan and that the Wolverines barely scratched the surface of its offense.
• Starting cornerback Troy Woolfolk worked out with heavy wrap on his sprained left ankle, and more notes from Tuesday's open practice.
• How much would you pay for a Michigan-Notre Dame football ticket? $3,500?
• More Desmond. It's a theme. Michigan and the College Hall of Fame will honor Desmond Howard on Saturday.
• Fitz Toussaint will retain starting tailback role against Notre Dame and more notes.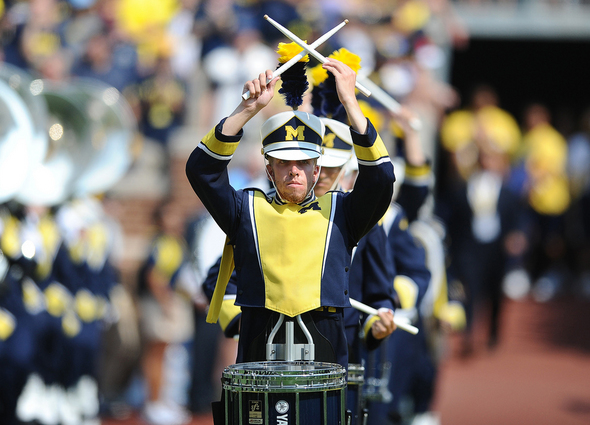 Melanie Maxwell | AnnArbor.com