Posted on
Thu, Jul 25, 2013 : 5:58 a.m.
Eaton vs. Higgins: 4th Ward race for Ann Arbor City Council about change
By Ryan J. Stanton
The 4th Ward race for the Ann Arbor City Council pits a 14-year incumbent against a challenger who says neighborhood residents deserve better representation.
Marcia Higgins, who is defending her seat against challenger Jack Eaton in the Democratic primary on Aug. 6, said there's still important work to be done on issues ranging from neighborhood flooding to downtown zoning and design guidelines, and she wants to stay on the job.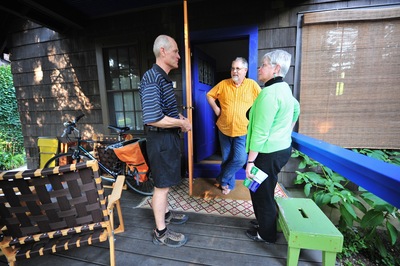 Ryan J. Stanton | AnnArbor.com
"It's an important race because we still have problems we're dealing with in the city," she said. "It's about finding solutions and working toward those solutions. I hear my opponent talk about all the things that are wrong or that we didn't do well, but I never hear him talk about solutions."
Eaton, a Southfield-based labor attorney who has lived in the 4th Ward since 1998, said he'd bring a more sensible approach to city spending and get back to basics.
He's literally wearing out a pair of shoes this summer (they're starting to tear) as he's going door to door five or six nights a week delivering his message to voters.
"I'd like to get on council and change our spending priorities and pay more attention to our core services like police and fire and our infrastructure," he told voters this week. "We should fund public safety before we do adventures like train stations."
Eaton came close to defeating incumbent Margie Teall, Ann Arbor's other 4th Ward representative, last August — losing by 18 votes.
Ryan J. Stanton | AnnArbor.com
Teall and Higgins are allies of Mayor
John Hieftje
, who sees Eaton as a threat to his agenda of getting a higher density of people living and working downtown. Eaton opposes the mayor's push for a new Amtrak station on Fuller Road to go along with
Ann Arbor-to-Detroit commuter rail.
Hieftje, who battled one of Eaton's political allies — Pat Lesko — to retain his seat in 2010, is actively supporting Higgins and has been out knocking on doors with her.
"I think she's done a great job getting us where we are," the mayor told voters this week. "Ann Arbor has the lowest unemployment in the state, we made it through the whole recession, and our millage rate is actually a little lower than when we started out."
Eaton is close allies with Council Members Mike Anglin and Sumi Kailasapathy, and he supported Jane Lumm in her successful bid to oust Stephen Rapundalo, one of Hieftje's allies.
"Recent City Council elections have added new, responsive members to council," Eaton said. "I'd like to join those representatives and help bring common sense to our budgeting."
Eaton is picking up support from residents who want to see more police and firefighters, more focus on maintaining roads, and more resistance to large-scale developments that negatively impact residential neighborhoods. He also has crossover appeal, winning support from some Republicans who appreciate his fiscal conservatism.
"There are some things in a local community that we all share in common, and I think one of the primary ones is the desire for a safe neighborhood and good streets — just the basic fundamental services," he said. "You can't justify understaffing your public safety departments at the same time that you're spending millions of dollars on a train station that's going to be built on parkland."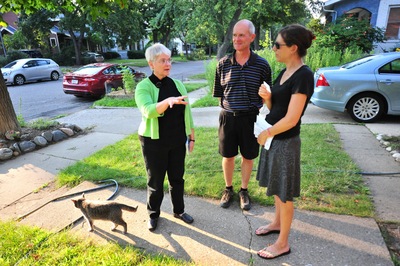 Ryan J. Stanton | AnnArbor.com
Higgins, who was a Republican until switching parties in 2005, is drawing distinctions between herself and her opponent, suggesting Eaton fears change.
Eaton prides himself on being a neighborhood activist, Higgins said, but all the neighborhood groups he's helped form have just opposed new development.
"I think Jack has a very difficult time embracing change of any kind," she said. "Friends of Dicken Woods, it was a neighborhood group they formed to prevent development. When he did South Maple, it was a group that was in direct opposition to 42 North. When they did the Neighborhood Alliance, that was all the people who are against any type of change in the downtown."
Asked whether he fears change as Higgins suggests, Eaton said he's not even sure Ann Arbor will see much growth in the years ahead.
"There will be change, but I think you have to stop and identify what it was that attracted the people who are here to be here, and a lot of it is the character of this town," he said. "There's this really unique blend of small-town feel and big-town culture that we have to be especially protective of, so I'm not afraid of change, but I don't think we should incentivize change just for change's sake."
Higgins, who oversaw the A2D2 process that brought new zoning with height limits and design guidelines for downtown, said the community decided it wanted density in the city's core.
She thinks the A2D2 changes have worked out pretty well, though she's glad the city is reviewing them to see if there's room for improvement.
Ryan J. Stanton | AnnArbor.com
Eaton said he supports density in the downtown core — just not where it has a negative impact on surrounding neighborhoods.
He pointed to the recently approved 413 E. Huron high-rise and the Landmark high-rise built along South U as examples of bad developments that Higgins supported.
Eaton thinks the City Council is too "gung-ho about development." Given how popular Ann Arbor is to build in, he said, the city could stand to be a little more picky.
"We could demand more of the people who want to build here, rather than just subsidizing and opening up the floodgates for any mundane building," he said.
Higgins said the city's zoning used to be so convoluted that it could take 24 months or more for developers to get a project through planning.
"So we worked through A2D2 to really look at that," she said. "We streamlined processes, and we added the citizen participation piece because that was important for everyone. We put in the Design Review Board because how a building looks is important to people."
Higgins has served on the City Council since 1999, but before deciding she was ready to seek re-election again this year, she said she had a gut-check moment.
Ryan J. Stanton | AnnArbor.com
Now that she's commuting to work in Livonia, taking on new responsibilities, and raising her 13-year-old granddaughter, could she still be effective on council?
"How do I balance work and life, which is pretty hectic, on top of council, which I take very seriously?" she asked herself. "Do I still have value on council?"
Higgins, who is the city's mayor pro tem and serves on a number of committees and task forces in addition to her regular council duties, believes she does bring valuable experience to the table.
For the past 12 years, she has chaired the Council Budget Committee. She also chairs the Council Labor Committee, Council Rules Committee and Council Administration Committee.
Additionally, she chairs the council's new Economic Collaborative Task Force and the recently reconvened Design Guidelines Task Force. She also serves on the city's Cable Communications Commission and the Brownfield Plan Review Committee.
Higgins was among a minority of council members who tried unsuccessfully to add more police officers in the city's budget this past spring.
"We probably need a couple more police officers," she said. "We've made the request to the DDA to fund more beat cops in the downtown. That's probably where we need to have them."
Eaton said he would make it a top priority to rebuild the police department so it's more proactive, but he wouldn't leave it up to the Downtown Development Authority.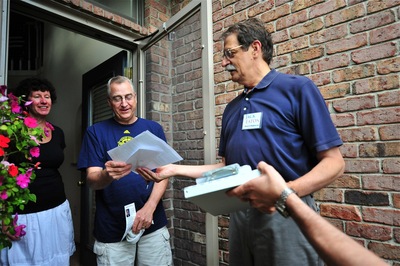 Ryan J. Stanton | AnnArbor.com
He favors placing new limits on the amount of taxes the DDA can collect and instead using some of those dollars to enhance the police and fire departments.
Eaton said he also wants to see the city more aggressively pay down its unfunded liabilities. As of June 30, 2012, the city's pension plan was 82.7 percent funded, with $86.1 million unfunded. And the retiree health care plan was 35.1 percent funded, with $162.2 million unfunded.
Both candidates have strong opinions about neighborhood flooding issues, as well as the city's controversial footing drain disconnection program.
Higgins said the city has spent the last year studying stormwater management issues with the help of a lot of volunteers and they're starting to learn more about the problem.
The city is working with Evan Pratt, the county's water resources commissioner, to see about stormwater management solutions. Higgins said city officials are hoping to hear back from Pratt in the next two to three months so they can start to deal with it.
As for footing drain disconnects, Higgins said she stands by the program, though some residents argue sump pumps the city has made them install have left their basements flooded.
"What we're finding through the committee that's working with the FDD right now is that they were successful," Higgins said.
Eaton said the program has been problematic and he doesn't see how it's even legal for the city to require residents to retrofit their houses with sump pumps.
"There's a fair amount of case law saying a municipality can't go in and force you to do something inside your house that was acceptable at the time you built it," he said. "I think there's going to be some fairly expensive litigation over the installations that have already been forced."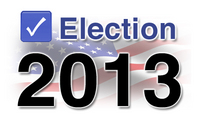 Eaton said the city should be doing everything possible to address flooding, starting with permeable pavement so water soaks into the ground, more detention ponds to hold water back so it doesn't overwhelm Malletts Creek or Allen Creek, and upsizing stormwater pipes.
"It's going to be expensive, but we can start now with the small aspects of it like retention ponds and permeable pavement," he said. "And as the study results come back about our storm system, we can start building in better conveyance methods so pipes can handle the rain."
Eaton criticizes the city for studying the flooding problems more than 15 years ago, identifying some solutions, and then never doing much about it.
Hieftje said the city would be worse off if it followed the recommendations of the 1997 study that Eaton cites. He said it would have cost hundreds of millions of dollars and would have led to greatly increasing the size of the stormwater sewers to rush water to the Huron River.
"Well, the science has completely changed since then," Hieftje said. "The idea is to slow down the stormwater, let it absorb into the ground, plant trees to absorb it. The last thing the science would say to do today is to build bigger pipes and rush the stormwater to the river. You're just adding all that runoff pollution to the river, and you're causing flooding problems downstream."
Ryan J. Stanton covers government and politics for AnnArbor.com. Reach him at ryanstanton@annarbor.com or 734-623-2529. You also can follow him on Twitter or subscribe to AnnArbor.com's email newsletters.