Posted on
Tue, Jan 1, 2013 : 5:59 a.m.
Ann Arbor 2013: 5 things to watch on the city beat in the new year
By Ryan J. Stanton
The winds of change swept through Ann Arbor in 2012, setting the scene for what could turn out to be an interesting 2013 on the city beat.
For starters, there are a few new faces on the Ann Arbor City Council, and each of them brings a unique perspective heading into the city's upcoming budget discussions.
Meanwhile, major talks are happening around transit, as well as developing downtown properties, while plans are emerging for new parks and open spaces.
Here's a quick look at 5 things to watch in 2013:
1. Transit talks
The year 2012 will be remembered in part as the year the Ann Arbor Transportation Authority's plans for morphing into a new countywide transit authority called the Washtenaw Ride fell flat. An overwhelming majority of the municipalities in the county decided they didn't want to be part of the plan outlined by the AATA after years of work. Seeing the writing on the wall, the Ann Arbor City Council followed suit and opted out in November, delivering the final knockout blow.
Instead of a comprehensive countywide system, the City Council is directing the AATA to shift focus to improving transit services within the county's urban core. Serious talks about how to best do that are sure to take place in 2013, while the AATA takes a close look at its overall service plan.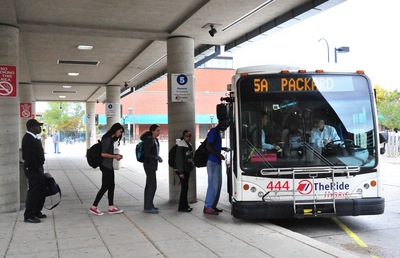 Ryan J. Stanton | AnnArbor.com
AATA officials still believe both their 30-year and five-year transit plans remain relevant, but they say funding must be increased if any of the plan elements are to be realized — or even to maintain recent service improvements — so there's sure to be a good debate around how to do that.
Meanwhile, a separate debate rages about whether Washtenaw County should be included in the new Southeast Michigan Regional Transit Authority that Gov. Rick Snyder signed into law last month. Ann Arbor officials will be making a push in early 2013 to get the Michigan Legislature to remove Washtenaw County, but others will be fighting to keep the county included in the authority, which could go to voters throughout the four-county region with a funding request at some point. Some local transit advocates fear that might impact the public's willingness to fund transit more locally.
Separate from the RTA talks, work will continue on four other major transportation projects in 2013: The Ann Arbor Connector, the city of Ann Arbor's push for a new Amtrak station, the WALLY north-south commuter rail line and Detroit-to-Ann Arbor commuter rail.
Both the train station and Connector projects are in long-term study phases expected to last through 2013. The two commuter rail initiatives, which have been in the works for years, are getting to a point where there might be some tangible results in 2013.
As far as WALLY, which proposes to connect Ann Arbor and Howell with stops in between, significant work will be done in 2013 on station location studies, station design and environmental impacts. That work is being funded out of a combination of federal planning grants and local community contributions totaling more than $600,000. The AATA's Michael Benham, who is working closely on the project, said the next phase will be important to refining the costs and feasibility, as well as beginning the process of preparing the project for potential future federal funding.
Benham predicts the public will see some local displays of the railcars for both WALLY and Ann Arbor-to-Detroit commuter rail service in 2013. The cars have been undergoing rehab and a series of tests to clear them for service. SEMCOG, which is overseeing the Ann Arbor-to-Detroit project, says there could be demonstration trains running during special events in 2013.
2. Developing downtown
Ann Arbor's construction boom led the city to hire more development inspectors in 2012, and it doesn't look like building activity is slowing down anytime soon.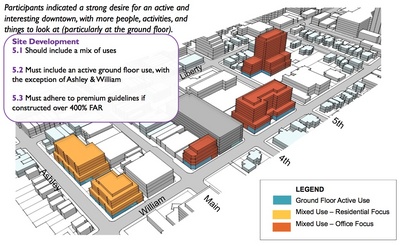 Ann Arbor DDA
One after another, new luxury apartment high-rises have taken shape downtown, bringing literally thousands of new beds, and more are on the way. Until now, most of the projects proposed and built have been geared toward University of Michigan students, but two new projects moving ahead in 2013 promise to cater to young professionals, a welcome change by many accounts.
That includes the 618 South Main project, which is expected to break ground in the spring, and the well-under-way Ann Arbor City Apartments project across from the Blind Pig at the corner of First and Washington. Each project is expected to bring close to 200 more beds downtown. The Ann Arbor City Apartments project is expected to be finished by August or September.
Meanwhile, the Downtown Development Authority is bringing forward a plan to redevelop five city-owned properties downtown, starting with putting the old Y Lot at the corner of Fifth Avenue and William Street up for sale. The DDA's Connecting William Street plan, which will be presented to the City Council later this month, recommends a mix of high- and medium-density projects with a focus on getting more office space and residential units downtown, along with active ground-floor uses such as retail or restaurant. With the economy picking up, city officials are optimistic about the possibilities.
3. Parks and open space
Most city officials don't seem too keen on a grass-roots citizens group's idea for a downtown central park on the Library Lot (atop the city's new underground parking garage), but Mayor John Hieftje and others promise to keep pushing for more parks and open space in 2013. And whatever is eventually built on the Library Lot, officials have promised a public plaza of some kind.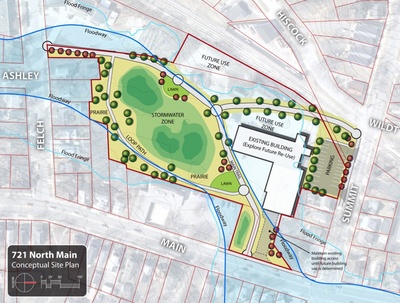 City of Ann Arbor
There's likely to be some action in 2013 on a
redesign of Liberty Plaza
, a sunken concrete pocket park at the southwest corner of Liberty and Division downtown. The area has been a concern of city officials, partly because of the crowd of homeless people and drug users it draws, and it's possible the city could break ground on a renovation sometime this year. A design hasn't been determined yet. It's expected the city will go through a public process and seek input before moving forward.
There appears to be an even stronger push to make something happen at 721 N. Main, where the city wants to get started on developing a greenway system with public parks along the historic alignment of the Allen Creek. The city plans to apply for state grant funding in April to help transform the former city maintenance yard into a green space with new trails and possibly other amenities.
The city's North Main-Huron River Corridor Vision Task Force, which put forward the plan for 721 N. Main, also will be working through July to develop a broader vision for improving the North Main corridor and nearby recreation areas surrounding the Huron River, including connections to the recently remediated MichCon site that DTE Energy could transfer to the city for a riverfront park.
And for the dog lovers out there, it appears likely the city will move ahead with opening its third off-leash dog park at West Park sometime in 2013. That awaits City Council approval.
4. Changes on council
There are a few new faces to be found Monday nights on the second floor of city hall after Sumi Kailasapathy, Sally Hart Petersen and Chuck Warpehoski joined the Ann Arbor City Council in November. By way of background, that adds a certified public accountant, a former marketing professional and a nonprofit organization director to the council's ranks.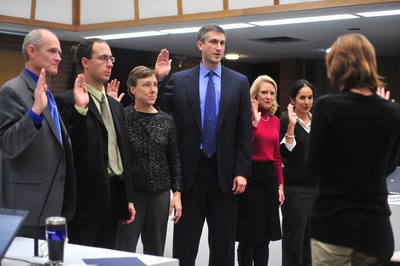 Ryan J. Stanton | AnnArbor.com
They replaced
Sandi Smith
,
Tony Derezinski
and
Carsten Hohnke
— three of the mayor's trusted allies. It's still too early to tell how the changing dynamics will play out over time, but it'll be interesting to watch in 2013 what alliances are formed around different issues and how the votes fall.
Kailasapathy ran on a platform that was heavily critical of the mayor and his agenda, while Petersen had her share of concerns, too. Warpehoski ran with the mayor's endorsement, but promised to maintain his independence on council. In their first month in office, while Kailasapathy went against the mayor and called for termination of the city's public art program, Petersen and Warpehoski agreed with the mayor on forming a special committee to take public art in a new direction. The mayor ended up appointing Petersen to the five-member committee that's working to meet a Feb. 15 deadline to decide how to to amend the city's public art ordinance.
Whether 2013 will bring more changes in the makeup of council remains to be seen. Five council members — Sabra Briere, Jane Lumm, Stephen Kunselman, Marcia Higgins and Mike Anglin — will be up for re-election later this year and so far no challengers have emerged.
5. The city budget
The city's new budget forecast suggests 2013 won't be a year of painful cuts. On the contrary, a $1.3 million general fund surplus is predicted for the fiscal year starting July 1.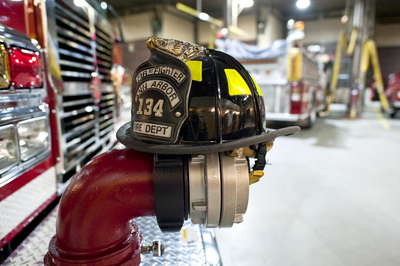 Joseph Tobianski | AnnArbor.com
That gives the City Council some extra wiggle room as it begins to set budget priorities for the next year, but it likely won't mean the city will go out and hire a bunch of new employees or launch new programs. Those would be recurring expenses, and city officials aren't yet optimistic that future budgets will look as promising since the city's costs continue to grow faster than revenues.
It's more likely the city will set a good chunk of the surplus aside in its cash reserves for a future rainy day. No one has suggested spending it on a new train station yet. But there are a number of deferred maintenance needs the city might have to confront, including asbestos mitigation in city hall.
One way or another, there's still likely to be a push by some council members to restore previously cut police and firefighter positions for the second year in a row. That may or may not happen. But it doesn't appear there's enough political will to close fire stations, an idea floated this past year.
Another budget-related issue on the city's agenda in 2013: With the University of Michigan's footprint continuing to expand (it owns about 8.4 percent of the land in the city now), Ann Arbor officials are growing increasingly concerned that more and more land is being taken off the tax rolls. Hieftje has stated that's an issue he wants the council to discuss in the coming year.
Ryan J. Stanton covers government and politics for AnnArbor.com. Reach him at ryanstanton@annarbor.com or 734-623-2529. You also can follow him on Twitter or subscribe to AnnArbor.com's email newsletters.