Posted on
Sat, Oct 29, 2011 : 9:56 a.m.
Your mega guide to the Purdue vs. Michigan football game
By Rich Rezler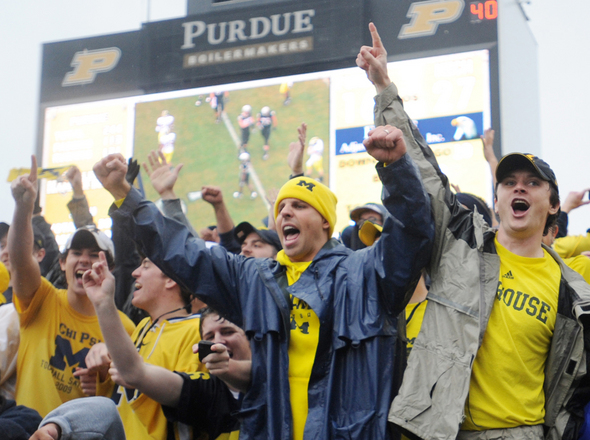 Melanie Maxwell | AnnArbor.com
WHO: Purdue (4-3, 2-1) at No. 17 Michigan (6-1, 2-1)
WHERE: Michigan Stadium, Ann Arbor
WHEN: Noon
ODDS: Michigan is favored by 13 1/2 points, according to sportsbook.com.
SERIES RECORD: Michigan leads, 42-14
LAST MEETING: Michigan won 27-16 on Nov. 13, 2010. (AnnArbor.com coverage)
WEATHER: Mostly cloudy, becoming partly sunny in the afternoon. Scattered showers. Highs 48 to 52. Latest forecast.
BROADCAST INFORMATION: TV: ESPN2; Radio: Michigan Sports Network (local affiliates).
LIVE COVERAGE: Join our live chat on the Michigan football home page beginning at 11:30 a.m. and follow beat writer Kyle Meinke on Twitter @kmeinke for live updates during the game.
MICHIGAN: Roster | Stats | Schedule/Results
PURDUE: Roster | Stats | Schedule/Results

AnnArbor.com coverage

Well, here we go. Hold your breath, cross your fingers and hope the Wolverines' season isn't about to crumble around us for a third straight season.
The numbers are well-documented: Michigan was a combined 9-0 the last two seasons entering matchups against Michigan State, but lost those games and finished a combined 3-13. And we all remember the Wolverines were 6-0 before losing in East Lansing two weeks ago.
Will it be different this year? Count AnnArbor.com Michigan beat writer Kyle Meinke among those who believe it will. That opinion piece -- and much, much more -- is among this compilation of our coverage leading up to the Purdue-Michigan game:

FRIDAY

• What is Michigan's key to victory? In this video preview, Meinke says it's winning the rushing battle, on both sides of the ball.



• Analysis: Culture change will help Michigan turn corner, avoid another second-half collapse
• Desmond Morgan to start at linebacker, becoming 5th freshmen to earn pronounced role on defense
• Our weekly poll: Las Vegas oddsmakers have made Michigan a 13 1/2-point favorite. What do you think?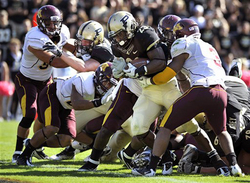 Associated Press
THURSDAY
• Michigan coach Brady Hoke expects Purdue to attack the Wolverines' weak perimeter defense
• Position change leads to improved play from Will Heininger, better production from Michigan's defensive line
• AnnArbor.com sports reporter Nick Baumgardner was at the Big Ten basketball media day, and some football-related news broke out: Jim Delany shoots down any Big Ten expansion ideas and more notes
• In Baumgardner's always-entertaining B1G Notes: Jerry Kill's big deal offers Minnesota a chance at stability and other notes
• Meinke hosts a live chat at noon every Thursday. Read the transcript of this week's chat here. Join us next week!

WEDNESDAY

• Notebook: Michigan's Ricky Barnum declared healthy for Purdue game, but might have lost his job to Michael Schofield
• Michigan searching for solutions to paltry production from tailbacks
• Beat Writer Breakdown with Mike Carmin of the Lafayette (Ind.) Journal and Courier: Purdue is running well, has shown it can slow dual-threat quarterbacks
• Michigan will redshirt freshman tailback Justice Hayes, seek a sixth year for Marrell Evans
• Associated Press: Coach Danny Hope says Purdue needs 60-minute effort at Michigan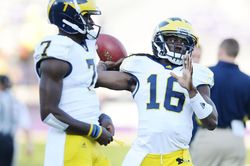 Melanie Maxwell | AnnArbor.com
TUESDAY
• Quarterbacks galore: Purdue, like Michigan, ready to play two signal callers Saturday
• Michigan football team searching for ways to avoid another post-MSU collapse
• View from practice: The Michigan football team is healthier after off week
• Michigan coach Brady Hoke discusses second-half collapses, off weeks and more during teleconference

MONDAY

• Off week? Not for 5 freshmen who positioned themselves for more playing time
• Notebook: Michigan football players spend their day of rest getting work done
• Live updates from Brady Hoke's Monday press conference
• Michigan cornerback Gregg Brown is fourth freshman to leave program

Associated Press capsule

WHAT'S AT STAKE: The Wolverines are coming off their first loss, a fourth straight to rival Michigan State. The Spartans also handed the Wolverines their first loss in each of the previous two years, sending college football's winningest program toward six- and seven-loss seasons, leading to the firing of Rich Rodriguez and hiring of Brady Hoke. If the Boilermakers can win a second straight game at Michigan Stadium for the first time since 1965-66, they will move within a victory of becoming bowl eligible for the first time since 2007.
KEY MATCHUP: Michigan's kickoff returns vs. Purdue K Carson Wiggs. The Wolverines rank 111th out of 120 major college football programs on kickoff returns, failing to block well at the point of attack to win the battle of field position. Wiggs has booted 19 touchbacks, forcing teams to usually start drives at their 20 against the Boilermakers.
PLAYERS TO WATCH: Michigan: QB Denard Robinson. He had his lowest passing percentage and fewest yards rushing as a starter in his last game at Michigan State. Purdue: CB Ricardo Allen has three interceptions, returning one for a score, and would have more if teams dared to throw toward him while he's running step for step with top receivers.
FACTS & FIGURES: In Purdue's last trip to Ann Arbor two years ago, Joey Elliott became the first Purdue quarterback to win there since Bob Griese in 1966. ... Michigan won at Purdue last year 27-16 in a game with 10 combined turnovers. ... The Boilermakers haven't won two or lost two games in a row this season. ... Michigan, coming off a bye, is at home for the first time since Oct. 1 and won't be back until closing the regular season Nov. 19 and Nov. 26 against Nebraska and Ohio State.

Around the Big Ten
• The AnnArbor.com staff is predicting Big Ten games this year. You can play along by voting for your own winner of each game before noon today.
• Michigan State at Nebraska, noon, ESPN. (Preview | MSU coverage)
• Northwestern at Indiana, noon, BTN. (Preview)
• Illinois at Penn State, 3:30 p.m., ABC (Preview)
• Iowa at Minnesota, 3:30 p.m., BTN. (Preview)
• Wisconsin at Ohio State, 8 p.m., ESPN (Preview)