Posted on
Sat, Nov 19, 2011 : 12:03 a.m.
Your mega guide to the Michigan vs. Nebraska football game
By Rich Rezler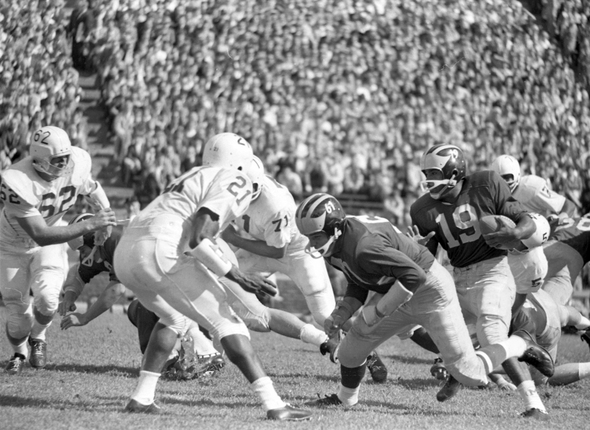 AP Photo | University of Michigan
WHO:
No. 17 Nebraska (8-2, 4-2) at No. 20 Michigan (8-2, 4-2)
WHERE: Michigan Stadium, Ann Arbor.
WHEN: Noon.
ODDS: Michigan is favored by 3 1/2 points, according to sportsbook.com.
SERIES RECORD: Michigan leads, 3-2-1.
LAST MEETING: Nebraska won, 32-28, in the Alamo Bowl on Dec. 28, 2005. (Boxscore)
WEATHER: Cloudy and windy with temperatures in the mid-40s at kickoff. Latest forecast.
BROADCAST INFORMATION: TV: ESPN; Radio: Michigan Sports Network (local affiliates).
LIVE COVERAGE: Join our live chat on the Michigan football home page beginning at 11:30 a.m., and follow beat writer Kyle Meinke on Twitter @kmeinke for live updates during the game.
MICHIGAN: Roster | Stats | Schedule/Results
NEBRASKA: Roster | Stats | Schedule/Results
AnnArbor.com coverage:
Two of the most tradition-rich programs in college football meet for just the sixth time in history on Saturday ... and it's the beginning of an annual tradition. There's plenty of story lines and much at stake in this meeting between Michigan and Nebraska, now fellow members of the Big Ten's Legends Division. AnnArbor.com has been covering those story lines and describing the stakes all week. Here is a compilation of what you can find on our site:


Assistants aren't eligible for the Big Ten Coach of the Year Award, but AnnArbor.com's Kyle Meinke implores you to find a single coach -- head or otherwise -- who's had more of an impact on a Big Ten team this season than Michigan defensive coordinator Greg Mattison.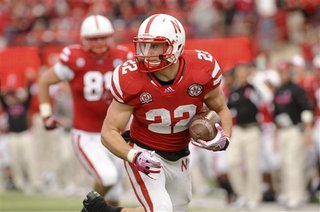 It's been 49 years since the Michigan football team played Nebraska in the regular season. Now, it'll do it every season -- starting with a game that has a possible BCS berth on the line. My, how the times have changed.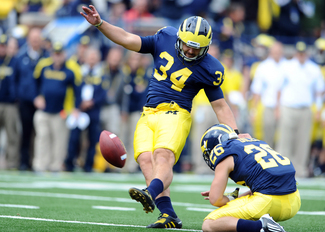 Michigan placekicker Brendan Gibbons was one of the most unpopular players on last year's Wolverines team and it was hard on a redshirt freshman who was just weeks into his first season. That makes what Gibbons has done this year all the more impressive.
Michigan has stopped opponents 60 percent of the time on third downs of 3 yards or fewer. They've been even better in Big Ten play, getting stops at a 68-percent clip. Why has the defense been so successful in these situations? Captain Mike Martin credits a renewed emphasis on film study.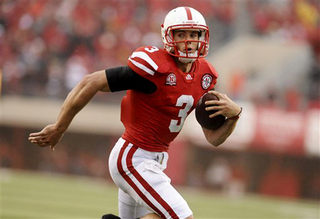 The option is Nebraska's biggest offensive punch, and Michigan's youthful defense will be challenged by it. The last time the Wolverines faced an option team was against Northwestern, and they did not fare well for a half.
Michigan's Denard Robinson and Nebraska's Taylor Martinez are two of the most electrifying running quarterbacks in the country. That elicits the question: Who's faster? "You can see it for yourself on Saturday," Robinson said with a wide smile.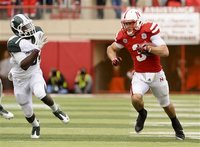 Lincoln Star Journal sports writer Brian Christopherson participated in our Beat Writer Breakdown and said (among many topics) that Michigan will be better off if it can force Nebraska QB Taylor Martinez to pass.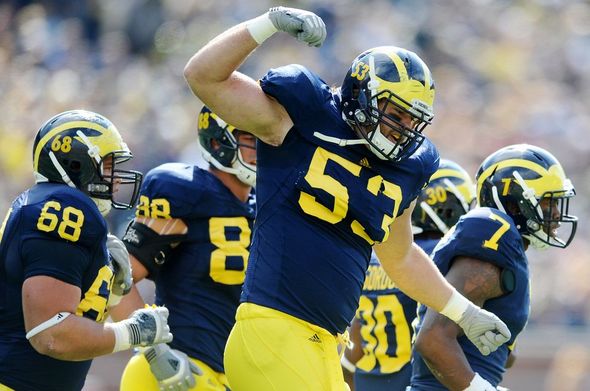 During a preseason meeting, Greg Mattison flashed photos of both a soft-coated rabbit and an armadillo with an armor-like exterior to drive home a point. Though it took some time, the lesson in mental endurance seems to be sinking in. The Wolverines are becoming armadillos.
Nebraska preseason All-American Lavonte David once played Michigan quarterback Denard Robinson in a high school football game. (David's team won.) He's one of our three Cornhuskers to watch, along with QB Taylor Martinez and RB Rex Burkhead.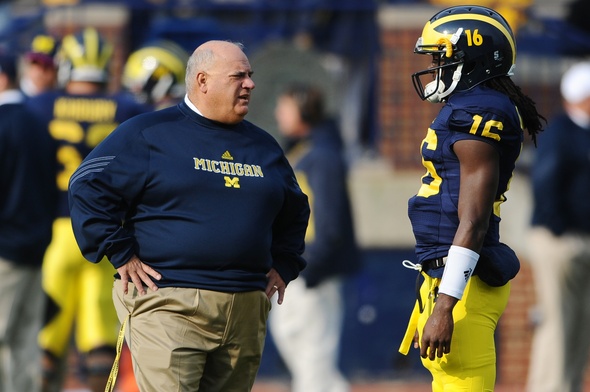 Michigan offensive coordinator Al Borges knows people are unhappy with Denard Robinson's numbers. He knows the Wolverines didn't score as many points as they could have last week against Illinois. He also knows they won.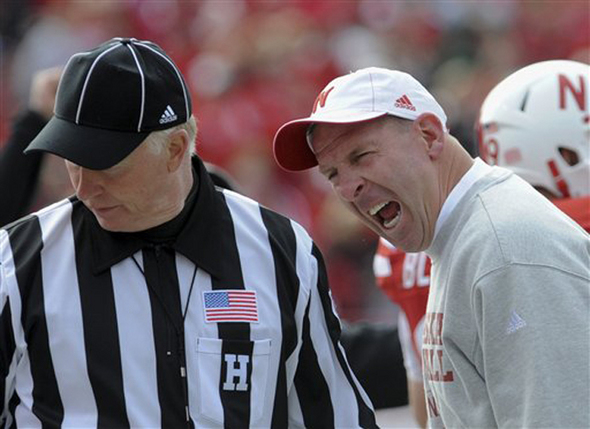 If ever there were a candidate to be a Michigan-hater, it might be Nebraska coach Bo Pelini. The Youngstown, Ohio, native played at Ohio State, giving him two possible predispositions to dislike everything about the Michigan football program.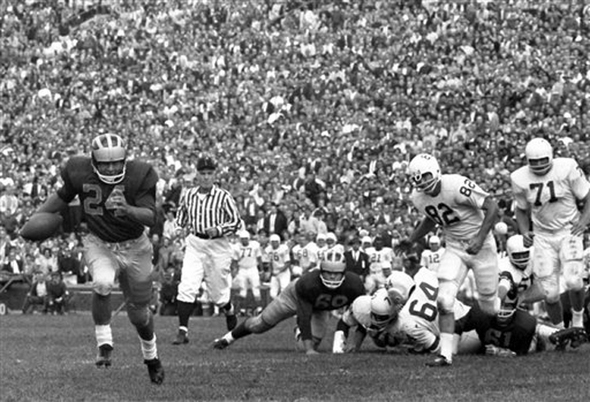 Former Nebraska coach Bob Devaney earned his first signature win at Michigan Stadium on a sunny day in September 1962. The rest is history. No college football team has won more games since that day than the Cornhuskers.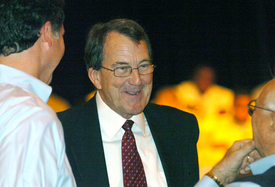 Former Michigan football coach Lloyd Carr will be honored Saturday during the Nebraska at Michigan football game as part of his upcoming induction into the College Football Hall of Fame.
• Brady Hoke on Michigan-Nebraska split 1997 national title: 'We were the better team'

• Divisional alignment has created wide-open Big Ten football race

• Michigan's first matchup against Big Ten newcomer Nebraska will have familiar feel, high stakes

• Ryan Van Bergen: Michigan's defensive line 'is better than any starting 4 in the country'

• Notebook: Denard Robinson is 'fine' after wrist sprain vs. Illinois

• Poll: Four of the Big Ten's top seven rushers will be in Michigan Stadium on Saturday. Who wins?

• After 'unforgettable day' at Penn State, Nebraska back to focusing on football

• Brady Hoke says Denard Robinson has 'gotten better every week' despite struggles

• With poll: Oddsmaker explains movement in point spread for Nebraska-Michigan game

• Lincoln Star Journal: Earlier starts something new for Nebraska football team

• Live Chat: Transcript from Kyle Meinke's Thursday lunchtime chat

• B1G Notes: More isn't necessarily better when it comes to Big Ten football bowl teams

• Live updates from Brady Hoke's Monday press conference.

• Our weekly poll asks …

Associated Press preview capsule

WHAT'S AT STAKE: The winner will break a second-place tie in the Big Ten's Legends Division, which is led by Michigan State, and might have a chance to play in a BCS bowl. The Cornhuskers need to win twice and have the Spartans upset by Indiana or at Northwestern to have a shot at playing in the Big Ten championship game. The Wolverines must win twice and have their in-state rival lose two more games to earn a spot in the conference's first title game.

KEY MATCHUP: Michigan QB Denard Robinson vs. Nebraska's defense. The Cornhuskers have struggled against mobile quarterbacks and no one who takes snaps is more elusive than Robinson. He, however, has struggled to have consistent success this season under Brady Hoke after flourishing last year with Rich Rodriguez. Robinson has lost three fumbles and thrown two interceptions the past two games.

PLAYERS TO WATCH: Nebraska: RB Rex Burkhead. He is the first Nebraska running back to run for 1,000 yards in 10 games since 2001 when Dahrran Diedrick did it. Burkhead ran for 121 yards in last week's win at Penn State. Michigan: RB Fitzgerald Toussaint. He set career highs with 27 rushing attempts for 192 yards in last week's win at Illinois, breaking his records in both categories for the second time in three weeks.

FACTS & FIGURES: Nebraska is playing its final road game before closing the regular season at home against Iowa. ... Michigan ends the regular season at the Big House against Nebraska and rival Ohio State. ... The Wolverines are the winningest program in college football, and the Cornhuskers rank fourth. ... Michigan beat the Cornhuskers in the 1985 Fiesta Bowl and lost to them in the 2005 Alamo Bowl.


Around the Big Ten

The AnnArbor.com sports staff is predicting Big Ten Conference games. Play along with us on our interactive polls.

• Indiana at Michigan State, noon, BTN (Preview | MSU coverage)

• Wisconsin at Illinois, noon, ESPN2 (Preview)

• Iowa at Purdue, noon, BTN (Preview)

• Minnesota at Northwestern, noon, BTN (Preview)

• Penn State at Ohio State, 3:30 p.m., BTN (Preview)