Posted on
Sat, Nov 12, 2011 : 10:24 a.m.
Your mega guide to the Michigan vs. Illinois football game
By Rich Rezler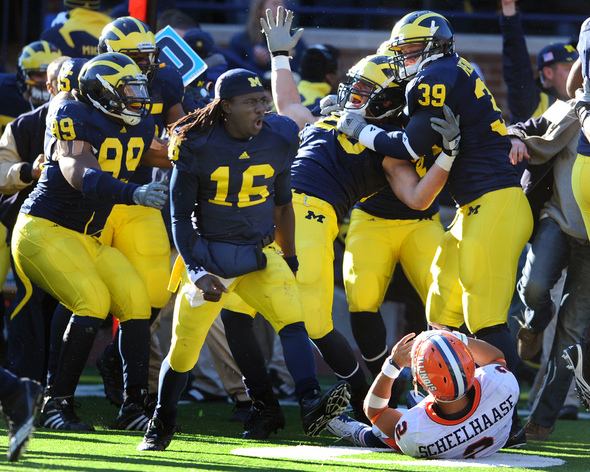 AnnArbor.com file photo
WHO: No. 22 Michigan (7-2, 3-2) at Illinois (6-3, 2-3)
WHERE: Memorial Stadium, Champaign, Ill.
WHEN: 3:30 p.m. today.
ODDS: The game is a "pick 'em," according to sportsbook.com.
SERIES RECORD: Michigan leads, 67-23-2.
LAST MEETING: Michigan won 67-65 in triple overtime on Nov. 6, 2010. (AnnArbor.com coverage)
WEATHER: Partly cloudy and windy with temperatures in the low-50s. Latest forecast.
BROADCAST INFORMATION: TV: ABC/ESPN (coverage map); Radio: Michigan Sports Network (local affiliates).
LIVE COVERAGE: Join our live chat on the Michigan football home page beginning at 3 p.m. and follow beat writer Kyle Meinke on Twitter @kmeinke for live updates during the game.
MICHIGAN: Roster | Stats | Schedule/Results
ILLINOIS: Roster | Stats | Schedule/Results

AnnArbor.com coverage

What a difference a few weeks can make. On the morning of Oct. 16, the Michigan football team was 6-0 and ranked No. 11 in the nation. Illinois, the Wolverines' opponent on Saturday, was 6-0 and ranked No. 16.
Michigan lost at Michigan State that day and has lost two of its last three games. Illinois' 17-7 loss to Ohio State marked the start of a three-game winless streak.
This game, of course, is a rematch of Michigan's wild 67-65 triple overtime win last season at Michigan Stadium that set a Big Ten record for points scored in a conference game.
Two of the main characters from that game are back to provide more fireworks: Michigan quarterback Denard Robinson threw for a career-high 305 yards and ran for 62 more before leaving the game in the third quarter after a helmet-to-helmet hit. Illinois quarterback Nathan Scheelhaase passed for 211 yards and ran for 101 yards. Together, they accounted for seven touchdowns and 679 of the game's 1,237 total offensive yards.
Should we expect another 132-point game? Both coaches certainly hope not, and their teams' season statistics suggest we won't. Michigan is ranked 10th in the nation in scoring defense (16.3 points per game) and Illinois is 13th (17.2).
AnnArbor.com has been bringing you stories and analysis about this game since early this week. Here is a compilation of what you can find on our site:

TODAY

• Associated Press: Last year's crazy OT loss at Michigan Stadium still haunts Illinois
• What to watch: Will Illinois' slow starts continue today against Michigan?
AP Photo
FRIDAY
• In Kyle Meinke's weekly pre-game column, he writes 'Face the facts: Michigan has not been a good road football team' (He also predicts Illinois to win, 24-21)
• 65 points allowed? Michigan out to prove it plays a different brand of football in Illinois rematch
• Who are Illinois' 3 to Know? QB Nathan Scheelhaase, WR A.J. Jenkins and DE Whitney Mercilus
• In our weekly Beat Writer Breakdown, Bob Asmussen of the Champaign News-Gazettte says Michigan should expect strong game from Illinois QB Nathan Scheelhaase
• Our weekly poll: Las Vegas oddsmakers say the game is a pick 'em. What do you think?

THURSDAY

• The evolution of Denard Robinson: He's learning to mix the pass and run
• The curious case of the missing big plays, and how they cost the Michigan football team a win
• Michigan's Taylor Lewan learns to play through injury by shutting up, growing up
• The oddsmaker speaks: Why Michigan is favored by one point against Illinois (The spread has dropped to a pick 'em since this story was published)
• Check out a transcript of Meinke's lunchtime live chat. Join him each week at noon Thursday.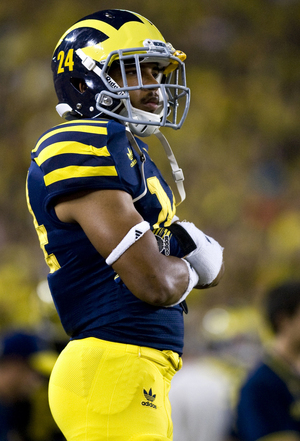 WEDNESDAY
• Another redshirt lost: A scout team star, freshman DB Delonte Hollowell now seeing game action (plus more items in this notebook)
• Freshman Blake Countess discusses taking friend's starting job, becoming Michigan football's team next shut down corner

TUESDAY

• Tailback Fitz Toussaint sharpens vision, performance by studying Michigan football greats
• Michigan starting linebacker, leading tackler Kenny Demens hampered by hamstring injury (plus more items in this notebook)
• Like Michigan, Illinois and Ron Zook working on fixing slow starts
• Video: Blake Countess meets the Michigan football media, plus video of Taylor Lewan, Al Borges and Greg Mattison
• Hoke explains why Thomas Gordon didn't play against Iowa, regrets not getting him on field

MONDAY

• Michigan coach Brady Hoke says Junior Hemingway's play against Iowa was a catch, wants explanation from Big Ten
• Notebook: Denard Robinson fine after "funny bone" injury against Iowa, Brady Hoke says he grew as a QB
• Live updates from Hoke's Monday press conference

Associated Press capsule

WHAT'S AT STAKE: The Wolverines have lost two of their last three but they're still just a game behind Michigan State in the Big Ten Legends Division. Michigan needs a win to hang on to its shot at a division title and a place in the conference title game. Illinois badly needs to end its three-game losing streak.
KEY MATCHUP: Illinois' defense vs. Michigan quarterback Denard Robinson. The Illini have the Big Ten's No. 2 defense, giving up 280 yards a game (including a conference-best 102.9 on the ground) and the nation's sack leader in Whitney Mercilus (11.5).They'll likely be tested more than any time this season by Robinson, the Big Ten's fifth-best rusher with 97.8 a game. Robinson is averaging another 180 yards passing a game.
PLAYERS TO WATCH: Michigan: The Wolverines' defense is, by one measure, more than twice as good this season than last, giving up 15.7 points a game after allowing 35.2 in 2010. LB Kenney Demens and DE Craig Roh are two big reasons why. Demens has 66 tackles for the Wolverines, while Roh has four sacks and eight tackles for loss. Illinois: TB Jason Ford averaged 12.6 carries and 49 yards through the season's first eight games and struggled with fumbles. Then, at Penn State, the Illini decided to give the senior the bulk of the ball-carrying load. He responded with 100 yards on 24 carries. A similar day against Michigan would help the Illini hold on to the ball and keep Robinson on the bench as much as possible.
FACTS & FIGURES: Michigan and Illinois played a wild, three-overtime thriller last fall, which the Wolverines won 67-65. The 132 combined points set a school record for all Michigan games through its 130-plus year history. Between them, Robinson and Illinois QB Nathan Scheelhaase (then a freshman) combined for just under 700 total yards and seven touchdowns in that game. ... Illinois hasn't scored in the first half in its last three games, all losses. ... Illini sophomore LB Jonathan Brown leads the team and is seventh in the Big Ten in tackles with 69 (8.6 a game). ... Michigan has forced 20 turnovers (second in the Big Ten), including 14 fumbles that it has recovered. ... Michigan coach Brady Hoke was head man at Ball State for his only previous game against Illinois, a 28-17 loss in 2007.

Around the Big Ten
The AnnArbor.com sports staff is predicting Big Ten Conference games. Play along with us on our interactive polls.
• Michigan State at Iowa, noon, ESPN2 (Preview | MSU coverage)
• Nebraska at Penn State, noon, ESPN (Preview)
• Ohio State at Purdue, noon, BTN (Preview)
• Rice at Northwestern, noon, BTN (Preview)
• Wisconsin at Minnesota, 3:30 p.m., BTN (Preview)