2010 Year in Politics: A brief look back at some of the stories that made headlines in Ann Arbor
Posted on Thu, Dec 30, 2010 : 6:02 a.m.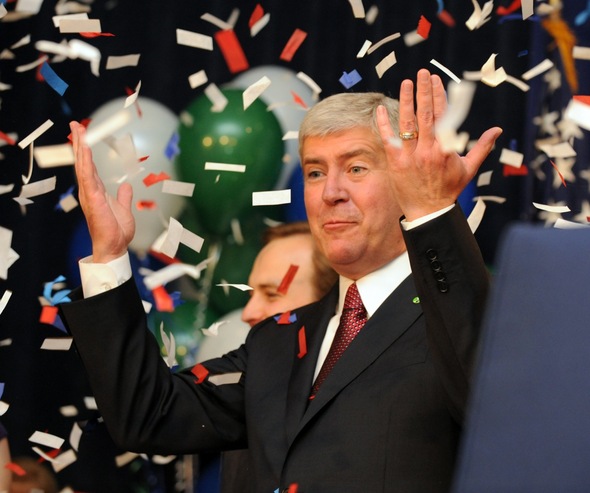 Lon Horwedel | AnnArbor.com
1. Rick Snyder's Rise to the Top
Ann Arbor venture capitalist Rick Snyder, the former president of Gateway Computers, catapulted from political obscurity to Lansing's doorstep by winning Michigan's gubernatorial election in November. Snyder spent nearly $11 million on his campaign, including nearly $6 million from his own pocket. Snyder, a Republican and co-founder of economic development group Ann Arbor SPARK, defeated Democratic opponent Lansing Mayor Virg Bernero with 58 percent of the vote to Bernero's 39 percent. In the August primary, Snyder emerged victorious by relentlessly labeling his four GOP opponents as "career politicians." Snyder, who succeeds Jennifer Granholm as Michigan's 48th governor on Jan. 1, now faces enormous challenges as he prepares for his first public office job. Michigan faces at least a $1.6 billion budget deficit for the 2011-12 fiscal year, and federal stimulus dollars have dried up.
2. County Commissioner Per Diems

Republican Mark Ouimet came under fire in October when local Democrats alleged he improperly collected thousands of dollars in per diem and mileage payments during his six-year career as a Washtenaw County commissioner. A review by the county clerk's office found more than $26,000 in per diem and mileage payments were made to commissioners between 2005 and 2009 that were either ineligible or questionable. Of those, more than $16,600 belonged to Ouimet, R-Scio Township, and more than $4,800 belonged to Jessica Ping, R-Saline. Eight other Democrats averaged $675 apiece. The issue started as a political attack on Ouimet, who went on to win the 52nd District state House seat in November. But the issue of per diems is still being debated. The county awaits the outcome of an independent auditor's review of the charges to determine exactly how much money Ouimet and other commissioners must repay the county.
3. Patricia Lesko's Run for Mayor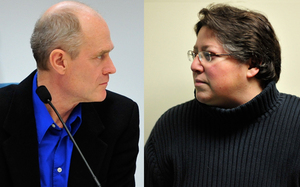 It was revealed in February that one of Ann Arbor Mayor John Hieftje's most vocal critics planned to take a shot at ousting him. Patricia Lesko, who had spent months running the blog A2Politico.com under the pseudonym "Sam Rosenthal," announced she was seeking the office of mayor. Her blog posts were filled with venomous attacks against Hieftje, whom she likened to Satan, and her campaign was just as fiery. Lesko picked up endorsements from the city's police and firefighters unions during a six-month attack on Hieftje's record. Ultimately, Lesko, who was caught making numerous inaccurate statements on the campaign trail, didn't convince voters. She and a slate of three other City Council candidates who tried taking down the city establishment failed in their bid to unseat any incumbents. After beating Lesko in the August primary, Hieftje cruised to victory over independent challenger Steve Bean in November.
4. Fixing the Stadium Bridges
Ann Arbor officials were hanging onto hope this year that the crumbling East Stadium Boulevard bridge spans over South State Street and the nearby railroad tracks would receive state and federal grants. Without funding assistance, it would cost the city $23 million of its own money to replace the bridges, which would have been a blow to local street projects. Council members were criticized by their political foes for putting off the repairs, but the gamble paid off. In October, U.S. Rep. John Dingell announced $13.9 million in federal funding. With additional funding from the state, the city now has $17.3 million in grants that will pay for 75 percent of the project. Replacement of the aging bridge spans is expected to begin in the spring.
5. Debate Over Argo Dam
The debate over the fate of Argo Dam continued throughout 2010. In response to orders from the state of Michigan, city officials were forced to address concerns about the stability of the dam's earthen embankment. The need to make a decision reignited the Huron River Watershed Council's push to tear down the dam, while rowers and others voiced their stance for keeping the dam in place. After months of discussion, the City Council voted in November in favor of a $1.17 million plan to reconstruct the headrace and embankment, removing a canoe portage at the end of the headrace and adding whitewater features. The federal government simultaneously announced it is considering installing hydropower stations at Argo and Geddes dams, helping to make the case for leaving Argo Dam in place — at least for now.
6. Conference Center and the Library Lot
Construction began in January on a $50 million underground parking garage on the city-owned Library Lot in downtown Ann Arbor. That same month, the city interviewed developers seeking to build atop the garage once it's finished. The city quickly narrowed its focus to two proposals, both of which laid out a vision for a hotel and conference center. After several months without any word, a consultant hired by the city issued a report in December that gave a nod to the proposal from New York-based Valiant Partners, which calls for a 150-room hotel and 26,000-square-foot conference center. An earlier draft of the proposal involved the city issuing $8.1 million in bonds to help finance the conference center, but that's no longer the case. City officials now are considering their next steps. The underground parking garage, a project of the Downtown Development Authority, is expected to be complete by January 2012.
7. Moravian and Heritage Row Denied
Tensions continued between the developers of two near-downtown apartment projects and the Ann Arbor City Council in 2010. Alex de Parry worked to revise his controversial City Place project to please council members. He came up with a new vision called Heritage Row, but council members thrice voted down the project as de Parry persisted with requests for reconsideration. Meanwhile, Jeff Helminski's proposed Moravian project failed to win the council's approval in April. In turn, Newcombe Clark, one of the development partners, waged an unsuccessful bid for council. In the end, neither the Moravian nor Heritage Row moved forward, but de Parry now says he's considering razing seven houses along South Fifth Avenue to build City Place — a project the city says it legally can't stop absent the creation of a historic district. But the council already decided in July that the Germantown neighborhood was undeserving of such status.
8. Medical Marijuana
In response to the rising demand for medical marijuana, dispensaries offering the drug began cropping up throughout Ann Arbor in 2010. In August, the City Council responded by placing a four-month moratorium on new dispensaries to give city staff time to work out rules on how to regulate them. After months of discussion, the city decided in November to extend the moratorium through January 2011. As the new year approaches, the city continues to hash out separate zoning and licensing ordinances. The issue has drawn interest from dozens of medical marijuana advocates who have filled the council chambers during public meetings, some citing concerns that the city's proposed regulations are an overreach of its authority.
9. Fuller Road Transit Center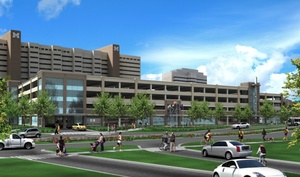 Ann Arbor officials continued to work with the University of Michigan on a long-term vision to create a new gateway to the city near the U-M medical center. The first phase of the proposed Fuller Road transit center was approved by the Planning Commission in September. The decision came despite concerns from numerous residents who argued the project represents a nearly permanent repurposing of city parkland for what appears to be, at least for now, little more than a new parking structure for the university. The $43 million first phase of the project includes a five-level, 977-space parking structure, 103 spaces for bicycle parking and bus loading facilities. It's expected to come back before the City Council for discussion in January. The long-term vision for the site includes constructing a new Amtrak train station that could serve as a hub for future commuter and high-speed rail initiatives, including one from Ann Arbor to Detroit.
10. City Budget Struggles
Ann Arbor officials spent most of the first half of 2010 figuring out how to close a city budget deficit of more than $5 million. With public safety accounting for half the city's general fund, city officials turned to the police and fire departments for cuts. City Administrator Roger Fraser unveiled his budget recommendations in April, proposing to eliminate 20 positions in each of the two departments. The firefighters union responded in protest, arguing the city already fails to meet national standards for fire protection. Firefighters picketed outside the downtown fire station in May and later agreed to concessions. Thanks to some last-minute budget juggling, only five positions were cut in each of the two departments. In the case of police, the positions already were vacant. In the case of fire, four firefighters were laid off. As of December, the city once again has $2.4 million more to trim from its budget and is talking about further cuts, including implementing a paid on-call system in the fire department.