Posted on
Sat, Nov 5, 2011 : 7:34 a.m.
Your mega guide to the Michigan vs. Iowa football game
By Rich Rezler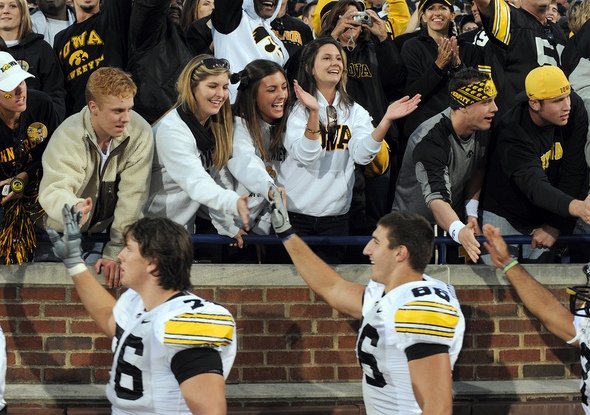 AnnArbor.com file photo
WHO: No. 13 Michigan (7-1, 3-1) at Iowa (5-3, 2-2)
WHERE: Kinnick Stadium, Iowa City
WHEN: Noon Saturday
ODDS: Michigan is favored by 4 points, according to sportsbook.com.
SERIES RECORD: Michigan leads, 40-12-4
LAST MEETING: Iowa won 38-28 on Oct. 16, 2010. (AnnArbor.com coverage)
WEATHER: Partly cloudy, temperatures in the mid-50s, little chance of precipitation. Latest forecast.
BROADCAST INFORMATION: TV: ESPN; Radio: Michigan Sports Network (local affiliates).
LIVE COVERAGE: Join our live chat on the Michigan football home page beginning at 11:30 a.m. and follow beat writer Kyle Meinke on Twitter @kmeinke for live updates during the game.
MICHIGAN: Roster | Stats | Schedule/Results
IOWA: Roster | Stats | Schedule/Results

AnnArbor.com coverage

What's the old saying? "The games you remember are played in November?"
Well, guess what? It's that time of the year, and the Michigan football team is still in the thick of the Big Ten Legends Division race.
The Wolverines haven't had much success in November over the past three seasons, winning three times in 11 games. But those same Rich Rodriguez-coached teams were even worse in October (2-11 with big wins over Delaware State and Indiana). Brady Hoke's first squad just went 3-1 in October.
Does the late-season turnaround continue Saturday at Iowa? AnnArbor.com has been previewing the game since Hoke took the podium for his Monday afternoon press conference. Here is a compilation of what can be found on our site:

FRIDAY

• In this video report, our Michigan football beat reporter, Kyle Meinke, takes a closer look the trip to Kinnick Stadium, where Iowa is 5-0 this season:



• Analysis: Amid fluidity in secondary, Michigan will need cornerback J.T. Floyd to continue his rise to prominence
• Michigan's Ryan Van Bergen: 'There's no one in college football as strong as Mike Martin'
• Beat Writer Breakdown: Iowa 'awful against mobile QBs' but offers some challenges to Michigan, says Marc Morehouse of the Cedar Rapids Gazette
• 3 to know: Marcus Coker, Marvin McNutt and Shaun Prater are big reasons why Iowa football team is tough at home
• Our weekly poll: Las Vegas oddsmakers have made Michigan a 4-point favorite. What do you think?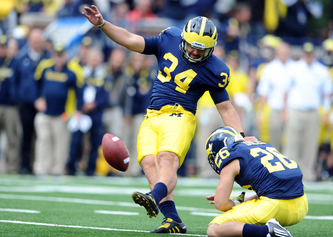 Melanie Maxwell | AnnArbor.com
THURSDAY
• Michigan football seniors grateful to play for more than moral victories in November
• Troy Woolfolk embracing position change to safety, understands why it was made
• Coaching change helps kicker Brendan Gibbons become one of Michigan's most improved players
• B1G Notes: Michigan State still the favorite in Legends Division
• Oddsmaker explains tight Michigan-at-Iowa football line
• Transcript from our Thursday lunchtime chat.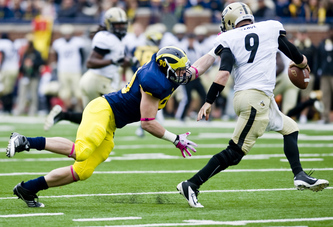 Joseph Tobianski | AnnArbor.com
WEDNESDAY
• Michigan coach Brady Hoke not worried about losing 6 players or depth at safety
• Long-haired freshman Jake Ryan a favorite among teammates for 'unorthodox' style
• Notebook: Denard Robinson says it's better to pass than receive; Michigan has "hope" for a healthy Jordan Kovacs and Taylor Lewan

TUESDAY

• Can Michigan persevere at Iowa while playing 5 freshmen on defense?
• Safety position thin after Carvin Johnson becomes 6th player to leave Michigan football program this season
• After struggling with a dual-threat QB last week, Iowa preps for Denard Robinson
• Brady Hoke: Next step for Michigan football team is showing it can win on the road
• Notebook: Root for dad or alma mater? Michigan defensive coordinator Greg Mattison loses this round
• View from practice: Injured Taylor Lewan, Jordan Kovacs warm up with Michigan football team but don't take first snap
• Iowa football team wants to get past tough loss; 'The season is not over,' Kirk Ferentz says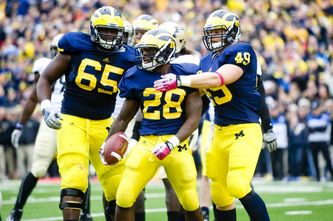 Joseph Tobianski | AnnArbor.com
MONDAY
• Michigan football coach Brady Hoke says Fitz Toussaint is his lead tailback
• Notebook: Michigan football offensive line is banged up, depth a concern moving forward and more notes
• Michigan's Ryan Van Bergen enjoys the 'feng shui' of Iowa's pink locker rooms
• Jordan Kovacs day to day with knee injury
• Live updates from Brady Hoke's Monday press conference

Associated Press capsule

WHAT'S AT STAKE: Michigan is looking to keep pace with Michigan State and Nebraska for the Legends Division lead, and the Spartans and Cornhuskers both have home games they should win handily. Iowa needs to bounce back in a big way after losing to Minnesota last week.
KEY MATCHUP: Michigan RB Fitzgerald Toussaint vs. Iowa's defensive line. Toussaint had a breakout game in last week's 36-14 win over Purdue, rushing for 170 yards and two touchdowns. Iowa's defensive line, which has struggled, needs to stuff the Wolverines at the line and force obvious passing situations
PLAYERS TO WATCH: Michigan: QB Denard Robinson. Is this the year Robinson beats the Hawkeyes? He threw a late pick in a loss at Iowa in 2009 and was knocked out of the Hawkeyes' win in Ann Arbor last season. Iowa: WR Marvin McNutt. Iowa might need to outscore the Wolverines, and McNutt leads the Big Ten with nine receiving touchdowns.
FACTS & FIGURES: Iowa coach Kirk Ferentz is 4-4 against Michigan. ... Michigan's Brady Hoke was the head coach at Ball State when the Hawkeyes crushed the Cardinals 56-0 in the 2005 season opener. ... Both Iowa and the Wolverines have scored on 29 of 33 possessions in the red zone. But the Hawkeyes were held scoreless inside Minnesota's 20-yard line three times last week, and Michigan leads the nation in red zone defense.

Around the Big Ten
• Minnesota at Michigan State, noon, BTN. (Preview | MSU coverage)
• Indiana at Ohio State, noon, BTN. (Preview)
• Northwestern at Nebraska, 3:30 p.m., BTN (Preview)
• Purdue at Wisconsin, 3:30 p.m., ABC. (Preview)