Posted on
Sat, Nov 26, 2011 : 10:24 a.m.
Your mega guide to the Michigan vs. Ohio State football game
By Rich Rezler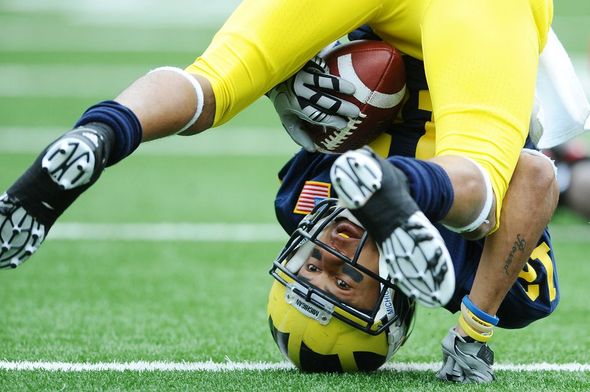 Melanie Maxwell | AnnArbor.com
WHO: Ohio State (6-5, 3-4) at No. 17 Michigan (9-2, 5-2)
WHERE: Michigan Stadium, Ann Arbor
WHEN: Noon
ODDS: Michigan is favored by 7 1/2 points according to sportsbook.com.
SERIES RECORD: Michigan leads, 57-44-6.
LAST MEETING: Ohio State won, 37-7, on Nov. 27, 2010. (AnnArbor.com coverage | OSU vacates 2010 wins)
WEATHER: Mostly cloudy with temperatures in low- to mid-50s during game. Rain possible later in the day. Latest forecast.
BROADCAST INFORMATION: TV: ABC; Radio: Michigan Sports Network (local affiliates).
LIVE COVERAGE: Join our live chat on the Michigan football home page beginning at 3 p.m. and follow beat writer Kyle Meinke on Twitter @kmeinke for live updates during the game.
MICHIGAN: Roster | Stats | Schedule/Results
OHIO STATE: Roster | Stats | Schedule/Results

AnnArbor.com coverage

Everything around The Game seems a little flipped around this year, doesn't it? The team that has dominated this series is reeling. The team that has struggled is looking for its 10th win.
Scandal forced coach Jim Tressel to resign, chased quarterback Terrelle Pryor to the NFL and led to other suspensions and more losses than Ohio State is used to.
Meanwhile, Michigan -- which has lost seven straight games against the Buckeyes -- is having a revival under first-year coach Brady Hoke and looking for its first BCS bowl game since 2006.
The story lines run deep and AnnArbor.com has been covering them all week. Here is a compilation of what you can find on our site:

TODAY
• Five years later: A look back at the 2006 Michigan-Ohio State football game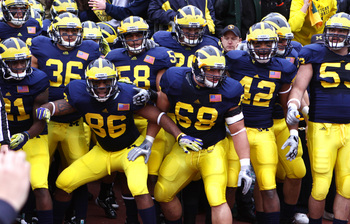 Jeff Sainlar | AnnArbor.com
FRIDAY
• Opinion: There comes a time when Michigan has to beat Ohio State, and that time is now
• After gobbling up two running QBs, Michigan defense is ready for another in Ohio State's Braxton Miller
• Beat Writer Breakdown: Ohio State feeling 'drained' heading into Michigan game, Buckeyes reporter says
3 to Watch: Ohio State hopes to slow Michigan QB Denard Robinson with a freshman linebacker
Associated Press: Michigan is favored to beat Ohio State, but that often doesn't matter in The Game
Poll: What does it take for Michigan coach Brady Hoke to forgo short sleeves on the sidelines?
• Our weekly poll: Las Vegas oddsmakers say Michigan is favored by 7 1/2 points. What do you think?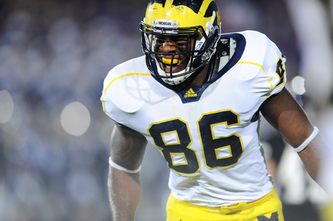 Melanie Maxwell | AnnArbor.com
THURSDAY
• Ohio native Kevin Koger has final chance to topple team he once scorned
• Denard Robinson seeking rematch with Ohio State, but as a different quarterback
• B1G Notes: Michigan's Brady Hoke tops our ranking of conference's football coaches
• Thanksgiving Day poll: Whose absence from Michigan Stadium on Saturday are you most thankful for?
• Oddsmaker: Michigan 'a significant favorite' against Ohio State

WEDNESDAY

• Michigan trying to temper emotions heading into Ohio State game
• Michigan football coaches say they won't talk about numbers ... then they talk about numbers
• Notebook: Freshman linebacker Brennen Beyer to miss Ohio State game, might be lost for season
• Is he or isn't he? Urban Meyer still denying reports that he's Ohio State-bound
• Rick Snyder pits cherry pie against Ohio governor's buckeye pie in Michigan-Ohio State wager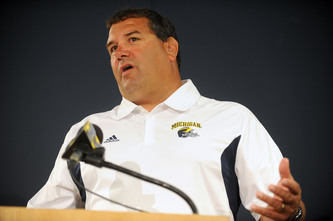 Angela J. Cesere | AnnArbor.com
TUESDAY
• Greg Mattison says it's 'absurd' for people to say his players fake injuries
• Brady Hoke wants 2nd BCS bid for Big Ten; will it go to Michigan?
• 'Beat Ohio' Brady Hoke sticks with pet name for Buckeyes
• Ohio State players say they have just one goal: Beat Michigan
• The Associated Press: Ohio State wants to play in a bowl game as long as the NCAA approves
• Urban Meyer will not broadcast Michigan-Ohio State game amid job rumors

MONDAY

• Coach Brady Hoke gets the headlines, but seniors hold key for Michigan football team against Ohio State
• New celebration makes it clear: Michigan football team 'starving' for a win against Ohio State
• Will Michigan Stadium power outage affect Michigan-Ohio State game this weekend?
• Ann Arbor lawmakers make friendly wager with Ohio lawmakers
Live updates from Brady Hoke's Monday press conference

Associated Press capsule

WHAT'S AT STAKE: Michigan desperately needs to snap an unprecedented seven-game losing skid in The Game. If the Wolverines win, they might get the bonus of playing in a BCS bowl for the first time since the 2006 season. The Buckeyes' seniors don't want to be the ones who finally lost to Michigan and the first team to finish the regular season 6-6 with five Big Ten losses since 1999.
KEY MATCHUP: Ohio State QB Braxton Miller vs. Michigan defense. The freshman has failed to connect on half of his passes in three straight games and is connecting on 48.6 percent overall this season, getting pushed into a starting role to replace the departed Terrelle Pryor. If the Buckeyes are going to pull off an upset, Miller will likely have to be accurate on his throws and surpass his career high of 132 yards passing. Michigan, of course, will want to rattle Miller with pressure from its front seven and make plays in the secondary.
PLAYERS TO WATCH: Ohio State: RB Dan Herron. The senior running back, who has played just five games because he was suspended for accepting improper benefits from a tattoo-parlor owner, has run for 556 yards and two TDs this year. Last season, he had 1,155 yards rushing and 16 scores, including a 175-yard, one-TD game in the 37-7 win over Michigan. Michigan: QB Denard Robinson. He is coming off perhaps his best game of the season, a four-TD performance in a 45-17 win against Nebraska, but he'll have to make plays through the air with higher stakes against a team that will set up its entire defense to stop him from running all over the field.
FACTS & FIGURES: Michigan has a chance to win 10 games for the first time since 2006, when it won 11 games before losing to Ohio State in the season finale and then falling to USC in the Rose Bowl. ... The Buckeyes have lost their Big Ten games by an average of 4.7 points. ... The Wolverines have given up 15.6 points a game, ranking among the nation's best, after allowing 35.2 on average last season to rank among the worst defenses in college football. ... Ohio State C Mike Brewster has started 47 straight games.

Around the Big Ten
The AnnArbor.com sports staff is predicting Big Ten Conference games. Play along with us on our interactive polls.
• Nebraska 20, Iowa 7: The Cornhuskers wrapped up their first Big Ten regular season schedule with a win over Iowa on Friday. (Recap)
• Michigan State at Northwestern, noon, BTN (Preview | MSU coverage)
• Penn State at Wisconsin, 3:30 p.m., ESPN (Preview)
• Illinois at Minnesota, 3:30 p.m., BTN (Preview)
• Purdue at Indiana, 3:30 p.m., BTN (Preview)